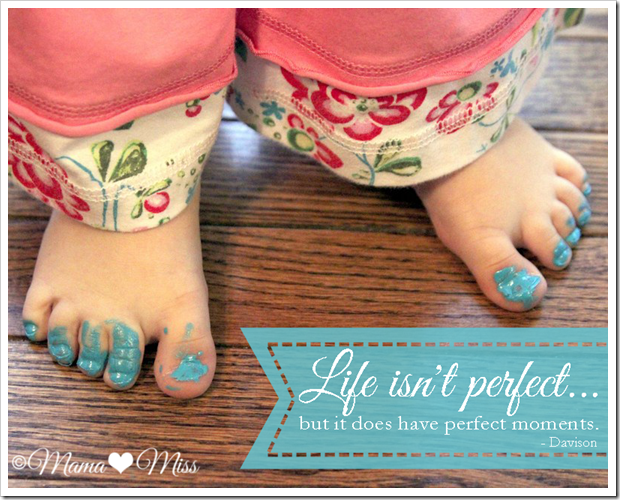 ♥
I tried to distract, "Mama, I wanna color my toes with boo paint"
I tried to delay, "After dinner, sweetie"
I tried to do it instead, "No mama, I wanna"
I knew it was going to be a hot mess.
I knew deep inside I was cringing at the thought.
I knew if I didn't though, I would be hindering her.
I took a deep breath, and then reminded myself.
I need to let her experiment in her attempts to be like me…then I need to let her be herself.
♥
In typing this up, after looking at the picture, I decided it would make a great quoted picture for my wall (isn't that the best, I thought it would be a hot mess & it actually turned into a perfect mess :)
If you enjoyed it, too, little miss V with her messy toe polish, here's a free printable for you (sans mm watermark).  Enjoy!
What's one messy thing your kiddos did, and what did you do to relax about it?
xx ♥ m
Terms and Conditions
The above post allows a free printable PDF download; you will need Adobe Reader to do so.  It is free to download at Adobe's website here.
Please read here before you download any of mama♥miss's PDF files…thanks, man!
linked up on:
(Visited 847 times, 1 visits today)