Like many of you this tragedy has hit me hard, very hard.
I've found it hard to blog, hard to write, hard to cook, hard to craft, & hard to enjoy the littlest things.
I've found it hard to feel anything but extreme sadness.
I'd like to turn my sadness into something positive, something that shows my love & support.
The following are the ways my family & I plan on honoring. grieving, & sending our love to support Sandy Hook Elementary and their families.
I plan on doing three things…
♥
♥  First…
We as a family want to show our love to those who have lost & let them know we are here with love to give to them.  My little ones are only 3yo & 18mths, so explaining this tragedy to them is not something I am going to do; it is beyond their years.  I plan on lying on the floor tonight, as a family – the four of us, with this picture and some crayons.  I plan on mailing this out tomorrow to the PO Box the Post Office has set up for the families of Newtown, CT.
Message of Condolence
PO Box 3700
Newtown, CT 06470
*update*
I just found this other wonderful FB page called "Hearts to Newtown"….
The page says…
"Calling all elementary school kids to send their artwork and hearts to Newtown, CT.
Send your beautiful hearts to P.O. Box 754 Bethel, CT 06801"
(We will now be doing two of these as a family tonight & sending them to both).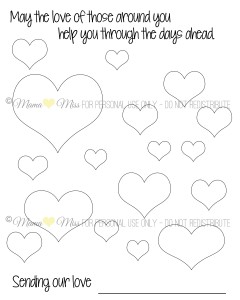 You can print your family coloring page here.
WILL YOU JOIN ME?
♥
♥ Second…
Ann Curry started an idea to honor the victims in Newtown…
Pay tribute to them by performing 26 Acts of Kindness.
Tens of thousands of people on Twitter and Facebook have seized the idea, and are launching acts of kindness big and small all over America.
What acts of kindness will you do to honor the victims?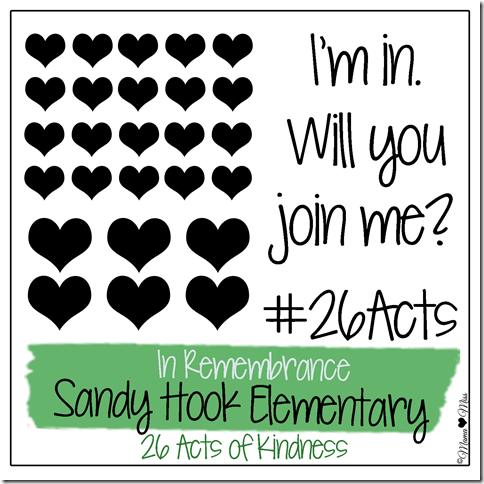 I plan on tweeting #26 Acts @mamamissblog.
I also plan on handing out these cards to spread the 26 Acts of Kindness Revolution.
You can print your own cards to hand out here.
WILL YOU JOIN ME?
♥
♥ Third…
I have spent an enormous amount of time this weekend thinking about the events that happened on Friday.  I have been holding my kids a little tighter than normal.   I've also been trying to think of the best way to honor those beautiful children in everyday ways in my own life.  We need to celebrate our children.  We need to celebrate our lives.  We need to celebrate the season as the most magical and special holiday season ever, because life is short, and we need to make it count.  I plan on laughing more with my kiddos.  I plan on playing more with my kiddos.  I plan on driving around with the kiddos to see all the magical lights & decorations, again & again.  I plan on being even more silly than I already am with my kiddos.  I plan on giving lots more hugs and kisses from this day forward.  I plan on letting bedtime slide just a little later every now & then for more playtime.  I plan on taking EVERY moment in.  I plan on cuddling my babies even more.  I plan on being there, actively there, listening closely.  I plan on being more patient.  I plan on celebrating their childhood.  I will never forget what happened in Newtown, CT on Friday, 12/14, but I can remember and celebrate those children by celebrating my own.
WILL YOU JOIN ME IN CELEBRATING YOUR CHILDREN AND THEIRS?
——
CHARLOTTE BACON, 6
DANIEL BARDEN, 7
RACHEL D'AVINO, 29
OLIVIA ENGEL, 6
JOSEPHINE GAY, 6
DAWN HOCHSPRUNG, 47
DYLAN HOCKLEY, 6
MADELEINE HSU, 6
CATHERINE HUBBARD, 6
CHASE KOWALSKI, 7
JESSE LEWIS, 6
ANA MARQUEZ-GREENE, 6
JAMES MATTIOLI, 6
GRACE AUDREY McDONNELL, 7
ANNE MARIE MURPHY, 52
EMILIE PARKER, 6
JACK PINTO, 6
NOAH POZNER, 6
CAROLINE PREVIDI, 6
JESSICA REKOS, 6
AVIELLE RICHMAN, 6
LAUREN GABRIELLE ROUSSEAU, 30
MARY SHERLACH, 56
VICTORIA SOTO, 27
BENJAMIN WHEELER, 6
ALLISON N. WYATT, 6
——
xx ♥ m
~Another update~
Lisa Nolan, author at "Life Happens Then Write" started a Blog Hop to collect all of these ideas from bloggers with #26Acts posts together in one place…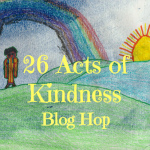 (Visited 787 times, 1 visits today)