What a crazy day last Wednesday was.
You know how you run upstairs to grab something & you can't for the life of you remember what you climbed up those stairs for, so you have to go back downstairs & circle around trying to remember?  Well, yeah, this isn't like that.  This is complete memory loss that was felt all the way to my stomach.
Last Wednesday was so busy I ate two lunches!  What's that you say?!
Yep, I didn't realize I ate two lunches until I started eating the second lunch.  I do realize this is ABSURD- who eats two lunches?!!!  This day is a testament as to why I need to slow down and take care of myself first, then tend to everybody else and their needs (a fed & rested mama is a sane mama :)
So here's how it all went down…
I ate lunch on my way to an afternoon meeting knowing I'd get back at nap-time to pick up the kids. Therefore rushing to get them both down and not being able to sit & have a meal until way later.

Let me introduce you to "lunch one".

So, I ate "lunch one".

I then went to my meeting.

I left my meeting & it occurred to me that I hadn't eaten lunch yet.

So, reminding myself of the nap-time debacle, I went through the drive thru & grabbed a quick meal on my way to pick up the kids.

Introducing "lunch two".

While in the drive thru I could not for the life of me figure out why my stomach wasn't growling with nothing in it (I absolutely did think this, but yet it did not spark a "lunch one" memory).

I put the non-stomach growling thoughts on the back burner.

I ate several bites of my new sandwich on my way to pick up the kiddos.

It then dawned on me that the reason my stomach wasn't growling was because I HAD ALREADY EATEN – duh!
I have NEVER eaten a double lunch, EVER!  I forget to eat lunch sometimes altogether, but eating lunch twice because I completely forgot about the first time, well, this is a first!  It was so funny I was cracking up laughing in the car, driving by myself, with half of a sandwich hanging out of my mouth.  I almost got sick at the idea of eating two lunches.  I quickly preserved my craziness in a photo for you (the half eaten "lunch two"), and then proceeded to toss "lunch two" in the trash.
I still can't believe I completely forgot I ate the first lunch – I mean, who does that?!
Have you ever eaten two lunches – or am I the only one?!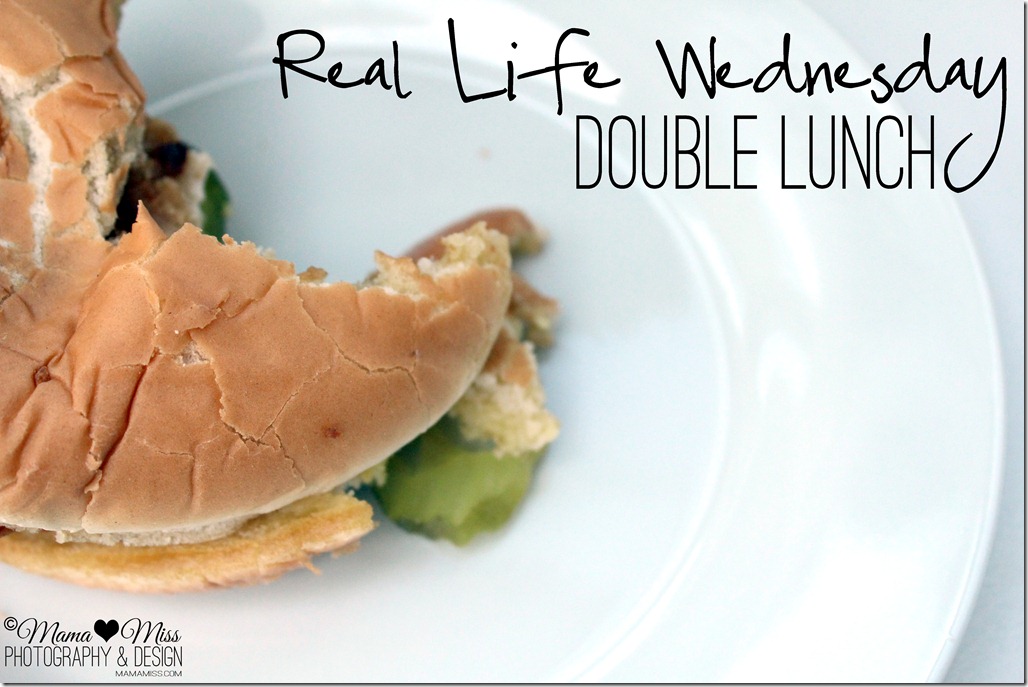 Oh, lunch, lunch, wherefore art thou lunch?
Deny my hunger, and refuse thy eat.
Or if thou starve not, be but a full tummy, and I'll no longer be a hungry mama.
But wait, oh yeah, tis but thy lunch one that is my fullness, tis why thou are not hungry.
(Visited 436 times, 1 visits today)