This month I am participating in Mom It Forward's 31 Family Friendly Holiday Service Ideas.  Stacy from Kids Stuff World came up with this great idea for a bunch of us to participate in this with her!  We are each signed up to do a different day, and today I am "handing out cheerful post-it's!!!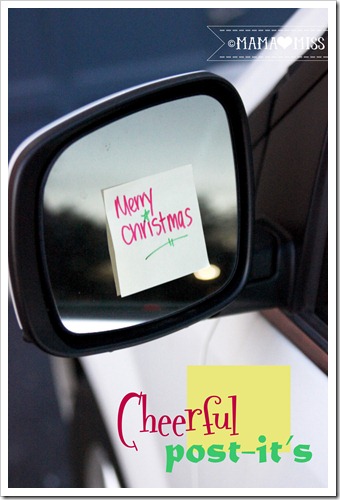 With everything that has happened in the world recently, it's very easy to lose the kindness and immerse yourself in the anger.  I feel like now, more than ever, love needs to win, and kindness needs to rule.  I love the idea of brightening someone's day with a simple note of kindness.
I intended to drive around & stick post-it's with inspirational quotes in random public places.  Well, the day quickly got away from me – so I had an even better idea!  The perfect neighbor gift!  I went around to all the neighborhood parking spots & left them each a note of cheer :)  V joined me & had fun sticking the post-it's on each driver's side mirror.  Although she didn't quite understand exactly what we were doing, it was a very positive experience for us both!  Just think – the driver gets into their car and looks into the mirror & sees a note of brightness – YAY!!
I love it!!  I mean I ♥ it!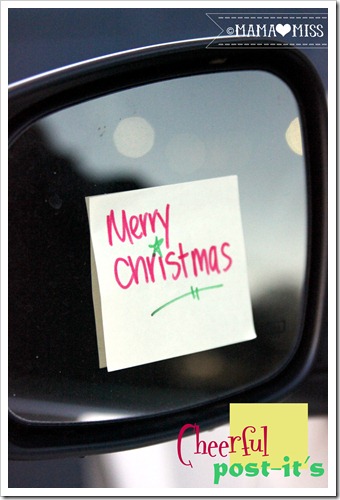 The 31 Family Friendly Holiday Service Activities is an e-book of small & simple ways to spread charity and cheer during holiday season.
Looking for more ways to have learning fun with the kiddos –
why not follow {mama♥miss} on
&
xx ♥ m
(Visited 537 times, 1 visits today)