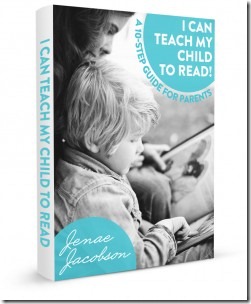 I had the opportunity to read an eBook recently that I most thoroughly enjoyed.  Jenae from I Can Teach My Child has just written her very first eBook titled "I Can Teach My Child to Read: A 10-Step Guide for Parents."  She created this eBook as an easy explanation of teaching your child to read in a way for the average parent to follow along.
As a busy mama, reading books is something that I have rare moments to do for myself, but something I NEVER sacrifice is reading to my children.  This sentence in the eBook, resonating with me while reading:
If you are not an avid reader yourself, make a conscious effort to let your child see you read on a regular basis.  It will make a huge difference in your child's lifelong love and pursuit of reading! (Jenae Jacobson, Step 2: Be A Good Example)
Jenae's book inspired me to spend more time leading by example reading my own monstrous & ever-growing pile of books, too.  It is just as important to feed my mind as well, and by doing so, I'm feeding theirs, too!
This representation of teaching by example, along with a multitude of insightful points, examples, strategies, and even hands-on activities to create an avid reader in your little one is such a valuable tool for a busy mama.  Take my word for it – find out on your own!    This is a wonderful resource for teaching your child to read in easy-to-understand terms.
As a new eBook, Jenae is offering a special deal for a limited time.
Click here to buy the PDF version or click here to buy the Kindle version
for just $3.99 $1.99 through January 12th! (If you choose to buy the PDF version, you will receive an e-mail with a downloadable and printable PDF document once payment is complete).
xx ♥ m

(Visited 466 times, 1 visits today)