Here we go!!
Are you ready for all these FREE printables?
Yes?!
Well, let's start off with the design's I made for you (& your little one) :)
Today I give you letter's A, B, C, D & E!

These 5×7 cards are handmade by moi, my personal designs & color palette – just for you!!
Each Alphabet Card is a 4-part learning tool…
1st – FLASHCARDS…teach them their ABC's in a fun colorful way.
Each card has a lowercase letter & the corresponding uppercase letter.
2nd – DÉCOR…line them up around the room and have them learning the ABC's.
Designed with colors & composition that is suitable for the kids' bedroom, playroom, (or your room ;), and not color defined, so they are for boys & girls alike.
3rd – LETTER TRACING/PRINTING SKILLS…laminate them and trace the letters using the numbered steps.
This is my favorite part!  Laminate the cards & put them in your purse or diaper bag with a dry erase crayon, and pull them out as an instant busy bag learning tool.  At the grocery store (to keep them entertained in the cart – shopping in peace!), at the doctor's office, at the post office…etc
4th – OBJECT/LETTER RECOGNITION…teach them basic everyday objects in a fun colorful way.
Each card has an object that corresponds to the card letter.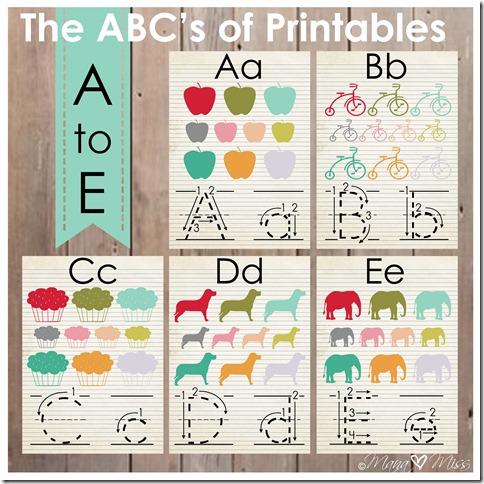 Download all of the ABC's of A-E Printables here…
♥ Letter A
♥ Letter B
♥ Letter C
♥ Letter D
♥ Letter E
---
And…here are some more fun things for you…a list of free printables from myself & some other fabulous bloggers in today's A-E series!
These free printables listed include learning packs (mostly PRE-K & K), kiddo activities, reading series, and some decoration/artwork too!!
Enjoy :)
A
ABC Review Pack– This Reading Mama
ABC Inserts for Pocket Chart/Educational Cubes– This Reading Mama
Alphabet Learning – Lesson Plans & Posts– This Reading Mama
A is for Apple– This Reading Mama
Missing Letters: ABC Apples– Learn Create Love
Arctic Animals Pack– Royal Baloo
ARK – Acts of Random Kindness for Kids & Adults– Kindergarten Basics
Artwork: Army – Hubby Made Me
B
Color By Numbers: Ballerinas– Learn Create Love
Teaching Bible– True Aim Education
Color by Numbers: Birds– Learn Create Love
BBQ Activity Pack– 3dinosaurs
Bug Activity Pack– 3dinosaurs
subway art: Beach– mama♥miss
Baseball Activity Pack– 3dinosaurs
Bear Snores Activity Pack– 3dinosaurs
Kindergarten, PreK, and Toddler Brave Printables– Royal Baloo
BOB books– In Lieu Of Preschool
butterfly – stained glass– mama♥miss
busy bag: Popsicle Stick Puzzle– mama♥miss
busy bag: Pasta Bead Sequencing– mama♥miss
busy bag: Seek-N-Find Alphabet Tube – mama♥miss
C
Daily Calendar Journal– mama♥miss
Blank Calendar –  Blue Manor Education
Kindergarten Chess Pack – Royal Baloo
Christmas Pre-K Pack– This Reading Mama
Christmas For the Emergent Reader–Enchanted Homeschooling Mom
Christopher Columbus– 3dinosaurs
Coin Sort Activity– Learn Create Love
Count & Color Christmas Tree– mama♥miss
keep calm art: Cotton Candy – mama♥miss
D
Dad – father's day bunting & card– Hubby Made Me
"My Daddy Rocks" Father's Day Activity– mama♥miss
quote art: Dahl– mama♥miss
Kindergarten & Toddler Dog Packs– Royal Baloo
Dinosaur Pack– 3dinosaurs
Color By Numbers: Dinosaurs – Learn Create Love
E
Easy Reader Books for Boys– Playdough to Plato
E is for Egg– This Reading Mama
Easter– 3dinosaurs
Eat – Dry Erase Placemats– mama♥miss
quote art: Emerson – mama♥miss


Don't forget…
EVERY DAY this week I will have more free printables for you…
tomorrow is letters F-J…stay tuned :))
xx ♥ m
There are also 70 bloggers of the Kid Blogger Network that are bringing you the ABC's series.
To make it easier for all of you, this series has been broken up into 5 categories…
♥ SCHOOL ACTIVITIES
♥ LEARNING THROUGH PLAY
♥ LITERACY
♥ ARTS & CRAFTS
♥ MOM TIPS & TRICKS
By clicking on this button, you will see each individual blogger, in each category, as well as their specific topic, whew!!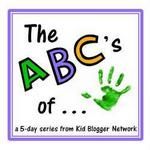 I'm being joined by 19 other bloggers in the MOM TIPS & TRICKS category.
MOM TIPS & TRICKS:
Being a Hands on Mom from hands on : as we grow
Connecting with your Kids from One Perfect Day
Family Field Trips with Kids from Edventures with Kids
Kids Party Ideas from Mama Pea Pod
Mama Survival from The Dizzy Mom
Organized Home from Mamas Like Me
Printables from mama♥miss
Raising Boys from Boy Mama Teacher Mama
Raising Eco-Friendly Kids from Kitchen Counter Chronicles
Raising Girls from Mess for Less
Raising a Healthy Kid from Living Life Intentionally
Raising a Thinking Child from The Outlaw Mom
Raising Toddlers from Home Learning Journey
Raising a World Citizen from All Done Monkey
Simply Celebrating Holidays as a Family from Inspired by Family Magazine
Teaching Kids about Money from Carrots are Orange
The Family Dinner Table from Connecting Family & Seoul
Trying A New Experience with Your Children from 52 Brand New
Values for Children from True Aim Education
---
Terms and Conditions
The above post allows a free printable PDF download; you will need Adobe Reader to do so.
It is free to download at Adobe's website here.
Please read here before you download any of mama♥miss's PDF files…thanks, man!
---
(Visited 8,953 times, 1 visits today)