Laundry.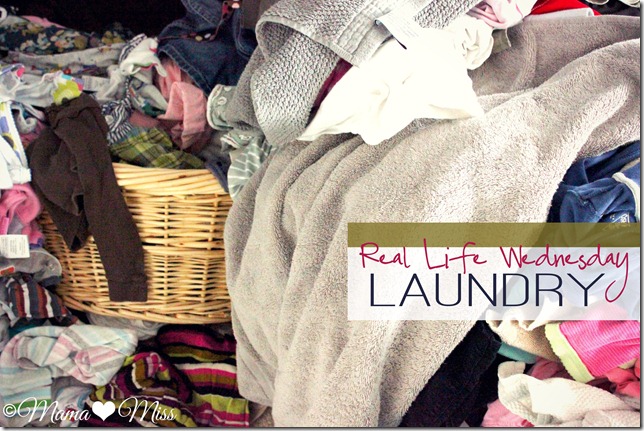 Laundry will be the death of me.  See that pile (I mean, "piles" – I don't think that can be defined as just one pile – HA!).  That is my everyday.
Does everyone hate laundry as much as me?  Wait, hate is a strong word.  Die, laundry, die!  Okay I feel better now, did I really just tell the laundry to die?!  Is it gone?  Nope, still there.  Nothing like a little (A LOT of) laundry to evoke such strong feelings ;)
It never seems to end.  I tried doing one load everyday; wash it, dry it, fold and hang it, & put it away.  It worked, for maybe a week.
Is there a laundry solution out there?
I can't wait until V is 3.  Maybe, just maybe, she can do the loads for me – we'll call it "whimsical wash" & "fantastic folding" – the fun will never end.  Wait, is 3 too young?  Nah-nonsense.
Seriously, if anyone has ANY magical solutions for doing laundry, I am open to anything, I mean, EVERYTHING!  I can do the washing & the drying, no prob Bob, it's the FOLDING & the HANGING.  UGH – it takes FOREVER.  Maybe it is all my many years in retail management?  This is why I despise folding laundry – I can't delegate it to anyone – HA!
That pile, oh that gorgeous pile, well, it's all clean, it just needs to be snapped at by the magic Mary Poppins fingers & insert itself into all my drawers and closets.  Oh, if I could be Mary Poppins, for just ONE day…ahhhhhh…
Singing in my head now:
In every job that must be done
There is an element of fun
You find the fun and snap!
The job's a game
Everyday I wake up saying (in my head of course), that this is the day all the laundry will be done & folded, and the hubs will walk in the door and do a happy dance that he finally has clean clothes.
And then real life happens, and I go to bed each day tripping over my pile of clean laundry needing to be folded.
If I was Mary Poppins for a day, I would spread the wealth, I truly would.  I would show up at everyone's house and snap my fingers…it would be great fun (and I just might even sing about it).
Who would you like to be for a day?
(Visited 310 times, 1 visits today)