So, let's get real for Real Life Wednesday, I mean really real!
I, Melissa, do confess…I am a total klutz.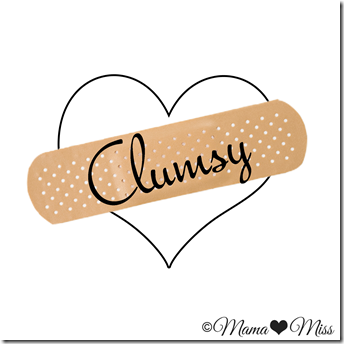 True story, I broke my foot in my sleep once.  What's that you say, crazy lady?
Yep, broke the foot in the sleep.  How does one break their foot in their sleep?
Here's how it all went down…I have no stinking idea!
Let me start off with telling you I also sleep walk & sleep talk (that's a whole other RLW post, my siblings should really guest post for that one – hahaha ;).  So, one morning I woke up lying on my bedroom floor by my bedroom door curled up in the fetal position and my foot hurt, I mean REALLY hurt.  I went to the ER & it was broken…what???  How did I break my foot in my sleep?
Did I run out in front of traffic?
Did I try to kick my door open (i.e. laying by the door)?
Was I in a ninja fight?
Was I stepped on by an elephant?
Who knows, I'll never know, unless I find it on YouTube one day – HA!
So, back to the point at hand.  I'm a klutz.  Need proof?  Here's a photo montage of all my current visible scars (not including my appendix & gallbladder removal scars – because those were not due to my clumsiness) & war wounds (a war with myself –HA!).
burn scar on my right arm from stirring a pot
surgery scar on my back from having back surgery
bruise on my left arm from…dunno?
scar on my right foot from falling down a ravine
cut on my left leg from walking into the open dishwasher
bruise on my right thigh from constantly walking into the corner of my side of the bed
cut on left pointer finger…don't know either, it just appeared?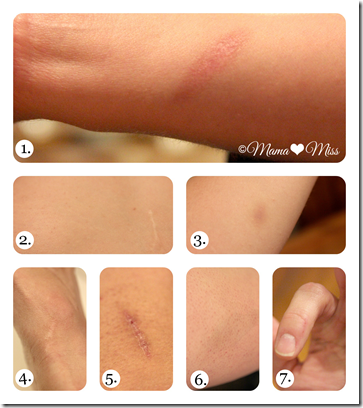 What's your most creative theory?  How do you think I broke my foot in my sleep – do tell!
xx ♥ m
linked up on:
(Visited 920 times, 1 visits today)