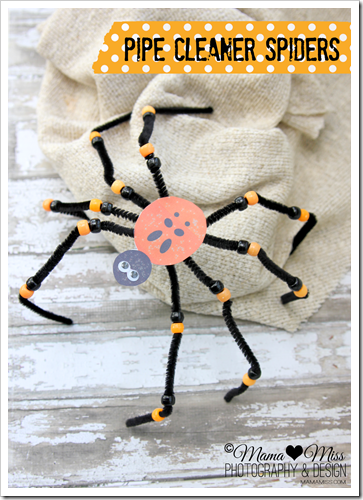 So, here's my first Halloween craft (better late than never, huh?).
Look at these cute (not scary) spiders…eek!  Little miss V is very easily scared by all things even remotely scary.  So, by adding some googly eyes, we have some silly spiders, not scary spiders :)
And these are so very easy to make, I tell ya, just a few materials, and my printable, and you are in spider-riffic business.
Materials: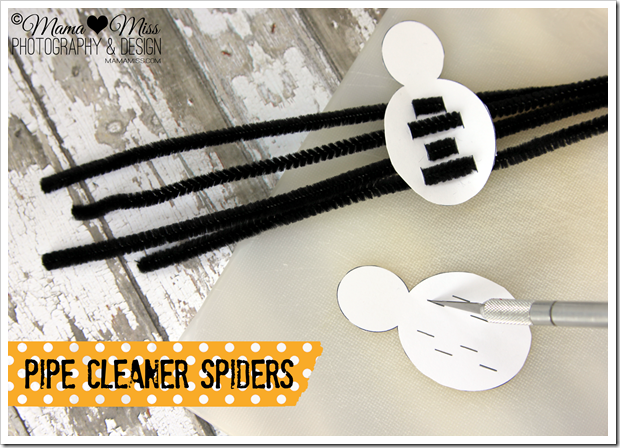 Steps:
First, print out the spider printableon cardstock, or heavy paper.  Each spider has two parts; the bottom layer to weave the pipe cleaners through, and a top layer with the spider's design that will hide the pipe cleaners being woven through the bottom layer.  Cut out both a top layer and a bottom layer for each spider you wish to make.
Using an X-ACTO knife, cut slits on the spider bottom layer along the marked lines (see pic above).
Weave the pipe cleaners through the slits, like the picture above.  For the larger spider, I used 4 regular size pipe cleaners.  For the smaller spider, I cut 2 regular size pipe cleaners in half to create 4 smaller pipe cleaners.
Once pipe cleaners are woven through, lay your spider with the pipe-cleaner legs coming out underneath the bottom layer (like pic above).
Place double stick tape over entire bottom layer, including the middle section of exposed pipe cleaners.
Place the top layer on top of the tape and seal together (you may need to trim around the edges to clean it up a bit :)
Place googly eyes on the spider head with white glue.
Next, bend the spider legs & thread the legs with pony beads in desired colors and patterns :)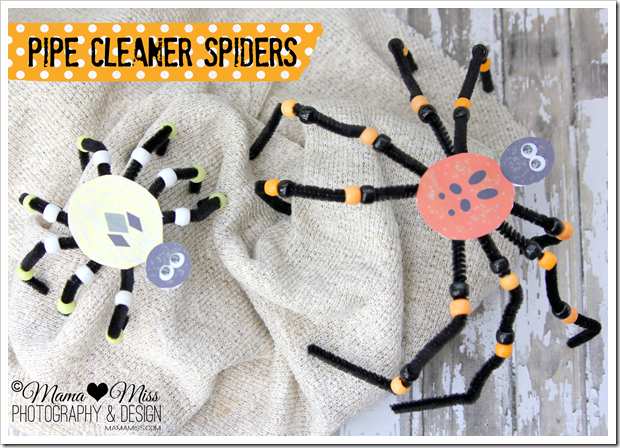 Yay – Spider-riffic fun for all!
I think ultimately it would be fun to make a bunch of these & place them on a big web in an entryway or hallway…ideas for next year :)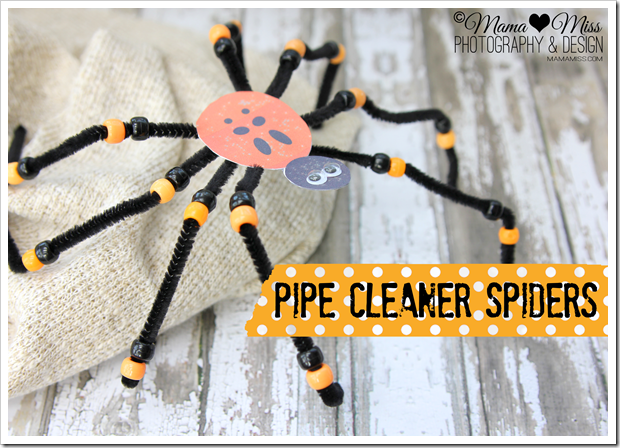 Do you have a little miss, or mister, who is easily scared like little miss V?  If so, what kind of non-scary Halloween things do you do in your house to celebrate this scary holiday?
xx ♥ m
Terms and Conditions
The above post allows a free printable PDF download; you will need Adobe Reader to do so.  It is free to download at Adobe's website here.
Please read here before you download any of mama♥miss's PDF files…thanks, man!
(Visited 8,394 times, 1 visits today)