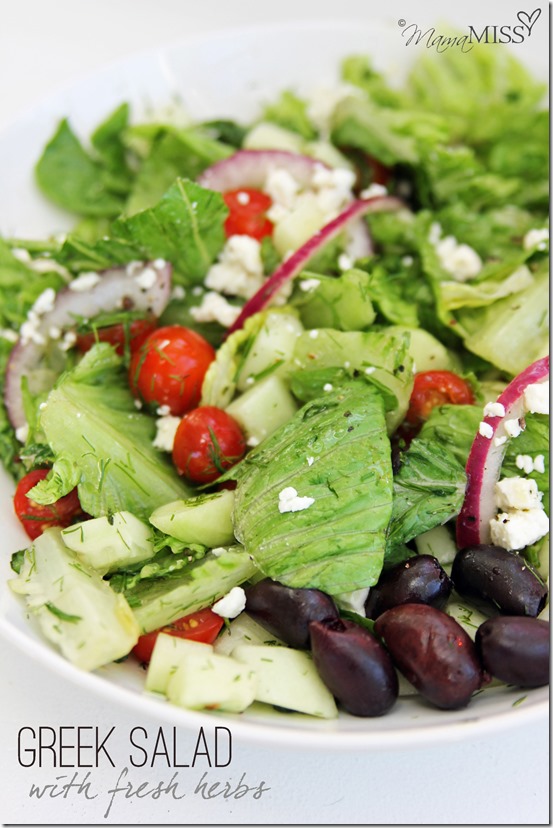 I think I've been on the ultimate hunt for the perfect Greek salad for what seems like FOREVER.  There is nothing like a yummy Greek salad.  You can eat it as a side to accompany some gyros or eat it as a complete dinner salad with some bread.
Well, I can stop my search!  This is so amazingly good that we have eaten it FOUR five times in the last two weeks!  Yep – it's that yummy :)
The fresh herbs make the whole salad come together so perfectly – so don't forget those!  A frugal tip, from someone who is always using fresh herbs in cooking, is to plant a small herb garden for the basics like parsley, oregano, mint, thyme, and dill.  That way you'll always have them on hand, so no more spending money on atrocious grocery store herb prices.  I don't know about you, but buying some overpriced pre-packed super small package of herbs is not as appealing, or as rewarding, to your dish (or your wallet), than growing it yourself and having it fresh for when you need it.  Now, let me not fool you to believe I have a green thumb too, because I don't!  The herb garden – all hubs – and I'm so very thankful that he takes the time to grow it and cultivate it for us.  If it were up to my "opposite of green thumb" abilities, we would not have this bountiful growth to add to our meals :)
Greek Salad with Fresh Herbs
This delicious Greek salad is the best of the best! Perfect as a side or a full dinner. It is simply divine.
Ingredients
1/2 cup red onion, thinly sliced
2 tablespoons red wine vinegar
1 tablespoon brine from jar of kalamata olives
1 garlic clove, minced
1/2 teaspoon kosher salt
1/4 teaspoon freshly ground pepper
1/3 cup extra-virgin olive oil
10oz. bag of romaine lettuce hearts, washed & drained
1/4 cup fresh parsley, finely chopped
1/4 cup fresh oregano, finely chopped
1/4 cup fresh dill, finely chopped
1/4 cup fresh mint, finely chopped
1 pint cherry tomatoes, sliced in half
2 english cucumbers, peeled & chopped
freshly ground coarse black pepper
freshly ground coarse sea salt
1 cup crumbled feta cheese
1 cup kalamata olives
Instructions
Submerge the red onion slices in a small bowl of ice water for about 10 minutes, stirring once, then drain and set aside. See why to soak red onions here.
While the onions are soaking, make the dressing.
In a small bowl, whisk together the red wine vinegar, olive brine, minced garlic, salt and pepper. Whisk in the olive oil in a slow stream until completely blended with vinegar mixture.
Add the drained red onion to the dressing bowl. Mix, and then let sit until salad is ready.
In a large bowl, add the lettuce, parsley, oregano, dill, mint, tomatoes and cucumbers. Toss to combine.
Season to taste with freshly ground black pepper & sea salt.
Divide amongst four bowls. Top salads with olives & feta. Stir dressing/onion mixture and serve with the salad.
Notes
https://www.mamamiss.com/blog/2013/08/06/eats-greek-salad-with-fresh-herbs/
All rights reserved Copyright 2012-2019 Mama Miss Blog and Designs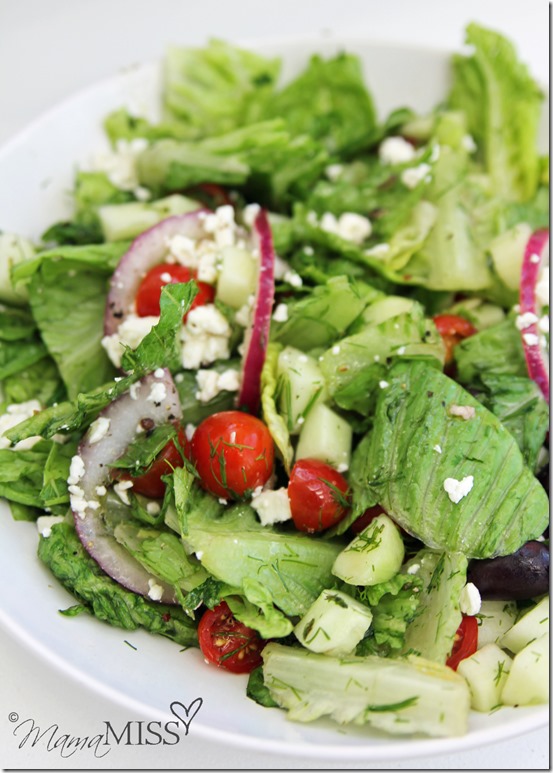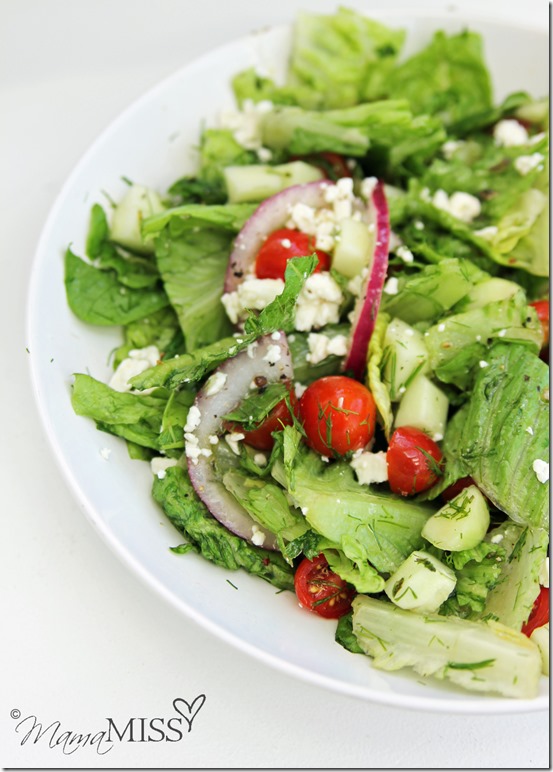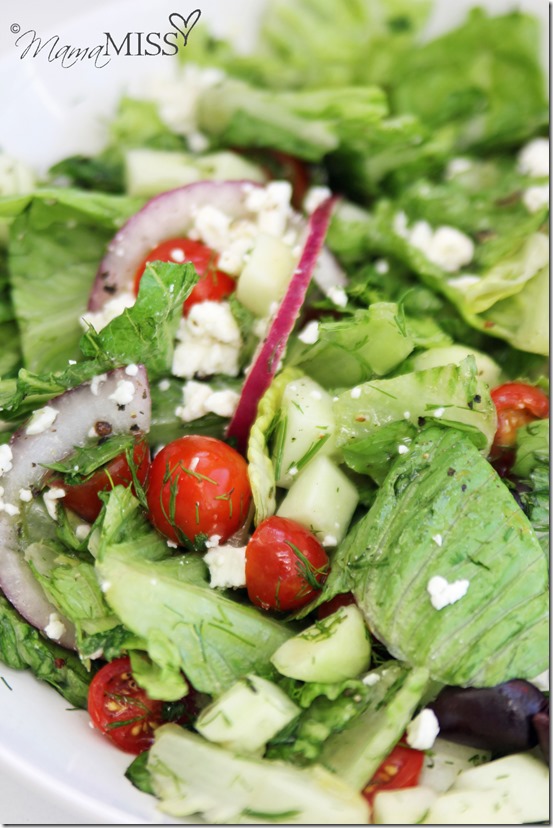 Frugal Tip

Plant a small herb garden with the basic herbs – that way you'll always have them on hand – no more spending money on atrocious grocery store herb prices.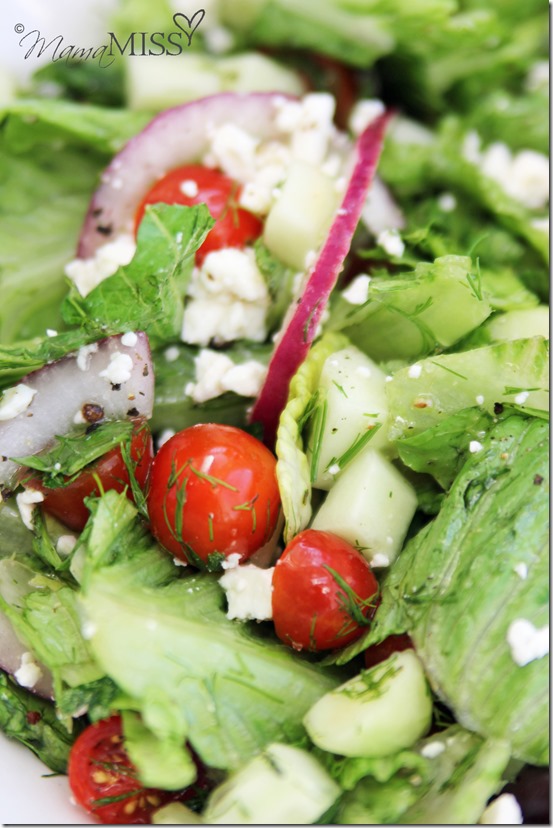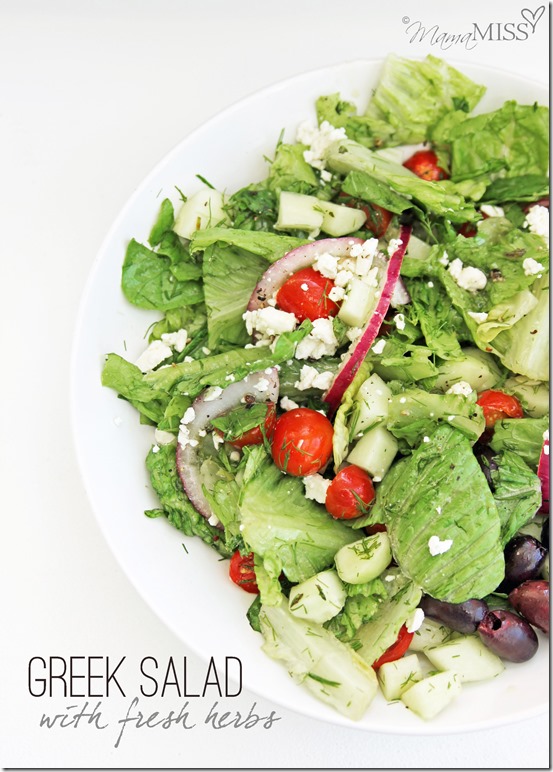 ♥
Like what you see?!
You can connect with me on Pinterest|Facebook|Twitter|Google + too!
♥
© Mama Miss. All images & content are copyright protected.
Feel free to share one picture and linking directly to this post for download.
Please do not copy directions, ingredients, or pdf files for your own website.
Copying my post partially, or fully, is strictly prohibited.
All work by Mama Miss is licensed under Creative Commons Attribution-NonCommercial-NoDerivs 3.0 Unported License.
♥♥♥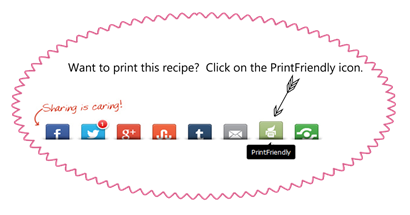 (Visited 4,238 times, 1 visits today)