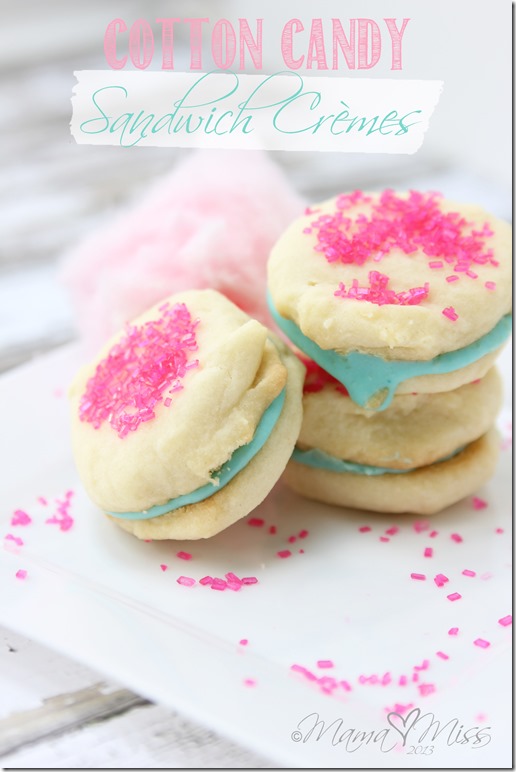 So, with all experimenting, you fail, and fail, and fail some more, and then maybe you succeed!  I am one determined mama – I WILL NOT let a little failure get in my way, and what would I be teaching my kids if I gave up?!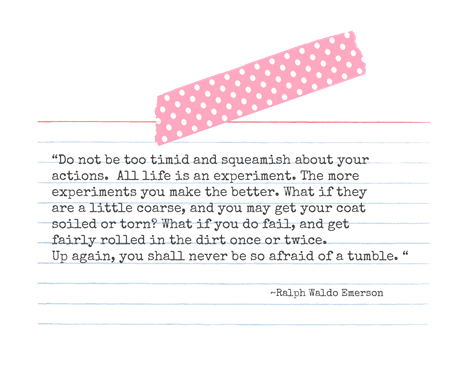 After this recipe was a total disaster as fudge (it's original destiny), it was way too soft – but, the consistency was PERFECTO for a crème!
hmmm cotton candy crèmes…I'm thinking Oreo-esque cookies but softer!  And voilà – these babies were born – and they practically melt in your mouth!
Cotton Candy Sandwich Crèmes
A delectable combination of cotton candy crème inside a delicious shortbread-like cookie that literally melts-in-your-mouth.
Ingredients
Cookies
1 cup softened butter (2 sticks)
1/3 cup powdered sugar
1 1/4 cup flour
1/2 cup cornstarch
Crème
1 1/2 cups white chocolate chips
1 tablespoon butter
1/16 teaspoon salt
7 oz. sweetened condensed milk
3 1/2 oz. marshmallow cream
Instructions
Cookies

Preheat oven to 350° F.
Line baking sheets with parchment paper.
In a large mixing bowl, cream butter and powder sugar; Mix well.
Adding a little bit at a time, mix in flour and then cornstarch to butter mixture; Mix well.
Roll into balls and place dough onto the parchment lined baking sheets.
Flatten balls slightly with a spatula.
Bake cookies for 10-12 minutes (make sure to watch them - they will not brown).
While cookies are baking, start making the crème.
When cookies are done, remove them from the oven & allow to cool on baking sheet for 5 minutes.
Transfer semi-cooled cookies to a wire rack to let cool completely.

Crème

In a double boiler combine the white chocolate chips, butter, salt, and sweetened condensed milk.
Stir until melted and smooth.
Remove from heat.
Add the marshmallow cream, frosting creations packet, and cotton candy flavoring.
Stir again until melted and smooth.
Let cool slightly to thicken before spreading on cookies.

Combing Cookies & Crème

Spread crème on half of the cookie bottoms, then place the other halves on top (bottom of cookies facing crème).
Smoosh together making a cookie sandwich.
https://www.mamamiss.com/blog/2013/03/01/sweets-cotton-candy-sandwich-crmes/
All rights reserved Copyright 2012-2019 Mama Miss Blog and Designs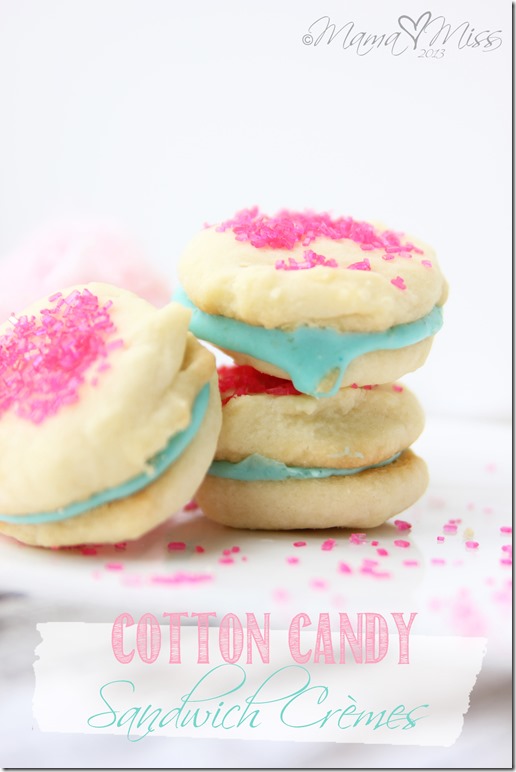 ♥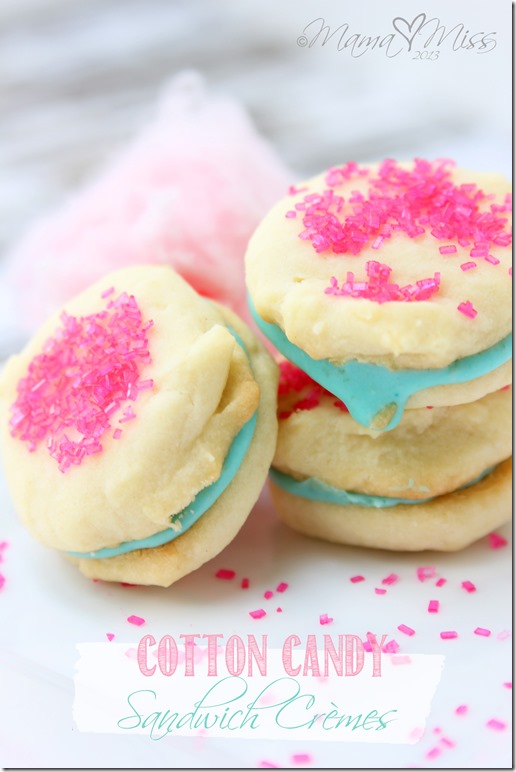 xx ♥ m
© Mama Miss. All images & content are copyright protected. If you want to republish this recipe or tutorial, please re-write it in your own words and link back to this post. Copying my post partially, or fully, is strictly prohibited.

♥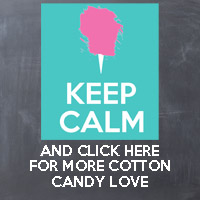 (Visited 5,420 times, 1 visits today)