So, when I made this salad, I have to admit, I wasn't too sure about it at first. Hubs is adamant about no fruit on his salad & in general it's not really my thing either. I'm a purist of sorts – salty with salty & sweet with sweet – I'm not a combiner. Let's just say that sandwich that Mickey D's is famous for – the McGriddle – yep, sounds quite disgusting to me – blech! But that's me and my food separation issues ;) To each his/her own, if it toots your horn, so be it. It just isn't this gal's cup of tea!
Well, let's get back to this yummy strawberry salad, shall we?!
Well, it's awesome, that's all I have to say about it…super yummy indeed! Both hubs & I broke our combo rules on this one, and it did not disappoint.
So, it's hubs and ME approved, therefore, it made it to the blog & to you :)
Strawberry-Chicken Salad With Mixed Greens
This yummy strawberry salad is the perfect addition to your summer meal plans. Lite and filling - it's sure to sweeten your plate.
Ingredients
2 chicken breasts
1 teaspoon + 2 tablespoons olive oil, separated
freshly ground coarse black pepper
freshly ground coarse sea salt
1 cup hulled and sliced fresh strawberries
1 cup celery, chopped
1/4 cup fresh chives, chopped
1/2 cup strawberry preserves
2 tablespoons cider vinegar
1 teaspoon Dijon mustard
6 cups mixed lettuce greens
1/4 cup chopped walnuts
Instructions
Season chicken with black pepper & sea salt. In a large skillet over medium-high, heat the 1t olive oil. Add chicken to the heated skillet and lower temperature to medium, cover pan and grill chicken until the internal temperature reaches 165° F. Cut chicken into edible chunks.
In a large bowl, add the grilled chicken, sliced strawberries, celery, and chives. Toss together gently until combined.
In a separate small bowl, add the preserves, the remaining 2T olive oil, vinegar, and mustard. Whisk to combine.
Add the oil mixture to the chicken mixture and toss to combine. Season to taste with black pepper & sea salt.
Arrange lettuce on individual plates. Spoon the chicken mixture over the lettuce. Sprinkle with walnuts (or serve on the side).
Notes
https://www.mamamiss.com/blog/2013/07/03/eats-strawberry-chicken-salad-with-mixed-greens/
All rights reserved Copyright 2012-2019 Mama Miss Blog and Designs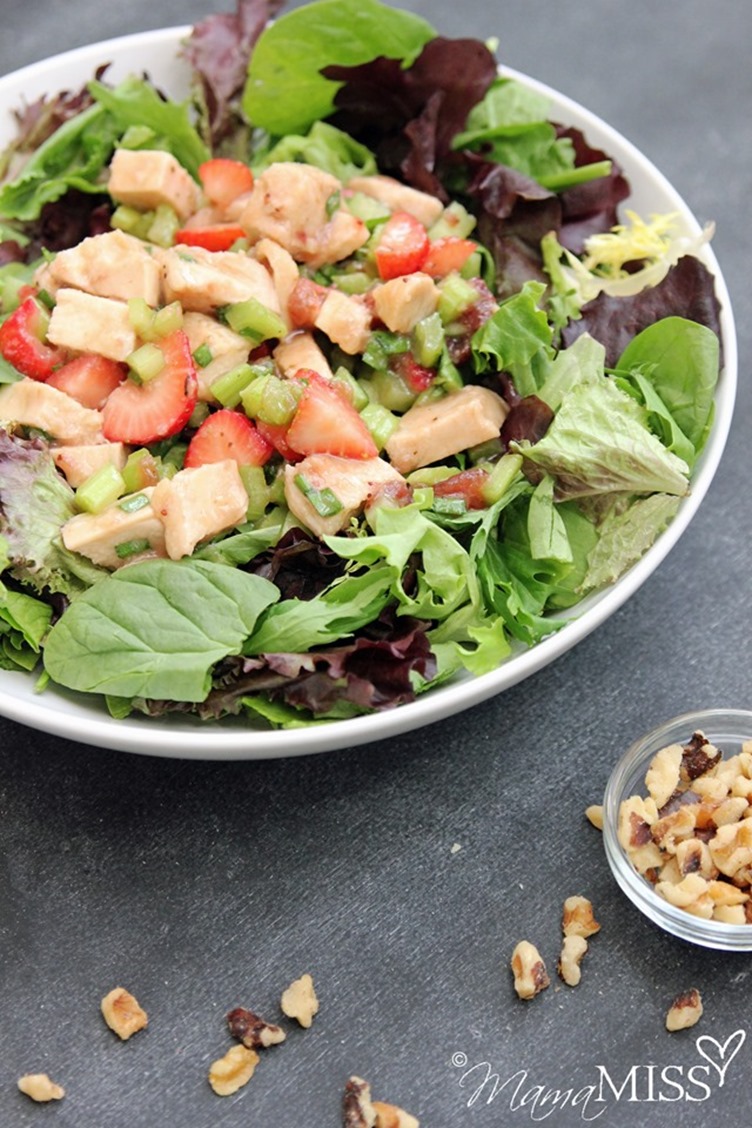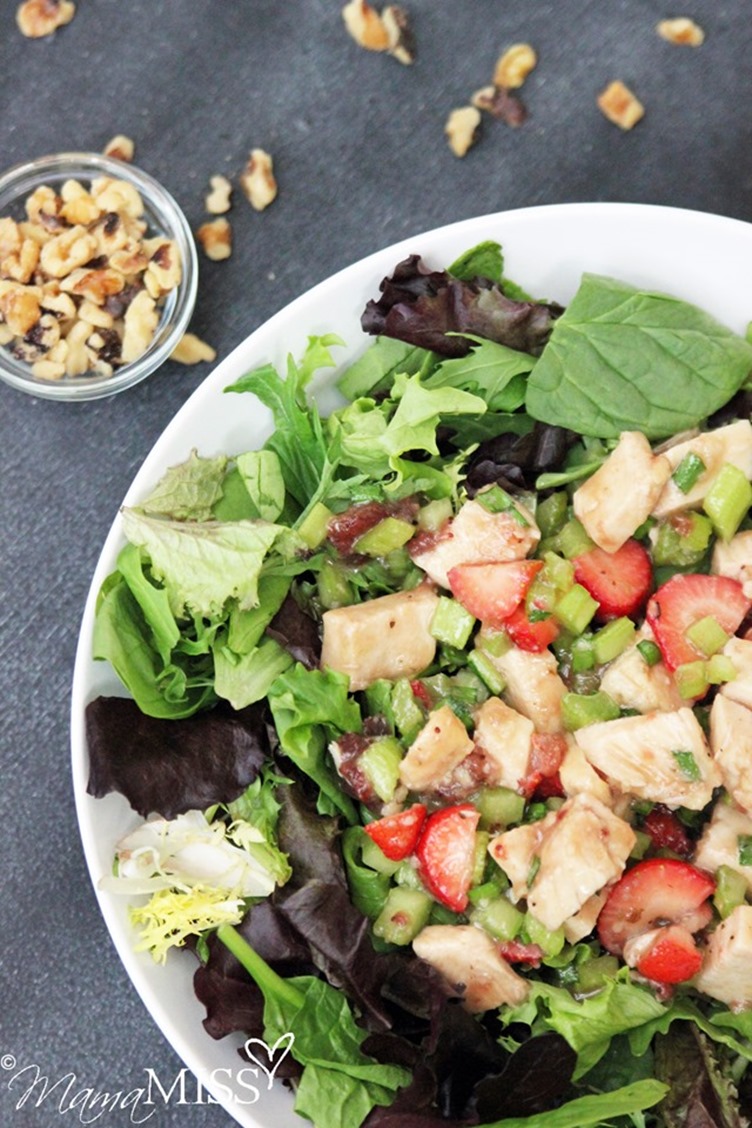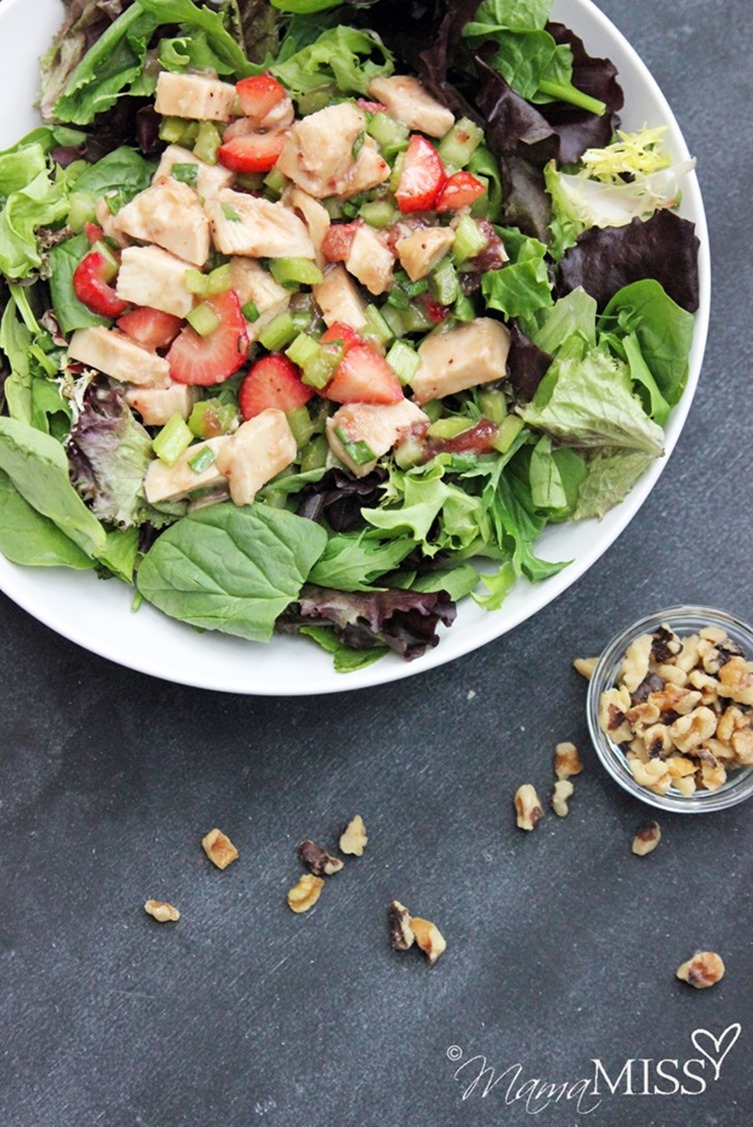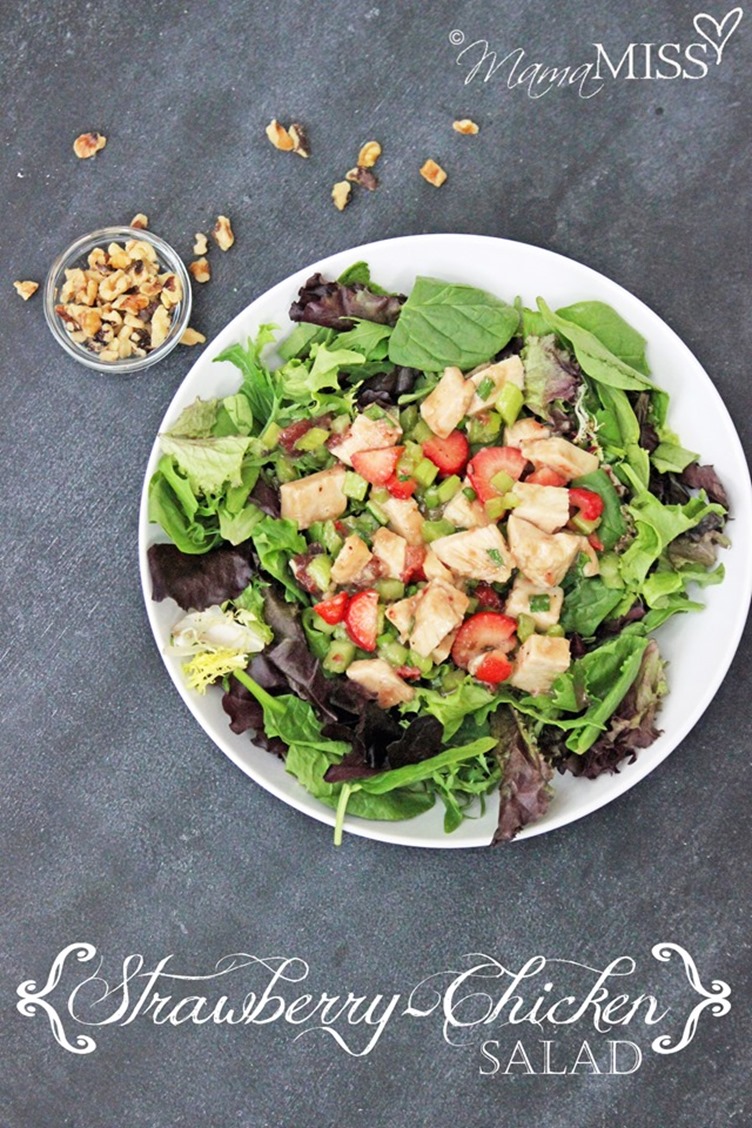 ♥
Like what you see?!
You can connect with me on:
Pinterest || Facebook || Twitter || Google +
And don't miss any updates, get new posts right away – sign up here…
♥
© Mama Miss. All images & content are copyright protected.
Feel free to share ONE picture and linking directly to this post for download.
Please do not copy directions, ingredients, or pdf files for your own website or Facebook page, visuals or words.
Copying my post partially, or fully, is strictly prohibited.
All work by Mama Miss is licensed under Creative Commons Attribution-NonCommercial-NoDerivs 3.0 Unported License.
(Visited 2,410 times, 1 visits today)