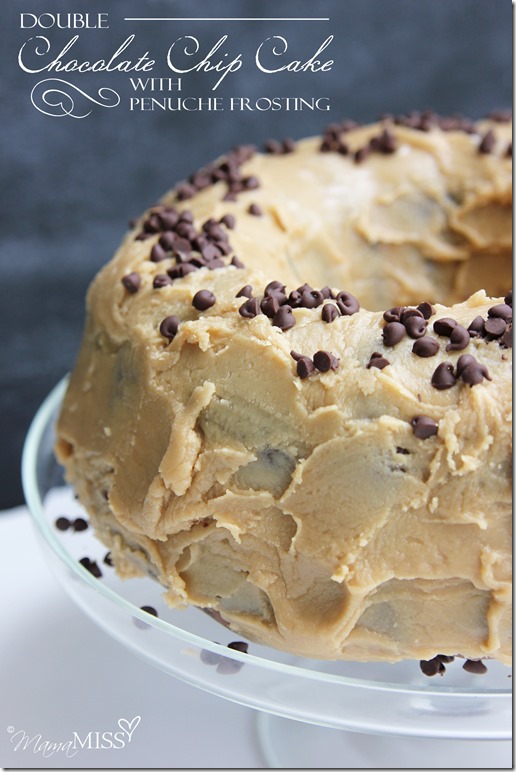 So, I'm not really a big cake maker. Well yes, I suppose I am for birthdays and such, but I usually take an easier route ;)
With hubs, I usually get store bought – he LOVES those giant sheet cakes from Costco. And with the kiddos I usually do cupcakes, well, except for their first birthday cakes of course.
So, delving into cake-land doesn't happen all that much – it's a shame really, I need like 8 more kids so I could make them all the time! I enjoy making them, but it's honestly a waste with just the four of us. So, when the occasion arose to celebrate my recent nieces birthday's in a double celebration for both of them – I jumped on the opportunity to make a cake! Wahoo – cake time!!! And this cake – OH MY GOODNESS – so delish! I may have snuck a few endless spoonful's of the frosting ;)
So, the cake, well ummm…Double Chocolate Chip Cake…I think it says it all right there! And please excuse the "no pictures" of the actual cake part – it got a bit devoured before I could even whip out my camera! So you'll have to just trust me on that part :)
And, the frosting…mmmmmm the frosting. It's Penuche frosting. It's a fudge-like frosting made with brown sugar. And it's simply divine.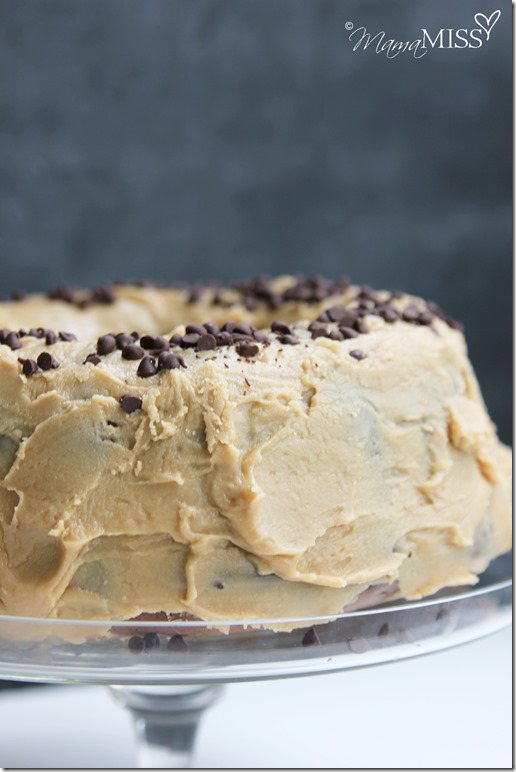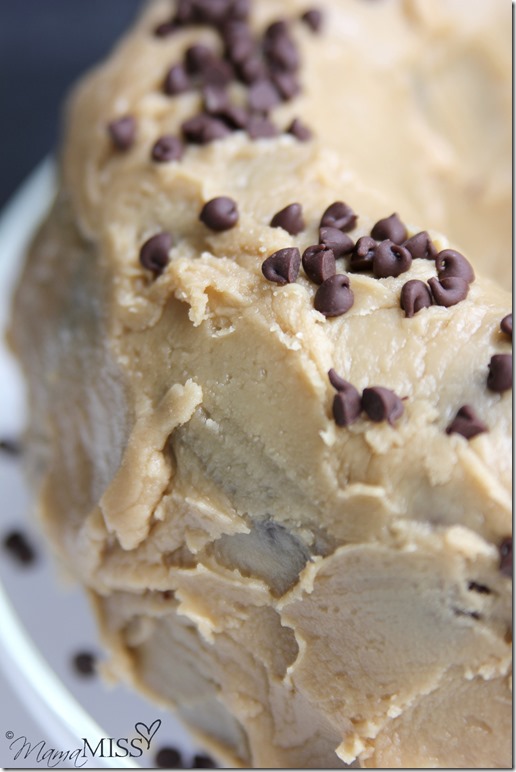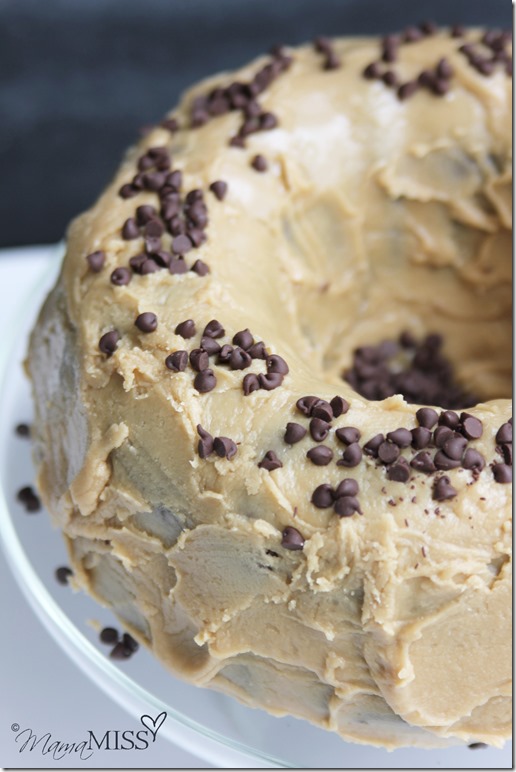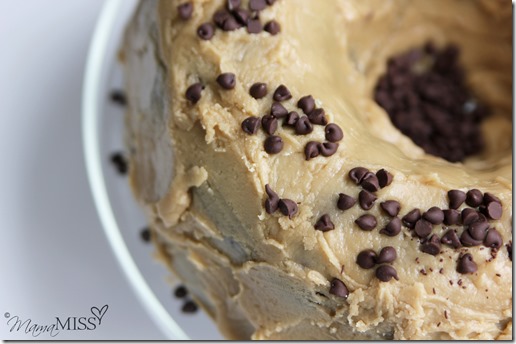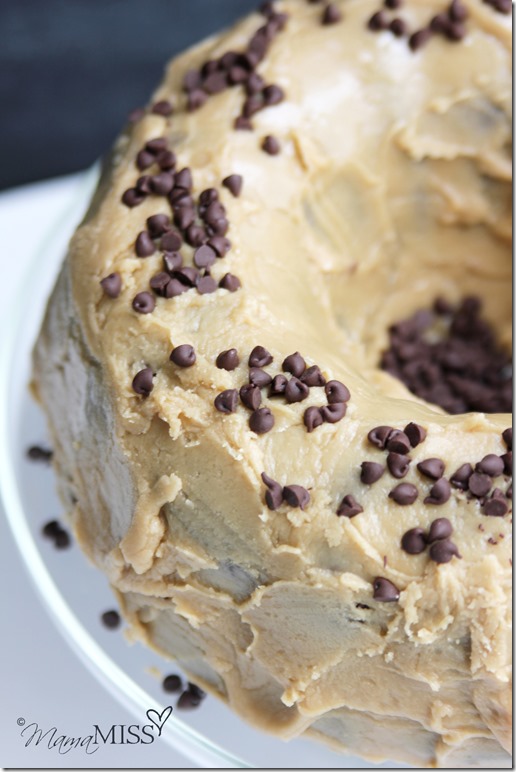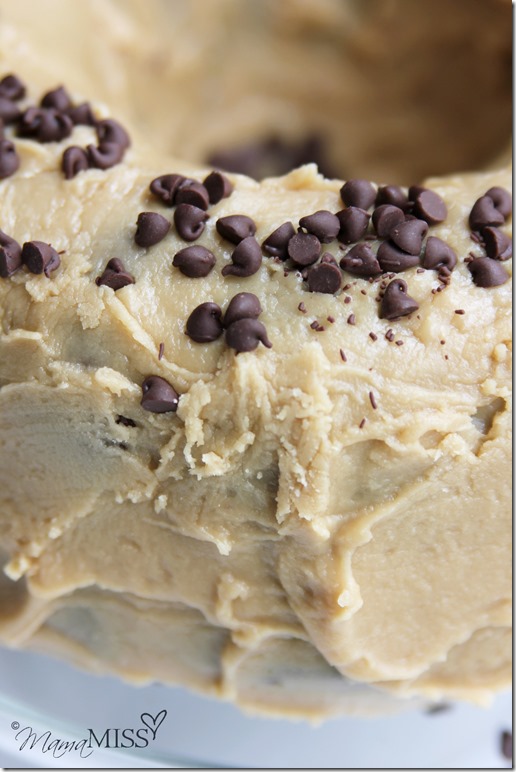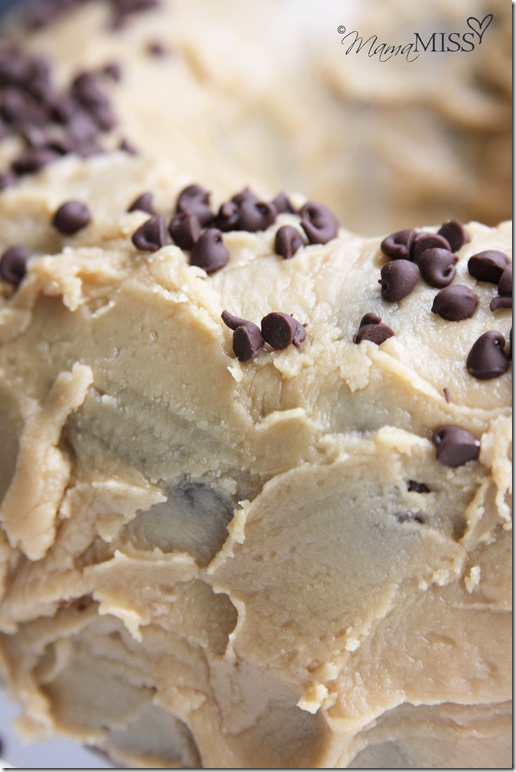 Double Chocolate Chip Cake with Penuche Frosting
The magnificent simplicity of this double chocolate chip cake does not even compare to the amazing and delectable result.
Ingredients
Cake
1 box (15.25 oz.) devil's food cake mix (I used
Pillsbury
Moist Supreme)
1 cup semisweet chocolate chips
1 package (3.9 oz.) chocolate instant pudding mix (I used
Jell-O
)
1 cup light sour cream
1/2 cup vegetable oil
1/4 cup water
4 eggs
1 teaspoon pure vanilla extract
Frosting
2 cups powdered sugar
1 cup packed light brown sugar
1 stick butter
1/4 cup 2% milk
Topping (optional)
1/2 cup mini chocolate chips
Instructions
Cake

Preheat oven to 350°. Spray a Bundt pan with cooking spray, then lightly dust with flour and shake off excess; Set pan aside.
Place 2 tablespoons of the cake mix and the chocolate chips in a small bowl; Stir together and set aside.
In a large mixing bowl, place the remaining cake mix, chocolate pudding mix, sour cream, vegetable oil, water, eggs, and vanilla extract. Blend on low speed for 1 minute, until blended. Stop the mixer and scrap the sides. Blend for 2-3 more minutes on medium speed until thick and well blended.
Add the cake mix and chocolate chip mixture to the batter until it is well blended.
Pour the batter into the prepared Bundt pan, smoothing the top.
Place pan in the oven, on a middle rack. Bake for approximately 45 to 50 minutes.
When it is done, the cake will spring back when lightly pressed and will also just start to pull away from the sides of the pan.
Remove cake from oven and let cool in pan, on a wire rack, for 15 minutes. Invert the cake to a serving platter and let cool for 20 more minutes.
Prepare the frosting (see below).
Spread warm frosting along the top and sides of the cake. If using, sprinkle cake with mini chocolate chips. Let cake stand for 30 minutes before slicing and serving.

Frosting

In a large mixing bowl sift the powdered sugar; Set aside.
In a medium saucepan combine the brown sugar and butter; Place over medium heat, stirring constantly until well combined, about 2 minutes.
Slowly add milk, stirring until combined; Bring mixture to a boil.
Remove the pan from the heat and cool slightly.
Pour the brown sugar mixture over the sifted powdered sugar.
Using a mixer, beat mixture on low until smooth and creamy, about 2 minutes.
Use frosting immediately, while it is still warm (if it hardens while you are frosting the cake, place it back in pan over low heat and stir until it is softened).
Notes
https://www.mamamiss.com/blog/2013/09/02/sweets-double-chocolate-chip-cake-penuche-frosting/
All rights reserved Copyright 2012-2019 Mama Miss Blog and Designs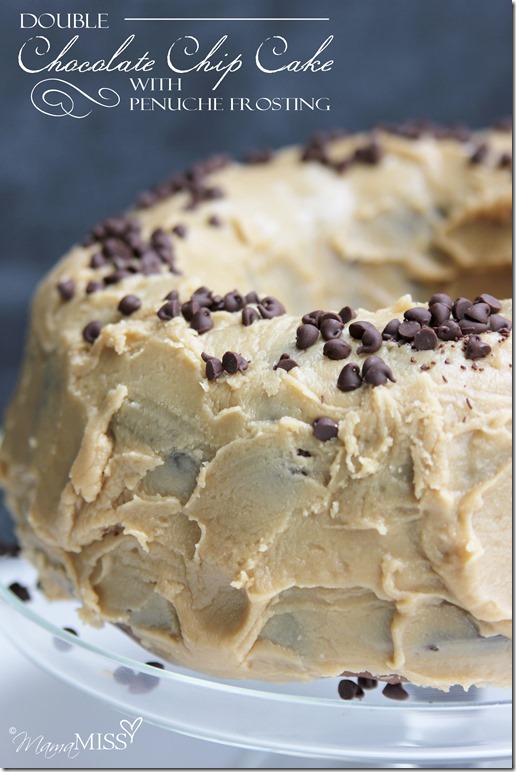 ♥
Like what you see?!
You can connect with me on Pinterest|Facebook|Twitter|Google + too!
♥
© Mama Miss. All images & content are copyright protected.
Feel free to share one picture and linking directly to this post for download.
Please do not copy directions, ingredients, or pdf files for your own website.
Copying my post partially, or fully, is strictly prohibited.
All work by Mama Miss is licensed under Creative Commons Attribution-NonCommercial-NoDerivs 3.0 Unported License.
♥♥♥
Please note that affiliate links are also provided throughout the post for your convenience – to allow direct access to the products suggested.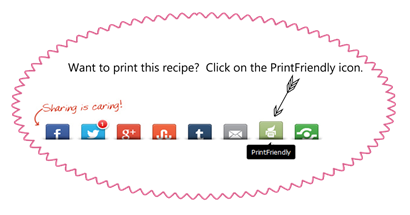 (Visited 4,497 times, 1 visits today)