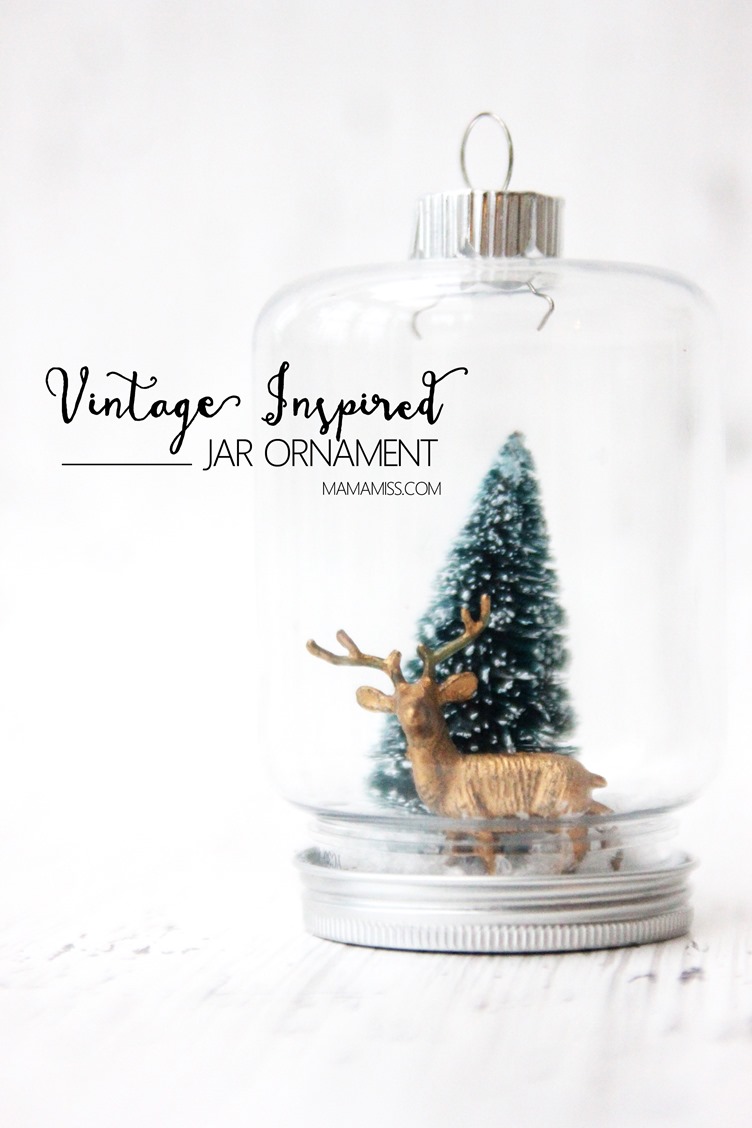 Hey it's another Kid-Made Ornament for ya!!  We are headed into full swing, crankin' out some ornaments, mode!  This Vintage Inspired Jar Ornament was the simplest ornament to make – EVER!
Henry Cole is one of our favorite authors, and this book, The Littlest Evergreen Tree, is just adorable.  It's a story of a little evergreen and it's life's journey – starting shorter than the grasses, it's life on a hillside as it is dug up to become a Christmas tree.
With that, we made this.
I've always loved those old vintage jar ornaments with the little bottle brush trees & plastic deer, so we created our own little Vintage Inspired Jar Ornament, complete with a little evergreen tree, a little deer, and some snow, in a jar .
[Tweet "10 Days of a #KidMadeChristmas – Vintage Inspired Jar #KidMadeOrnaments from The Littlest Evergreen"]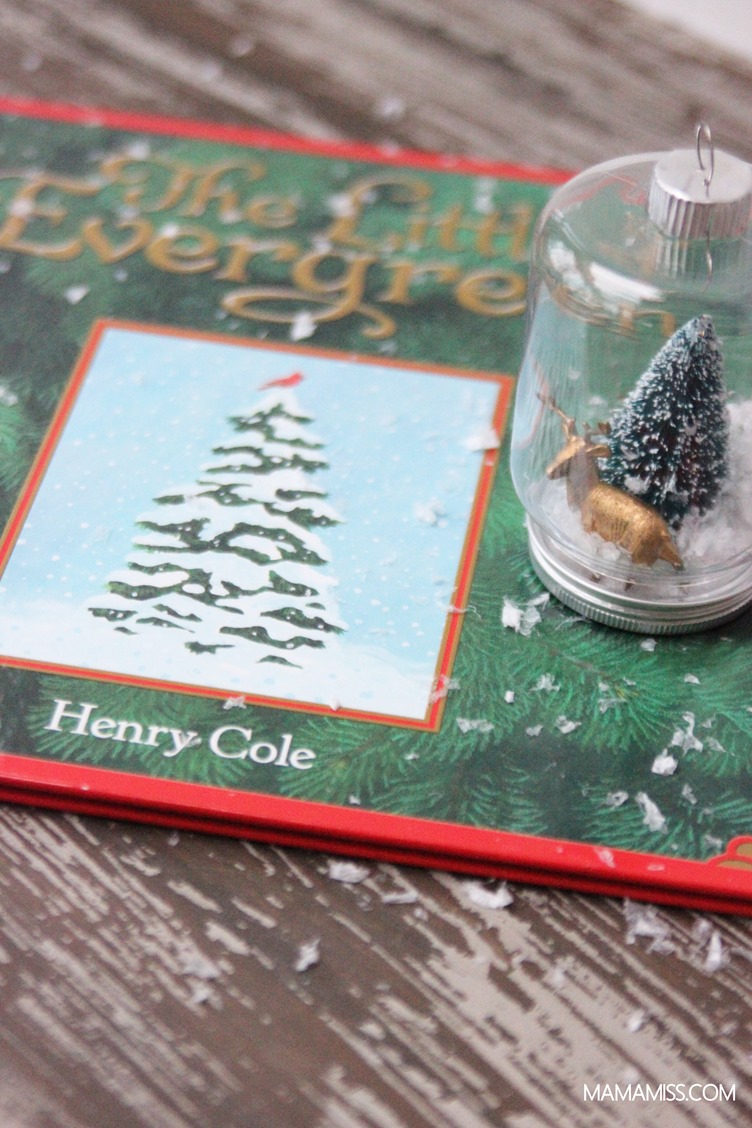 Here's how you can make one too!
What you'll need:
clear plastic ornaments (the ones shown in the pictures I got at my local craft store, but I can't seem to find them anywhere online to link to them for you :(  The ones I linked will work similar with the process, it's just that they are a different shape)
cool shot glue gun (great for little hands – it doesn't get too hot) & low temp glue sticks
index card (makes a great no-stick funnel) & a piece of tape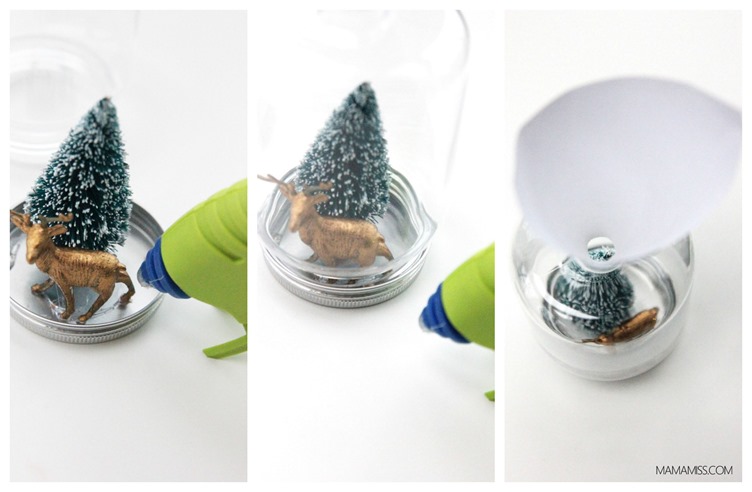 How to make it:
Read the book, The Littlest Evergreen.
Open the jar & lid.
Glue down the tree & deer with the hot glue to the bottom lid.
Once dry, glue the lid on.
Form the index card into a funnel & tape shut.
Pour in the fake snow, just a little bit is all you need.
Close the lid & hang!
Isn't it darling?!  I'm so in love with this little kid-made ornament.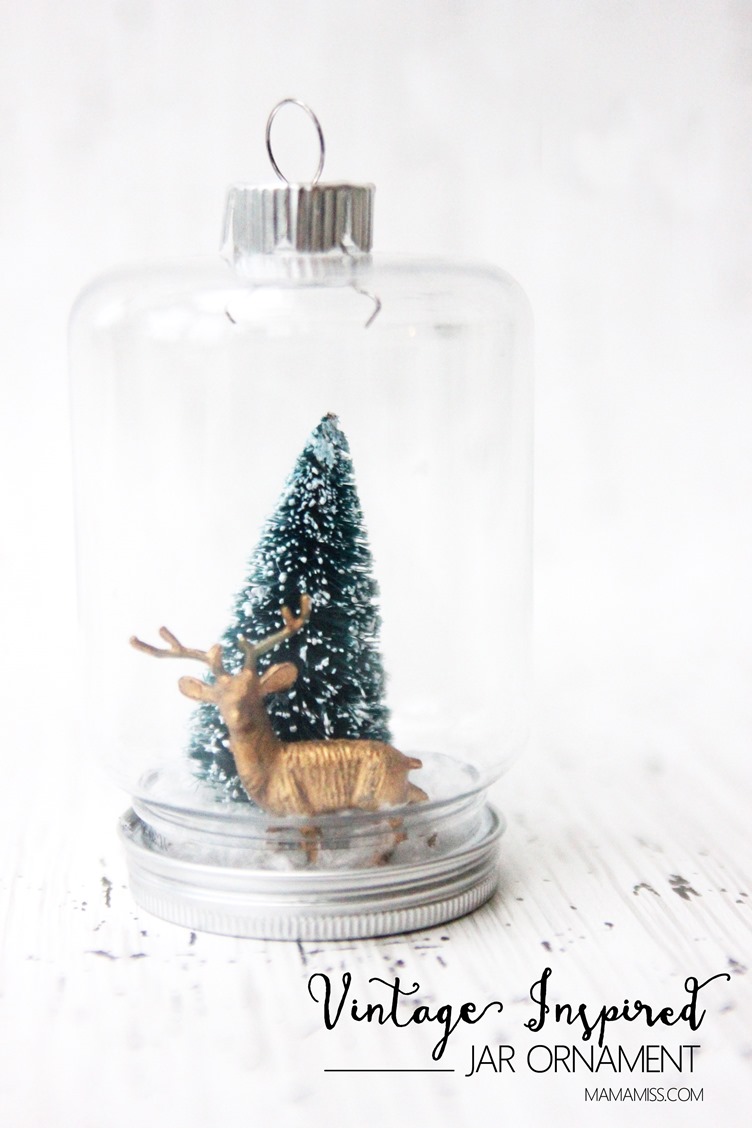 And, if you love Henry Cole as much as us – there are a ton of other Henry Cole books
– make sure you check those out too!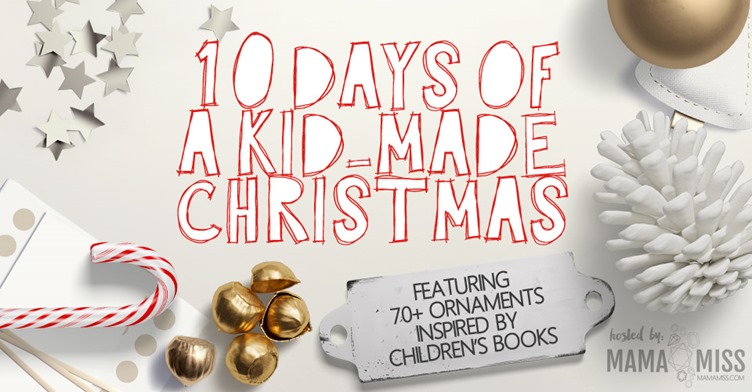 Here are the other fab bloggers that are posting today, make sure you pop on by & start pinning!!
Artsy Momma – Rainbow Fish Salt Dough Ornaments
Heart of Deborah – Easy Clay Kid's Ornament
Fireflies and Mud Pies – Craft Stick Sled Ornaments
Sugar Aunts – Fingerprint Christmas Tree Ornament
Mum in the Mad House – Felt Robin Christmas Ornament
See Vanessa Craft – Very Hungry Caterpillar Ornament
Inspired by Familia – Santa Christmas Ornament
My Bored Toddler – Muddy Paws Ornament
Rhythms of Play – Elf Peg Doll Ornaments
Oh & speaking of pinning – you can find all kinds of kid-made ornaments here for your kid-made Christmas & I'll be pinning all the ornaments as they are linked up there too.  Soooo get to crafting & linking, my friends :)
You can also find the schedule here of what is coming each day (where I'll also link the actual posts up as they go live).  I can't wait to see what you've been crafting with your kiddos!!  Oh & be sure to use the hashtag #KidMadeChristmas on social media so I can find ya!

INSPIRE OTHERS BY SHARING!!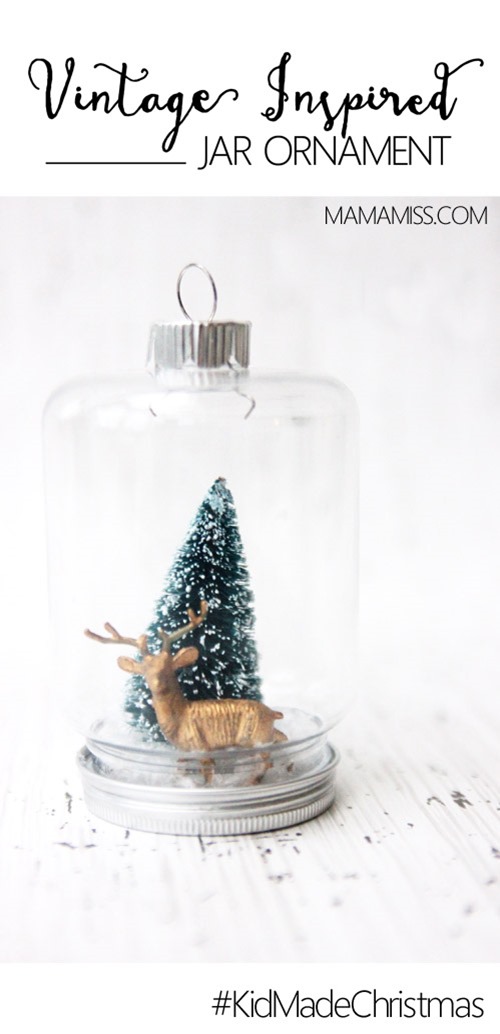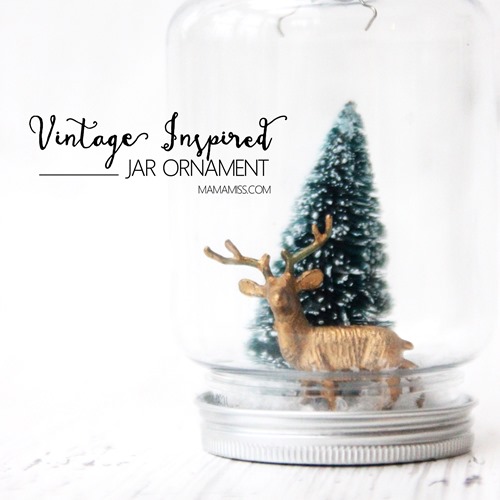 ♥
Like what you see?!
You can connect with me on:
Pinterest || Facebook || Twitter || Google +
And don't miss any updates, get new posts right away – sign up here…
♥
© Mama Miss. All images & content are copyright protected.
Feel free to share ONE picture and linking directly to this post for download.
Please do not copy directions, ingredients, or pdf files for your own website or Facebook page, visuals or words.
Copying my post partially, or fully, is strictly prohibited.
All work by Mama Miss is licensed under Creative Commons Attribution-NonCommercial-NoDerivs 3.0 Unported License.
(Visited 6,653 times, 1 visits today)