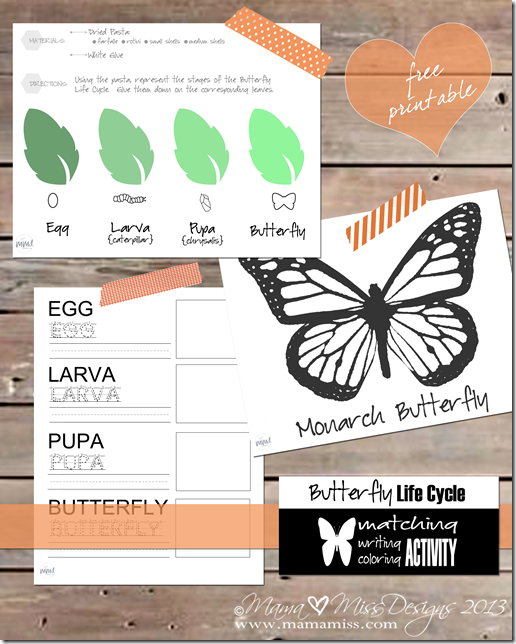 A couple of weeks back the kiddos and I got to attend a super fun event at our local wildlife conservatory, the Monarch Butterfly Release!  We got to see the monarchs being released and also got to see some monarch's that were still in their chrysalis's.  It was soooooo fascinating & interesting – I personally have never seen something like this, especially as up close as we got – so it was just as much fun for me as it was for them :)  If you don't have the opportunity to see these guys up close & personal – this is a great site to learn more, and see some fun videos too.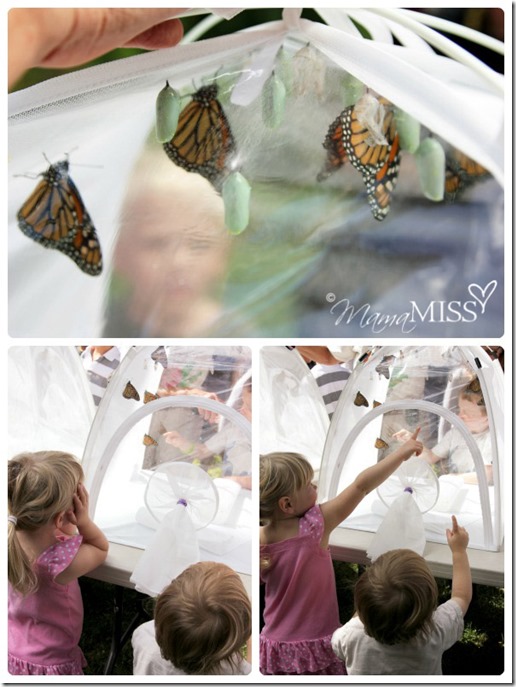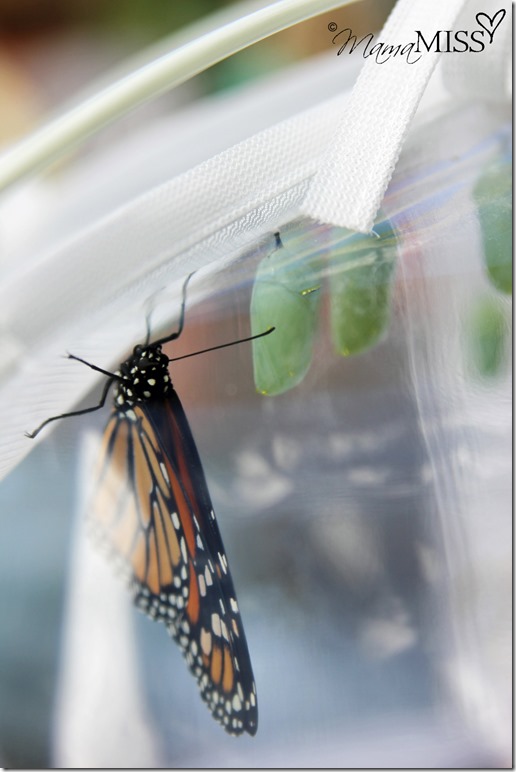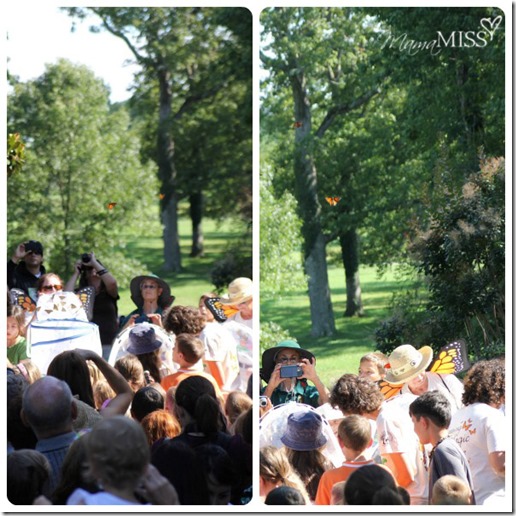 I came away from that lovely experience wanting to incorporate it into a learning activity of some sort for the kiddos.
So, we turned it into a little homeschool-preschool activity and had V & T's little friend, L, over for some learning fun too!
We started off by sitting down on the floor & reading this monarch butterfly book
of mine.  L, like V&T, LOVES story time & books – so it was a great place to start our fun :)
First, I created a simple craft that was inspired by this post, from U-GRO Learning Centres, using pasta to depict the different stages of the butterfly life cycle.  I changed it up a bit and created my own printable, and used some different pasta too (I just used the pasta I had around the house – you only need one of each pasta shape for this activity).  You can see V in action here telling you the four butterfly life cycle stages in her completed activity!
Second, I created a handwriting activity with the words we learned, along with an empty space next to each for the ability to depict a picture.
Third, I created a coloring page – a great activity for the kiddos to practice coloring and staying in the lines (with all the small little coloring spaces it's a great challenge for your preschooler!).  Optionally, you could even cut it out and turn it into a collage (like our friend L did :).  It also works as a little related fun for a younger sibling to do too – to be able to participate in the fun as well.

Book/Story Time
Pasta Craft/Activity
dried pasta, 1 of each; farfalle, rotini, small shell, medium shell
white glue
printable page 2, see below for download
Handwriting/Drawing Exercise
pencil
crayons/markers/colored pencils
printable page 3, see below for download
Coloring/Cutting Activity
crayons/markers/colored pencils
scissors/tape/white glue
printable page 4, see below for download

Book/Story Time
Read the book aloud with your child.
Print out the 3-page printable below for the following activities…
Pasta Craft/Activity
After talking about the stages of the Butterfly Life Cycle with your child, have your child glue down the matching pasta pieces on the corresponding leaves.
Handwriting/Drawing Exercise
After discussing the key words with your child, have your child write out the letters to make the words, then have him/her draw a picture in the empty box of the corresponding word.
Coloring/Cutting Activity
Have your child color the monarch butterfly while practice staying in the lines.
Optional: Have your child practice his/her cutting skills by cutting out the butterfly.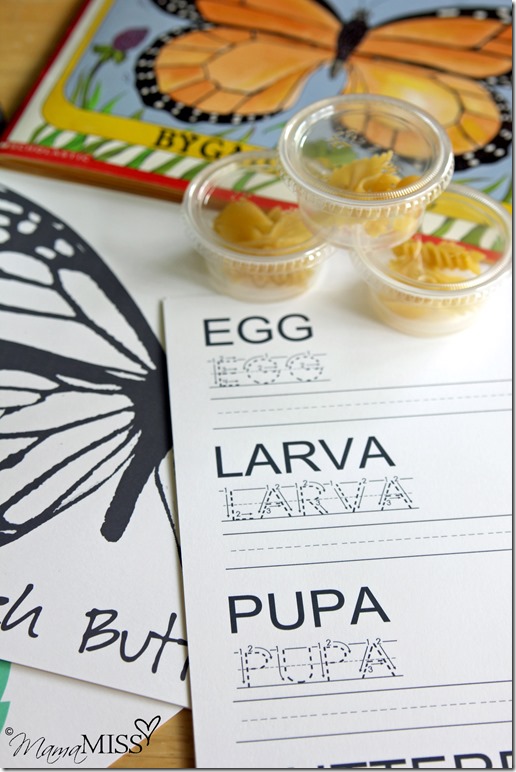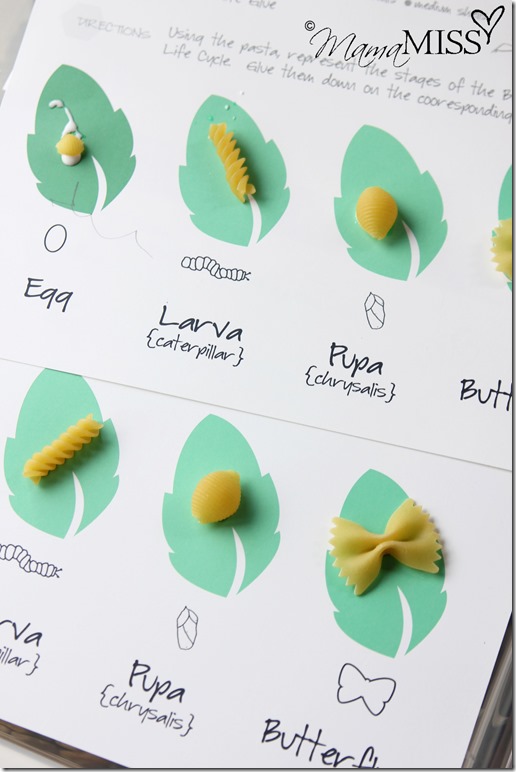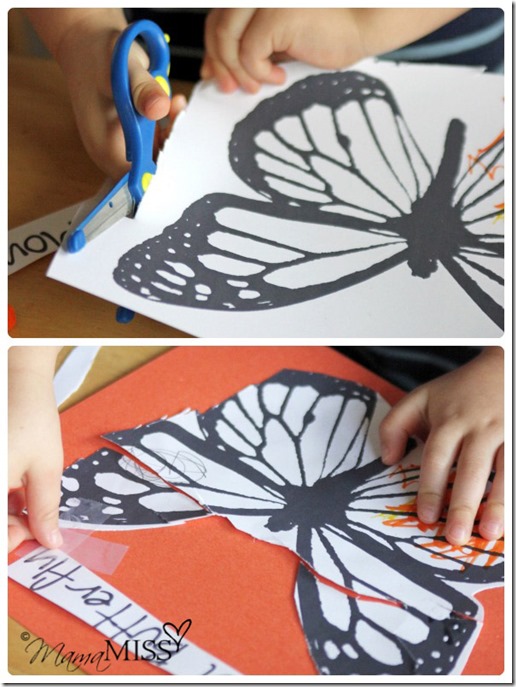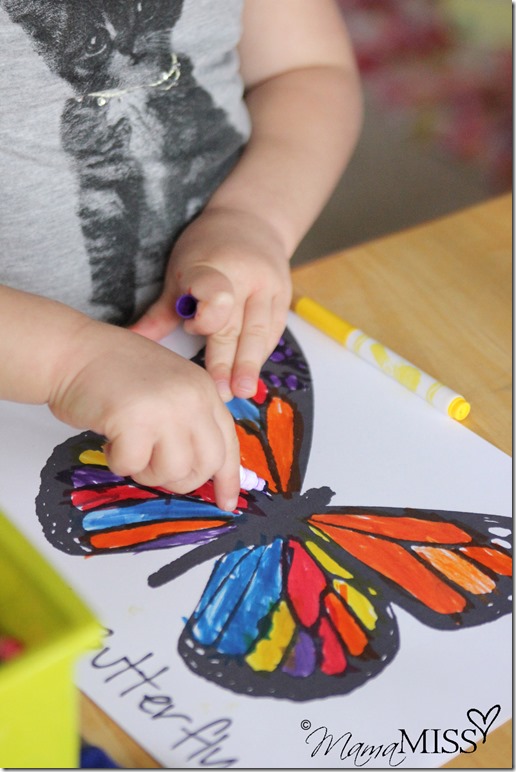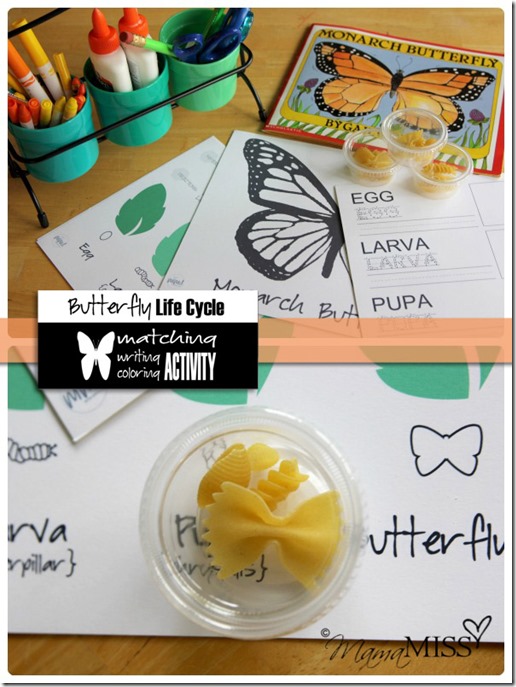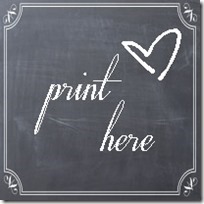 ♥
Like what you see?!
You can connect with me on Pinterest|Facebook|Twitter|Google + too!
♥
© Mama Miss. All images & content are copyright protected.
Feel free to share one picture and linking directly to this post for download.
Please do not copy directions, ingredients, or pdf files for your own website.
Copying my post partially, or fully, is strictly prohibited.
All work by Mama Miss is licensed under Creative Commons Attribution-NonCommercial-NoDerivs 3.0 Unported License.
♥♥♥
Please note that affiliate links are also provided throughout the post for your convenience – to allow direct access to the products suggested.
(Visited 47,543 times, 2 visits today)