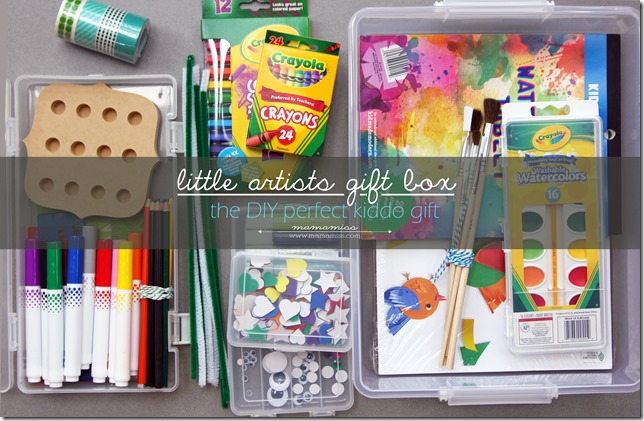 I've truly been working on this gift all year – lol!  Every time I see something cool I'd like to add, I grab it :)  This little artists gift box is for V's bestie, her little friend L.  He LOVES arts & crafts just as much as us & is part of our homeschooling co-op days for art.  So, it was a no-brainer for what to get for his birthday gift this year!
The great thing about this little artists gift box, is you can cater it to any little one, of any age.
If they like dinosaurs – add some dino stickers & foamies…if they have a penchant for butterflies – I'm sure you could easily find some fluttery pencil toppers & erasers to add.  If they are obsessed with googly eyes, well, there are at least five I can think of, off the top of my head of different styles – large ones, small ones, self-adhesive ones, colored ones, ones with eyelashes…
Now, the main element of this box, and why I chose this style of box – a large flat box, was that it had the adaptability of holding an important main component – paper, paper, paper…construction paper, watercolor paper, drawing paper!   You can have a billion tools, but if you don't have the canvas, the package seems incomplete to me.
I also took several of the materials out of their boxes that they came in & tied them with various colors of twine, for two reasons.  One, because I liked the way they looked a lot better, more colorful and less branded.  And two, it made the materials fit into the box better, filling the awkward sized holes.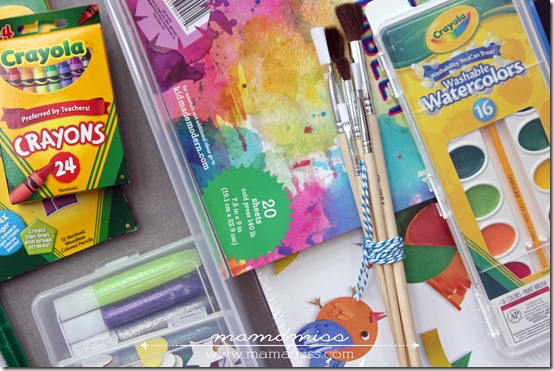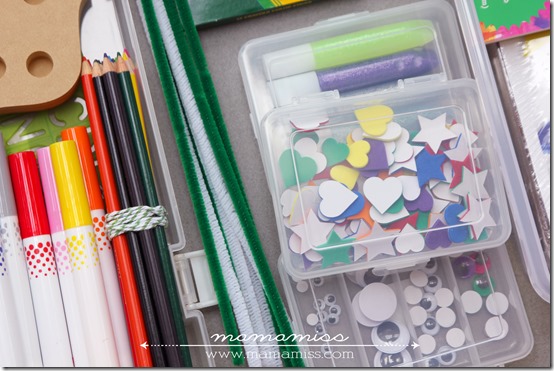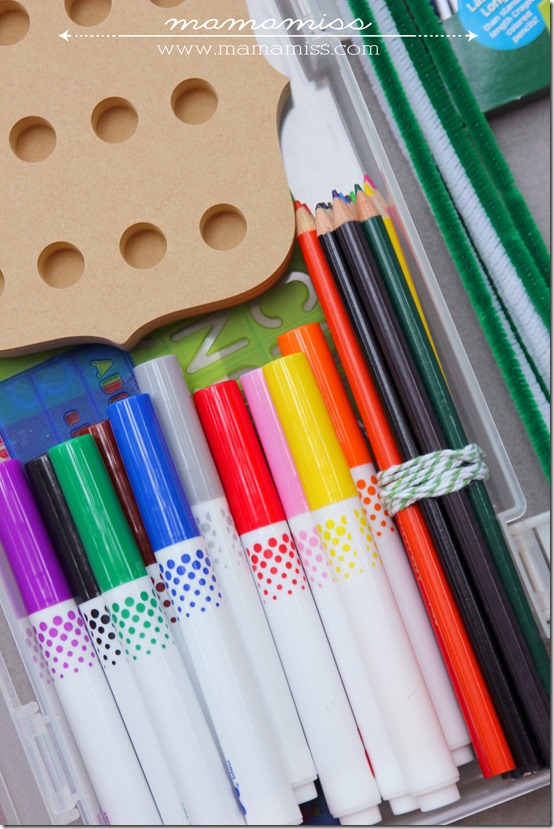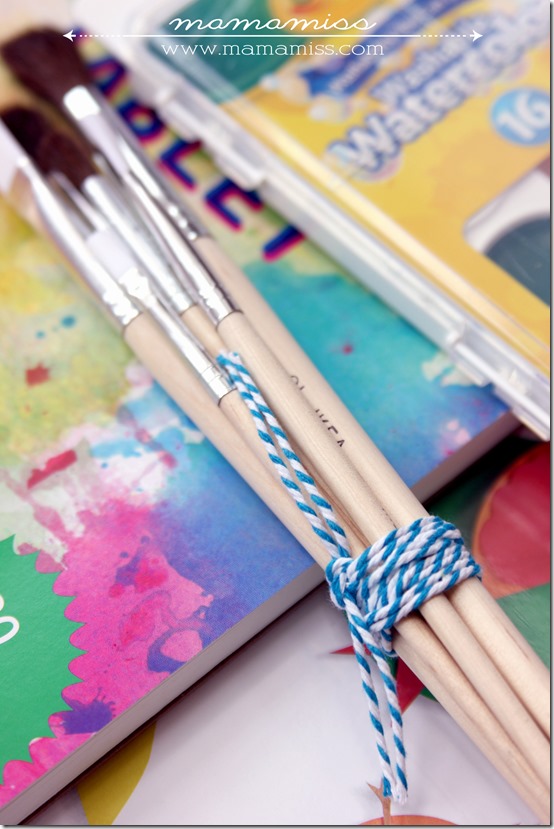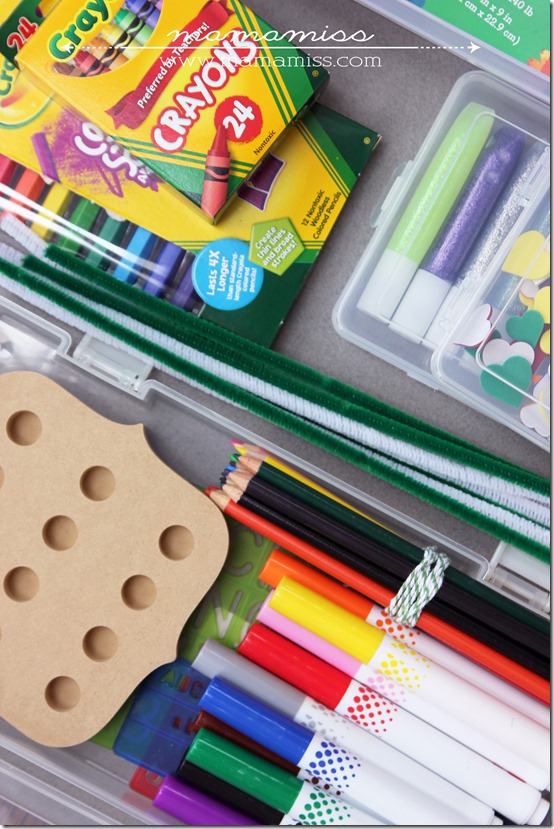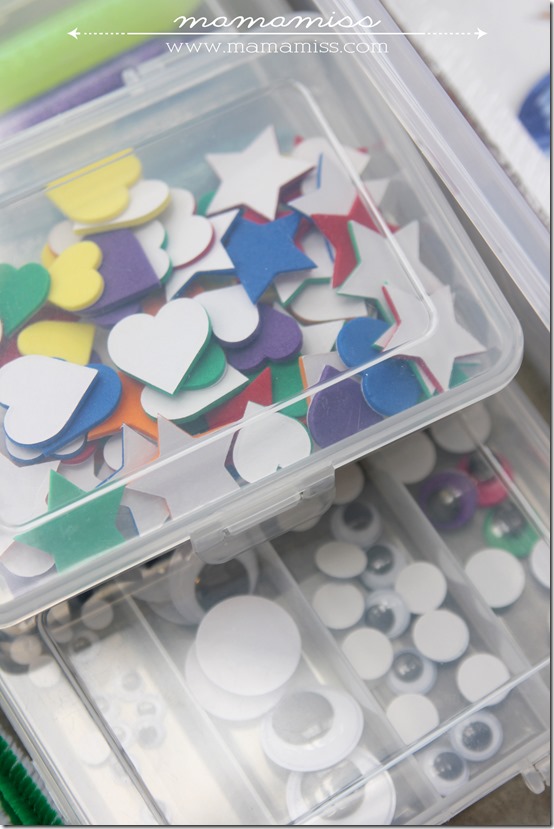 If you'd like to replicate the little artist box I've created, here are all the details of the materials I used :)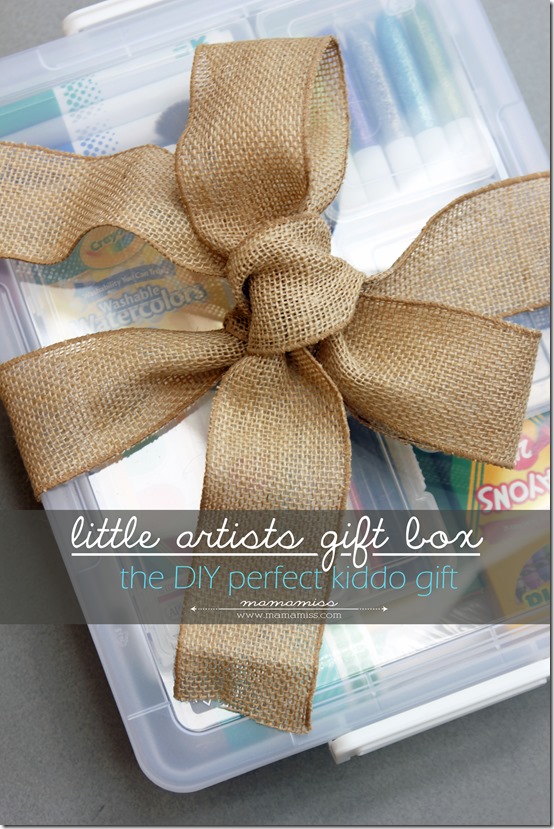 ♥
Like what you see?!
You can connect with me on:
 Pinterest|Facebook|Twitter|Google + too!
♥
© Mama Miss. All images & content are copyright protected.
Feel free to share one picture and linking directly to this post for download.
Please do not copy directions, ingredients, or pdf files for your own website or Facebook page.
Copying my post partially, or fully, is strictly prohibited.
All work by Mama Miss is licensed under Creative Commons Attribution-NonCommercial-NoDerivs 3.0 Unported License.
♥♥♥
(Visited 3,188 times, 1 visits today)