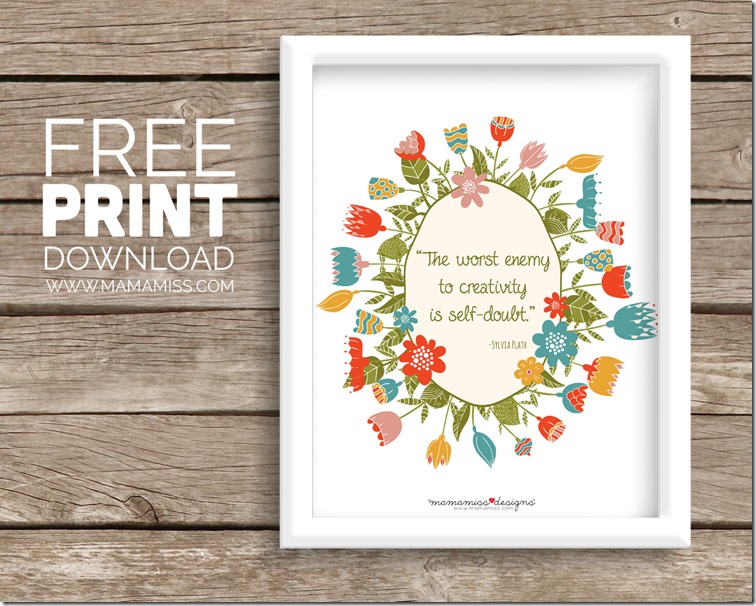 Oh you know I'm a big lover of quotes!
This Sylvia Plath quote especially rings true for my own self-doubt, which eats at me sometimes all the time.  I just hung this one in my sewing/art/office room.  It really does resonate daily – by doubting myself and letting those inner fears control me, I lose confidence and therefore lose creativity.
"The worst enemy to creativity is self-doubt." ― Sylvia Plath, The Unabridged Journals of Sylvia Plath
Do you doubt yourself, your talent, your strengths?
Do you think the self doubt hinders the creativity in your soul, your self, your entire being?
It does mine & I'm hoping by hanging this Sylvia Plath quote on my wall in "my creative room" it will remind me how I'm my own worst enemy & to get those negative self-doubting thoughts out of my entire being so the creative brain can flow more freely :)
Get your free print…


♥
Like what you see?!
You can connect with me on:
Pinterest || Facebook || Twitter || Google +
And don't miss any updates…
♥
© Mama Miss. All images & content are copyright protected.
Feel free to share ONE picture and linking directly to this post for download.
Please do not copy directions, ingredients, or pdf files for your own website or Facebook page, visuals or words.
Copying my post partially, or fully, is strictly prohibited.
All work by Mama Miss is licensed under Creative Commons Attribution-NonCommercial-NoDerivs 3.0 Unported License.
♥♥♥
(Visited 4,041 times, 1 visits today)