This post is part of a social shopper marketing insight campaign with Pollinate Media Group™ and Barilla, but all my opinions are my own. #pmedia #betterforyou http://cmp.ly/3/8vNxcO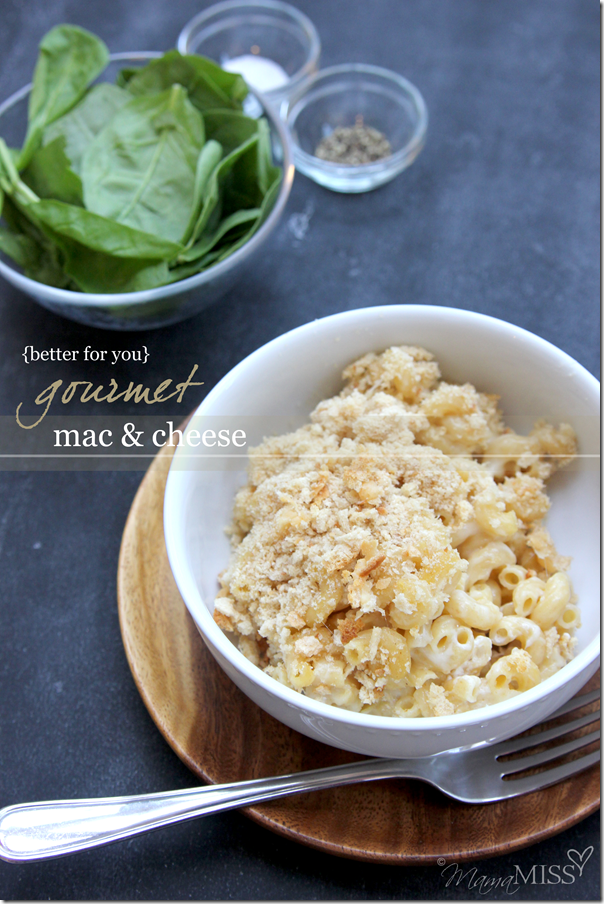 So, funny story, I once ate a whole bag (a super-big-Costco-style whole bag) of walnuts one time.
Why?!  I was trying to get more Omega-3, that's why (I really did – and to this day am totally over the whole walnut thing – just the smell of them – oy)!
See, I'm not a fan of anything that lives in the sea – on my plate.  Blame it on the forcing us to eat fish as a child (you know, the whole "couldn't leave the table until your plate was clean" thing), & holding my nose swallowing it.  So so so not a fan of seafood!  Not shrimp, not crab, not lobster, not oysters…if it lives in the sea…it can stay there.
Oh, but I am a fan of cheeeeeeeeeeese….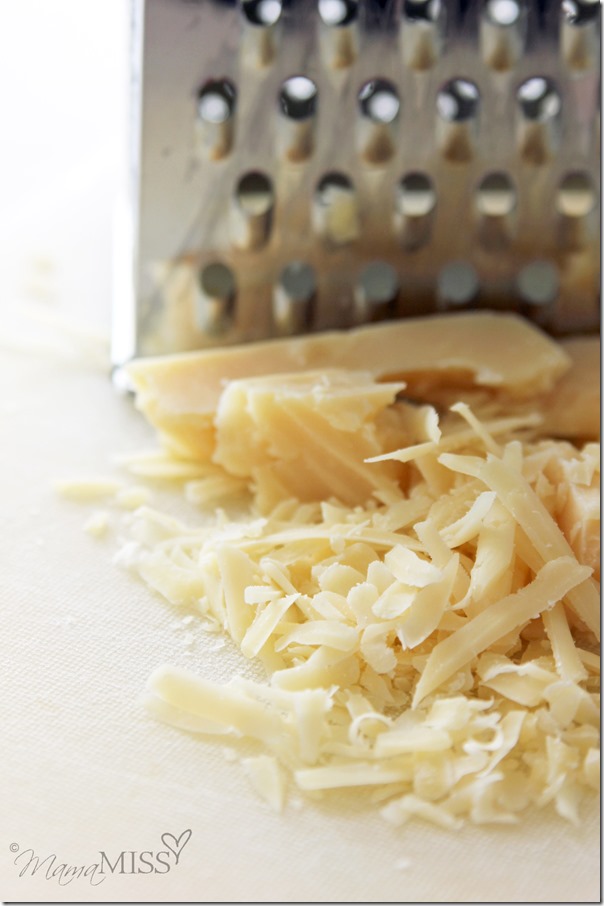 Wait, I just got sidetracked by cheese – don't you hate it when that happens?!
Back to seafood.
So, what does seafood have to do with this delish, and semi-healthy, mac and cheese dish?!
Well, I'll tell ya what…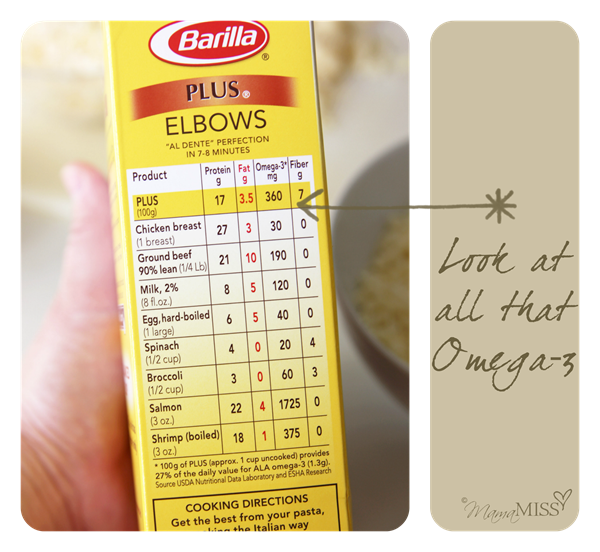 ummm that's what!  Look at all the Omega-3!
So, why am I so interested in Omega-3?  Well, it all started during my pregnancy with V, since I was not a seafood fan, I was looking to supplement my diet with Omega-3, some-way some-how (it's said to be super important for visual and neurological development in the fetus, especially during the brain development stage).  With V, I took huge fish oil pills daily – yuck – there has got to be a better way I thought.  Hence, the walnuts.  Oh, the walnuts lol.  During my pregnancy with T, is when I ate that whole bag of yummy walnuts.  So, why now?  Nope, not pregnant!  I just think at this point in my life I really need to start taking care of myself a lot better.  Therefore my lack of seafood in my diet has brought me on a constant search for products that are significantly higher in Omega-3, like this Barilla Better for You PLUS pasta.
Well, there you go – this awesome super pasta by Barilla, called Barilla Plus, is part of the Barilla Better for You pasta.  In the line of the Barilla Better for You pasta are, Whole Grain, Veggie (which I already give to V&T – they love the Veggie Farfalle aka carrot & squash butterflies), White Fiber, and PLUS!  The Barilla Better for You PLUS is an amazing source of Protein, Fiber & Omega-3, and it is my new go-to pasta!  There I said it – no more giant bags of walnuts – whew!
And this pasta is soooo easy to find…I just popped into my local Giant grocery store and voilà there it was, right on the shelf in the pasta aisle!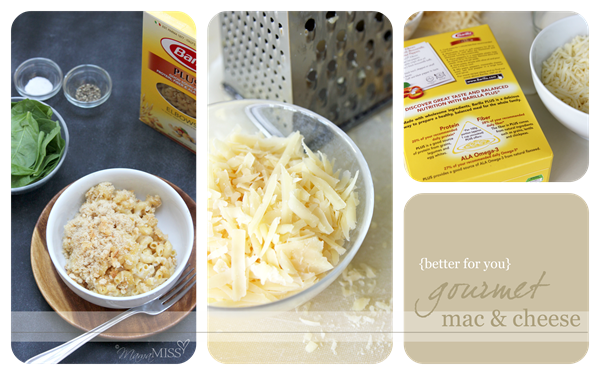 So, this is as homemade as you can get for mac and cheese, and semi-healthy (well, let's be real – monstrous amounts of cheese can't be really defined as that healthy), but it's better for you mac and cheese.  You won't find any packaged cheese sauce mix here – it's all fresh – including the homemade breadcrumbs – YUM!
So, let's see, lots of cheese, plus lots of Omega-3 pasta, equals COMPLETE PERFECTION…oh & this delectable, homemade mac and cheese creation too ;)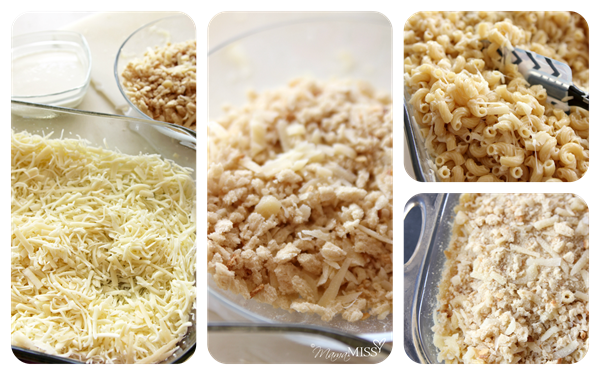 This yummy, made from all fresh ingredients, mac and cheese is great for a weeknight meal or as a side for a large function.
Ingredients
3 slices (approx 1 1/2 cups) fresh whole wheat bread
2 Tablespoons unsalted butter, melted
1 cup + 2 Tablespoons fresh Parmesan cheese, grated, divided
1/2 cup 2% milk
1/2 cup heavy cream
1 cup provolone cheese, grated
1 cup Swiss cheese, grated
1 cup mozzarella cheese, grated
Instructions
Preheat oven to 300° F. Place bread slices on a baking sheet in a single layer. Bake for 15 minutes, then turn the slices over, and bake for 15 more minutes.
Remove crisp bread (it should be crisp and snap when you break up the pieces of bread). Place bread into blender, and process for about 30 seconds until you have the bread crumbs. I prefer the crumbs a little chunkier but blend longer for a finer crumb.
Place the breadcrumbs in a medium bowl. Mix in the 2 Tablespoons of freshly grated Parmesan cheese and toss together. Set Aside.
Re-adjust the oven temperature to 400° F. Grease a 9x13 glass casserole dish.
Cook the elbow pasta in boiling salted water according to the package directions. Drain well; put the pasta back in the pot. Add the melted butter to the pasta; toss to coat. Set aside.
In another small bowl, blend the milk and cream. Set aside.
Mix the 1 cup of Parmesan, provolone cheese, Swiss cheese and mozzarella cheese together in the pre-greased casserole dish.
Add the buttered elbow pasta slowly to the the cheeses in the casserole dish, tossing well with a spatula until mixed.
Pour the milk mixture over the pasta and cheese mixture. Smooth the top. Sprinkle the breadcrumb and Parmesan mixture over the casserole.
Bake for 10 minutes at 400° F. Remove from oven and cover with foil so that it won't get too brown (browning will dry it out and make it less creamy). Bake for 10 additional minutes until heated through and bubbling.
Serve the mac and cheese hot.
http://www.mamamiss.com/2013/08/29/eats-better-for-you-gourmet-mac-and-cheese/
All rights reserved Copyright 2013 Mama Miss Blog and Designs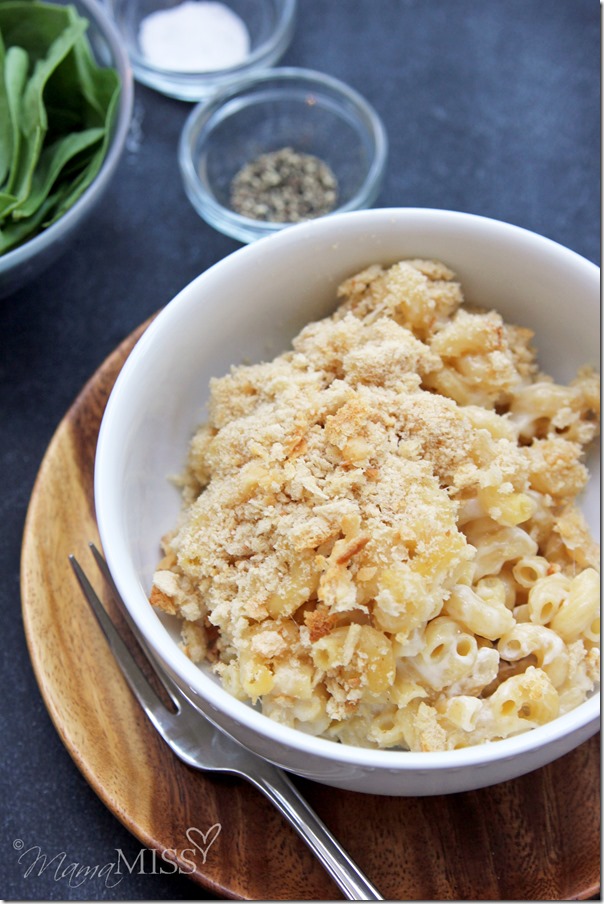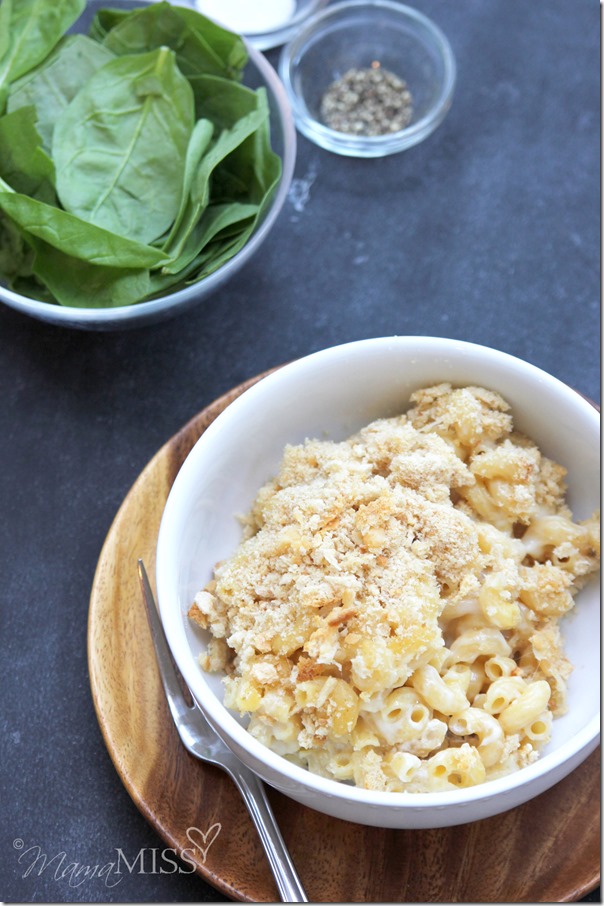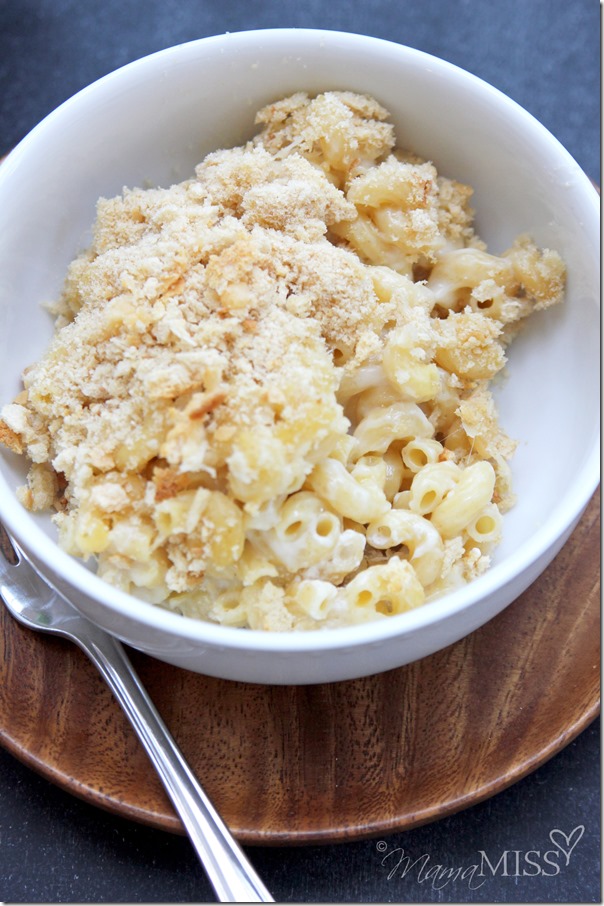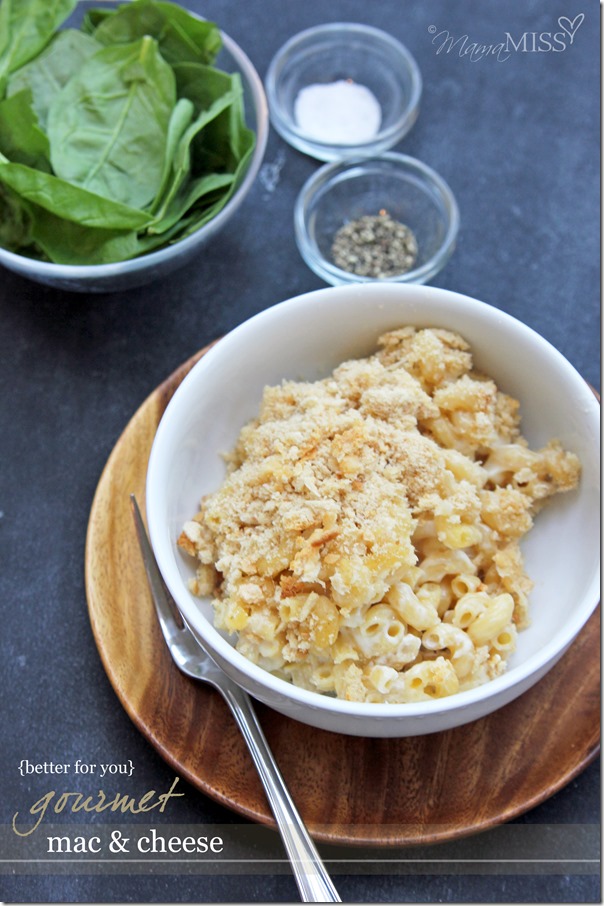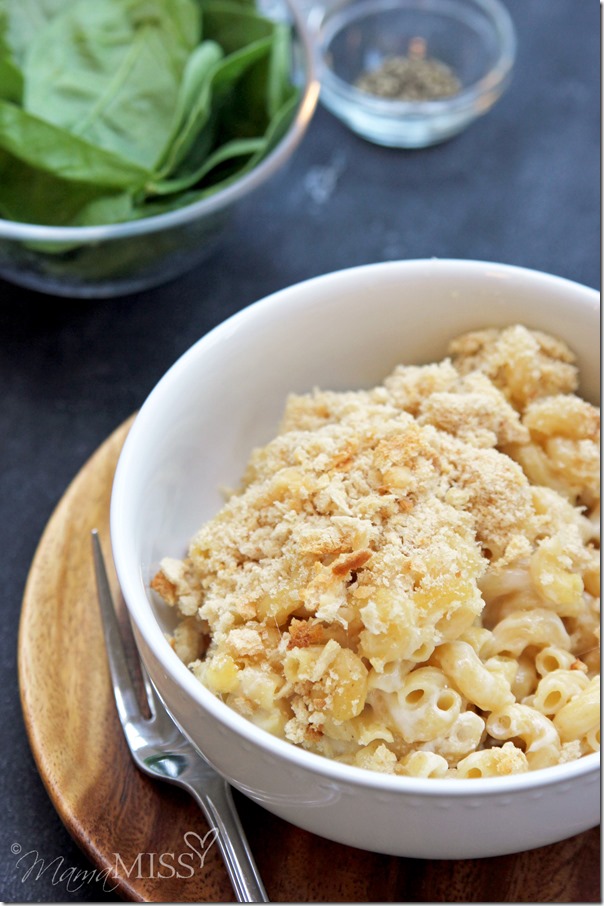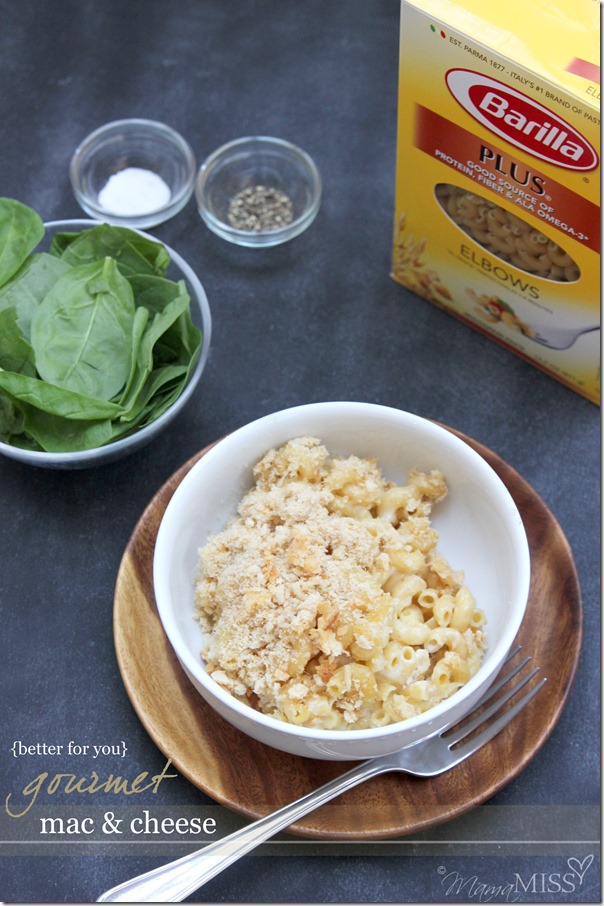 ♥
Like what you see?!
You can connect with me on Pinterest|Facebook|Twitter|Google + too!
And while you're there – check out Barilla on Facebook too.  They are constantly posting great links with yummy & amazing recipes!
♥
© Mama Miss. All images & content are copyright protected.
Feel free to share one picture and linking directly to this post for download.
Please do not copy directions, ingredients, or pdf files for your own website.
Copying my post partially, or fully, is strictly prohibited.
All work by Mama Miss is licensed under Creative Commons Attribution-NonCommercial-NoDerivs 3.0 Unported License.
♥♥♥
Pin It