When you google Living History Journal, because that is what I'm calling this journal, the term "living history" will come up. It'll be defined as reenacting historic moments with costumes and tools. Y'all that's not what I'm talking about. I'm referring to the MOMENT IN HISTORY we are living in right now – we are experiencing a momentous part of history.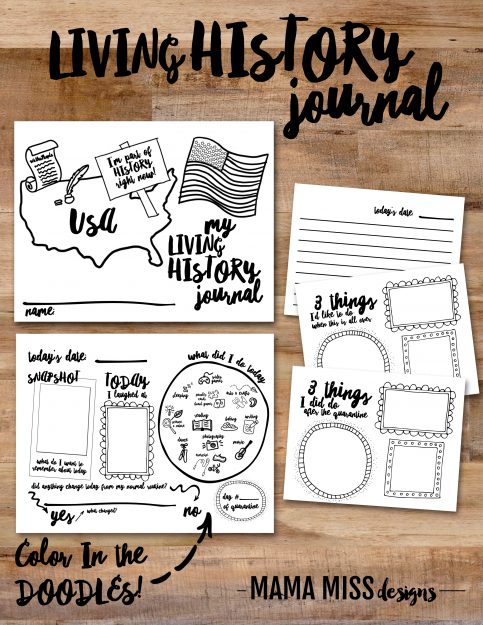 History Journal
In our homeschool co-op I am part of the history teaching team. During our History class Zoom call this week, which is obviously a new thing because of our current world situation, I told my students about keeping a journal to track their time during this "living history" time.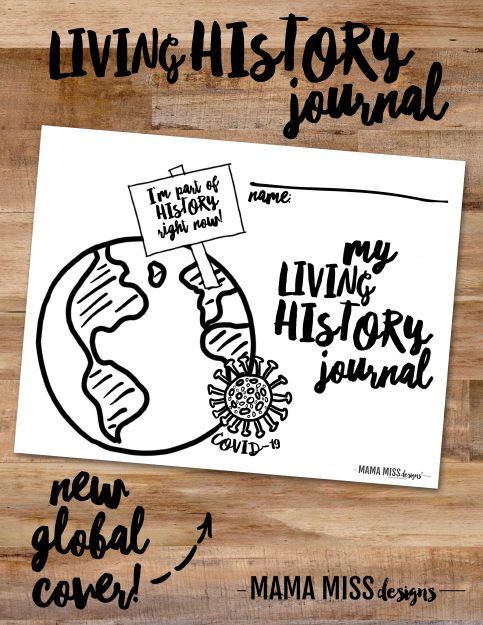 We are living in a historical moment in time right now, it's not just an insignificant blip on the radar. On Tuesday, the death toll surpassed that of another major event in US history, 9/11. My memories of 9/11 although ripe in my brain, the day-to-day has gotten very spotty over the years.
Let's keep track.
My daughter & son started keeping a simple wire-bound journal, writing in it daily. They wrote things like what was happening in their world, how the things that were happening outside of the house were affecting them in their day-to-day.
Now, in theory, this is a great idea. My daughter has filled in her pages almost every single day. My son, on the other hand, has filled one page. He wants to write more but his mind doesn't lay his thoughts onto paper as easily, he needs some prompts. That's where my idea for the Living History Journal came into play.
Why?
I have had a blog since T was born in 2011.  I suffered from extreme postpartum depression from complications in his birth and then had gallbladder removal surgery when he was just 3 weeks old – it didn't help my mental health at all.  I started my blog as a way for me to have my own creative outlet to be able to deal/cope with everything in my world at the recommendation of my therapist at the time.  Mental health has always been at the forefront of helping others because of my personal story. Journaling (the blog) has always been a great method to help with my anxiety and depression and it is why I turned to it in my darkest time.  As we go through this experience, all of us, adults and children will have ups & downs in coping with our new normal.  I came up with the journal idea after seeing some similar ideas floating around on social media, and with the help of my daughter V, we made a kid journal of our own to document our experiences.
I created this journal with my son T in mind. It's full of my fun doodles – things for him to check off easily each day to have something to look back upon when he shares his story to his children, and grandchildren of what it was like living during this time.
Although I mainly did this for my son, and my history co-op classes, my guess is that other kids would benefit from a directed prompt journal such as this.
Use this Living History Journal to keep track as each day plays out during this pandemic. In 10 years when people ask; "Do you remember when?", you'll be able to say; "Yes, I do. Here's my source."
What's inside.
Here's a quick breakdown of this simple Living History Journal. See the video how-to here.
Page 1: Cover Sheet – USA
2: Cover Sheet – global *NEW*
3: Three things I'd like to do when this is all over (draw or write)
4: Daily Journal Sheets – print 50 sheets (10 weeks 4/1/20-6/10/20 x 5 times a week Monday-Friday)
5: Three things I did do after the quarantine (draw or write)
6: Bonus lined writing page
Print out what you want to include in your journal. Whether it be the one I've attached here bound together, in a three-ring binder or scrapping what I've done and just using a simple spiral-bound notebook – each child will be different in what works for them.
This Daily Calendar Journal is also a fun way to keep track of small stuff happening day-to-day and comparing the events from year to year.

♥
Like what you see?!
You can connect with me on:
Pinterest || Facebook || Twitter
And don't miss any updates, get new posts right away – sign up here…
♥
© Mama Miss. All images & content are copyright protected.
Feel free to share ONE picture and linking directly to this post for download.
Please do not copy directions, ingredients, or pdf files for your own website or Facebook page, visuals or words.
Copying my post partially, or fully, is strictly prohibited.
All work by Mama Miss is licensed under Creative Commons Attribution-NonCommercial-NoDerivs 3.0 Unported
(Visited 2,438 times, 1 visits today)