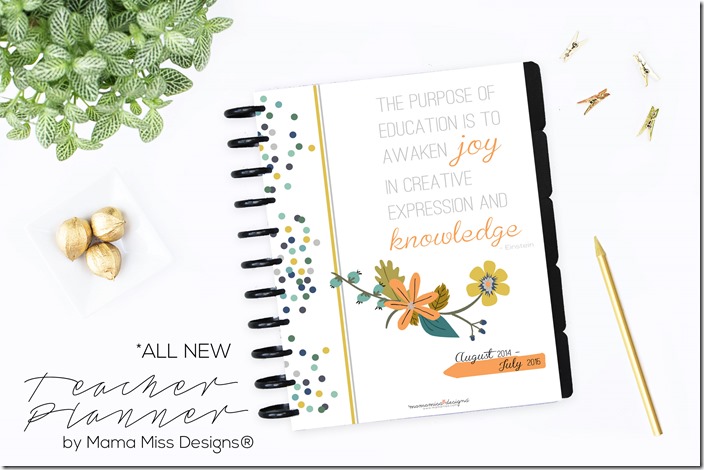 eeeek I am so so so excited about this you guys!!  It's here – a couple of months in the making – my newest baby!!!  oooohweee I really don't know which is harder – creating actual babies –or creating my planner babies?! ha-ha just kidding ;)  And, I have to give a huge MEGA thank you to my teacher friend April, who helped me every step of the way in creating this massive 2014/2015 teacher planner!
So, I'm working with & trying out a bunch of new tools that I will most likely roll out with the other planners too!!  This time I decided to find an at home binding system that allowed me to customize it more, and to remove & add pages – the one drawback to the planners of the past.
For this 2014/2015 teacher planner, my 1st preference, and what I would recommend, would be to try out the system I've started to use, the disc binding system :)  Alternatively you can have it bound at your local office store (my 3rd preference), or 3-hole punch it & toss it together into a 3-ring binder (my 2nd preference).  I'm not really a 3-ring binder kinda gal – I don't like the abrupt, clunky, chunkiness of it all.

Create the 2014/2015 Teacher Planner!
// supplies
totally optional, but I splurged a little for my new planner baby, on these other accessories that work with the binding system ;)
Now, if you decide to bind it the ol' fashioned way – just bring it to your local office supply store & have them bind it for you.  Or just slap the parts into a large, probably 2-inch or bigger, 3-ring binder.  Except for the expansion discs – you'll still need the dividers
, sheet protectors
, punch
, & binder
for the 3-ring style…  and the dividers and sheet protectors for the store bound style.
How you design it is up to you – that's the beauty of it – and why I like the binding system – it's totally customizable!
// tips
// includes
So what will you get with your Teacher Planner purchase?
Instructions on how I put my teacher planner together
NEW FEATURE!!  Immediate access to a virtual flipbook – every.single.page. – so you can see it in action!
64 original pages (a whopping 371 pages if put together completely!), including:

cover page
year-at-glance 2014
year-at-glance 2015
perpetual calendar July-December
perpetual calendar January – June
side-by-side, 2-page student roster
class roster transportation
student birthdays
student allergies
AUG 2014 – JUL 2015 monthly cover sheet (12 individual months)
AUG 2014 – JUL 2015 monthly calendar (12 individual months)
AUG 2014 – JUL 2015 weekly calendar (12 individual months)
weekly calendar with time slots
weekly lesson plan – style 1
weekly lesson plan – style 2
to-do list
lined notes
seating chart
student checklist – 20 students
student checklist – 12 students
parent contact log
password tracker
wish list
professional development log
meeting notes full page
meeting notes half page
substitute teacher information
take home student information sheet
2" and 3" spines for binders – style 1
2" and 3" spines for binders – style 2
// price
A whopping $8!
Really! All that for $8 – she must be crazy – oh yeah I may just be a little crazy, but it's okay, it benefits you ;)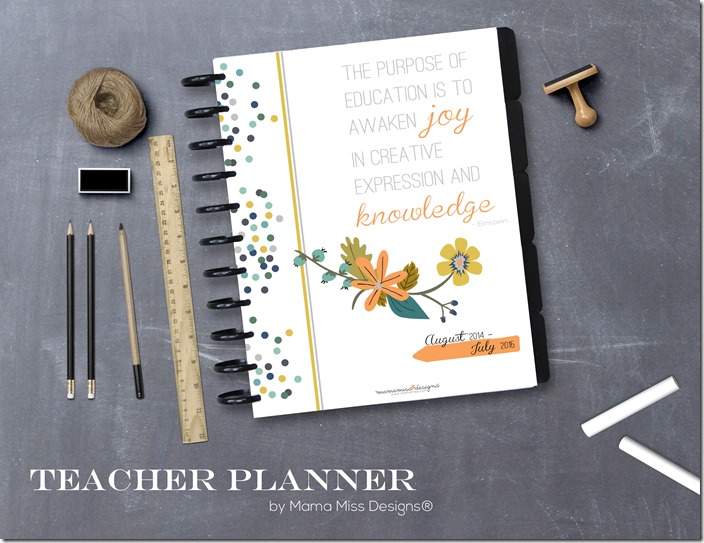 // how to get it


♥
Like what you see?!
You can connect with me on:
Pinterest || Facebook || Twitter || Google +
And don't miss any updates…
♥
© Mama Miss. All images & content are copyright protected.
Feel free to share ONE picture and linking directly to this post for download.
Please do not copy directions, ingredients, or pdf files for your own website or Facebook page, visuals or words.
Copying my post partially, or fully, is strictly prohibited.
All work by Mama Miss is licensed under Creative Commons Attribution-NonCommercial-NoDerivs 3.0 Unported License.
♥♥♥
(Visited 7,960 times, 1 visits today)