Let's up the seek-n-find game with this little busy bag activity I like to call a Seek-N-Find Alphabet Tube!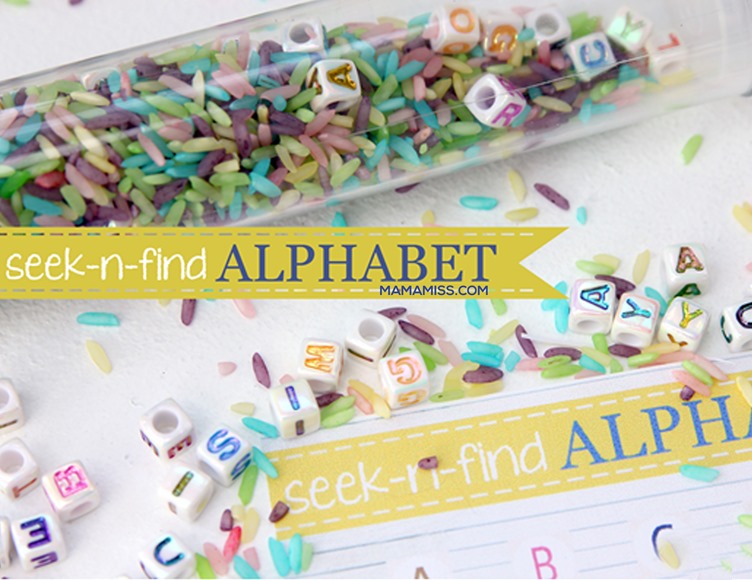 Soooooooo, I'm kind of currently obsessed with creating Seek-N-Find tubes for V!  I found these AWESOME little plastic tubes at our local craft store – for a dollar (you better believe I bought a TON!).  If you can't find these specific tubes, it's really no biggie.  You can use any ol' plastic bottle, an empty water bottle would even work – you would just have to add a lot more rice though ;)
The how…
I bought the alphabet beads and tubes at the craft store & used the remainder of the leftover "spring sensory bin" rice (note: the remainder that didn't get sucked up with the daily shop vac sweep).
I keep this activity in my diaper bag, it's nice & small.  It holds V's attention when we are somewhere and have to wait, such as a restaurant, in the store, etc…
It's super easy to make…you get the tube, you get the alphabet beads, you get the rice (it can be colored rice: see here for my kool-aid rice dye tutorial, or plain rice, whatever your little heart desires!), you put them all together and voilà: a Seek-N-Find Alphabet Tube!
Let's make it…
MATERIALS
optional:
funnel
laminator/clear contact paper
dry erase crayons/markers
INSTRUCTIONS
First, add the rice, a small amount at first, then some letters, then some more rice, and then some letters, and so on, and so forth until you fill the container up about 3/4 from the top. Keep in mind to only fill the rice 3/4 of the way – you will want to leave a little room for some shaky-shake, you don't want it to be to hard for them or they may just try to open it up & find the letters that way -hahaha!  Seriously, you will not be laughing if it breaks open – I am still finding random pieces of colored rice in unusual places).
Next, hot glue the lid shut so that little inquisitive hands do not try to dump out your beautiful seek-n-find alphabet tube you worked SOOOOO hard at making ;)
Finally, I've also included a printable PDF file below so you can print the card to go along with the tube (see, you have to make it now, I've done all the hard work for you. ;) Just print it out on card-stock & then laminate it (for it to stand the test of toddler time) or cover it with clear contact paper.
Oh hey…
Another cool thing you could do (if your kiddos won't go crazy with markers that is, and use them to color your walls).  You can use dry erase markers for kids
or the trusty ol' dry erase crayon
. What, by golly, you might ask, is a dry-erase crayon?!  Why, it's a crayon to use on dry-erase boards!  WOW!  They work pretty well too, we have them for V's art easel. The kiddos just mark off the letters on the card (if you laminated said card) with the dry erase markers or crayons…and then…wait for it…you can wipe it off completely for the next time they want to use it!!!! Yippee!!!!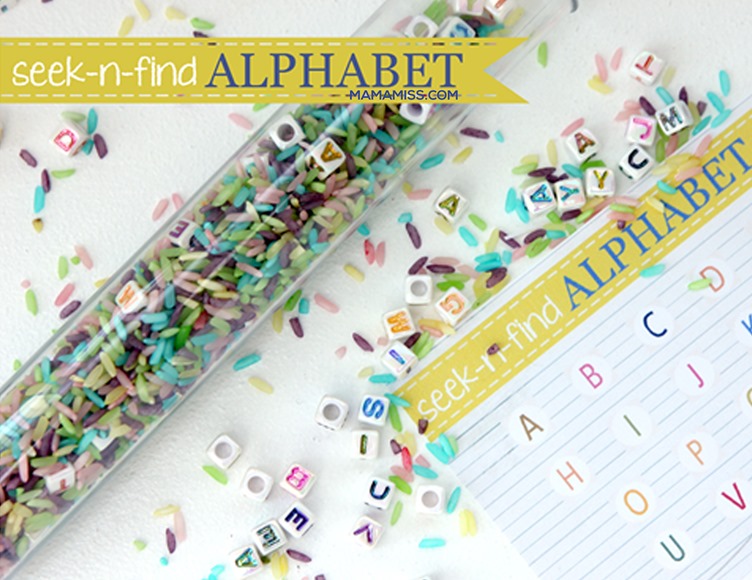 (click on the picture for a printable PDF card).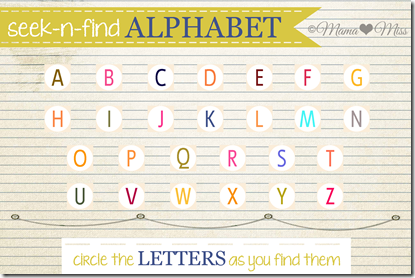 ♥
Like what you see?!
You can connect with me on:
Pinterest || Facebook || Twitter
And don't miss any updates, get new posts right away – sign up here…
♥
© Mama Miss. All images & content are copyright protected.
Feel free to share ONE picture and linking directly to this post for download.
Please do not copy directions, ingredients, or pdf files for your own website or Facebook page, visuals or words.
Copying my post partially, or fully, is strictly prohibited.
All work by Mama Miss is licensed under Creative Commons Attribution-NonCommercial-NoDerivs 3.0 Unported License.
(Visited 6,891 times, 1 visits today)