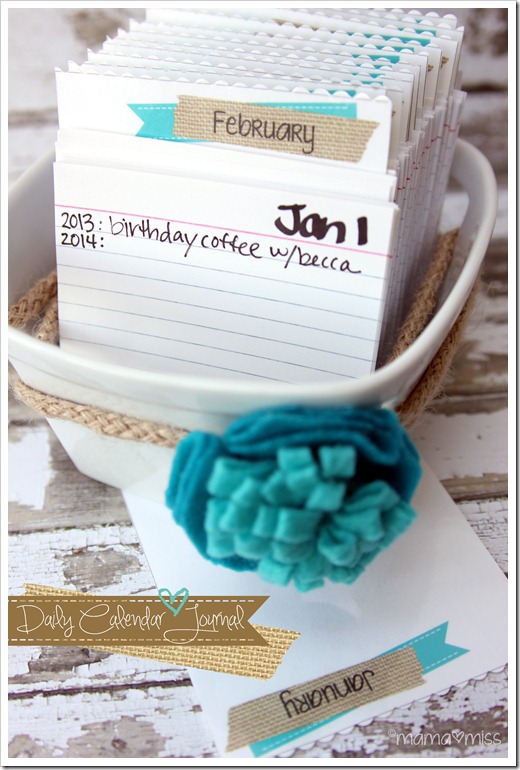 Forever ago I pinned this idea from Design Sponge.  And I thought now is as perfect time as ever to start it, a brand new year.  The idea is to write one sentence everyday describing something about that day.  A big thing or just a little thing.  Then, every year you do the same thing as another entry for that day.  A journal of sorts, but instead of having to flip back through an actual calendar you can see right there what you did the year before on that day – kinda' neat huh?
Well, and OF COURSE, I had to put my spin on it – with a free printable for ya ;)  "Hi!  I'm Melissa & I love designing printables for you – nice to meet you! :)"
There are three PDF's below, each with four different months.  They are each sized at 4"Wx4.75H", and four of them will print out on a sheet.  I printed mine out on heavy cardstock & then laminated them (remember these need to hold up for years & I imagine that some little kiddo hands might be getting into them over the years – just a prediction ;)  I also fancied up the top of each card using these scalloped scissors.  I used ruled 4×6" index cards & cut 2" off of the right side to make them 4×4" (so they would fit in my porcelain berry carton).
Supplies I used:
♥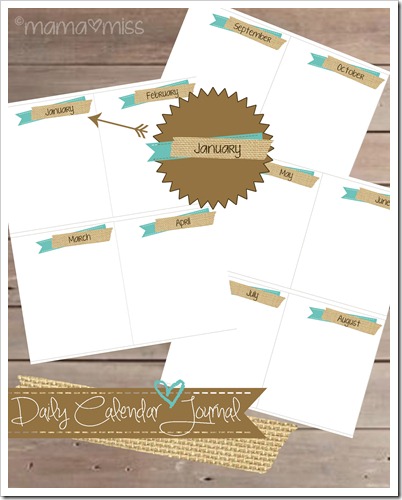 ♥
Just click on each month range to download the PDF file…
♥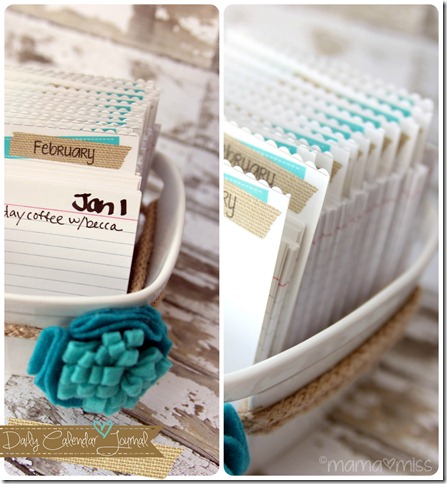 ♥
I'm keeping it in my kitchen, so that I see it everyday to prompt me to fill it out.
Are you going to do it with me?  Pretty please?!
Do you think I will keep it up?  Will you?
Let's do it together, we can hold each other accountable & remind each other!!!
Sounds like a plan-stan :)
xx ♥ m
————————————————————————–
Terms and Conditions
The above post allows a free printable PDF download; you will need Adobe Reader to do so.
It is free to download at Adobe's website here.
Please read here before you download any of mama♥miss's PDF files…thanks, man!
————————————————————————–
(Visited 18,102 times, 1 visits today)