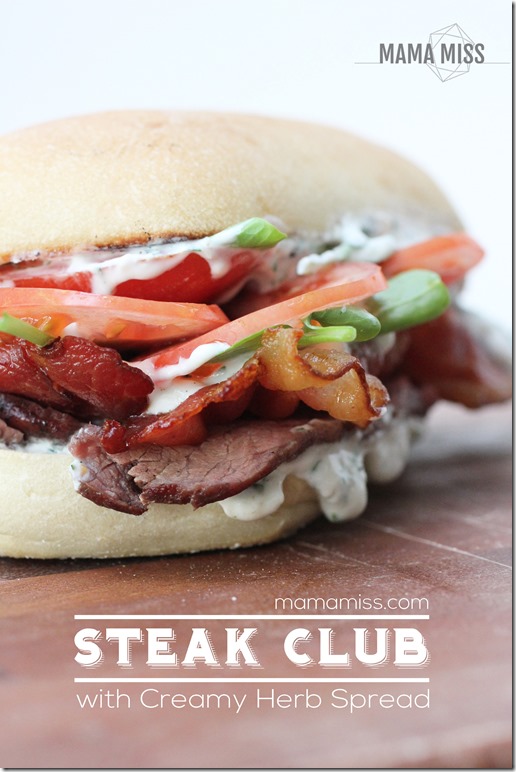 Well hello there steak sandwich.  How ya doing?
Looking all bacon-y and gloppy – mmmmm – yum!
This is by far my favorite secret yummy sandwich, that I've kept hidden from you until today.
I could eat this Steak Club Sandwich EVERY.SINGLE.NIGHT., if hubs would let me.  Who am I kidding – I'm the one who makes the dinner round these parts!  I do declare every night is now Steak Club Sandwich night.  ha-ha I don't know how well that will go over with hubs & the kiddos but, I'm a creature of habit, folks.  I eat the same thing every day.
Everyday for lunch I have a 2-egg sandwich on a toasted torta roll, with 2 sharp white cheddar cheese slices, and half of an avocado sliced, and I never get tired of it…NEVER.  One of these days I think I might just turn into an egg, cheese, & avocado sandwich.  When I was little, all I ate were grilled cheese sandwiches.  Every time we went out to dinner – what did I order?!  Yep, grilled cheese.  Even when we went to a Chinese restaurant – what did I order?!  Yep, grilled cheese.
Okay, distracted by cheese again – argh.  Back to the Steak Club Sandwich.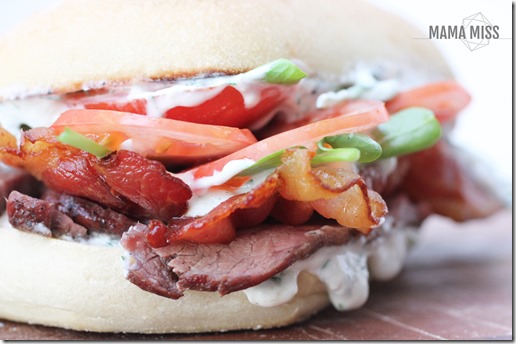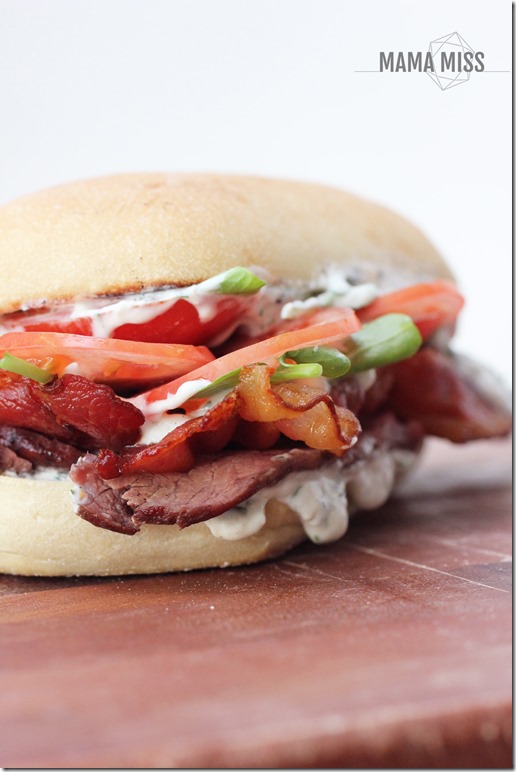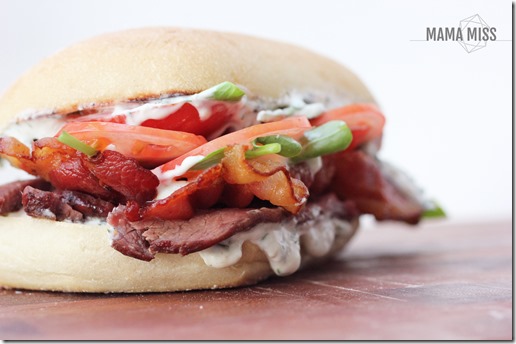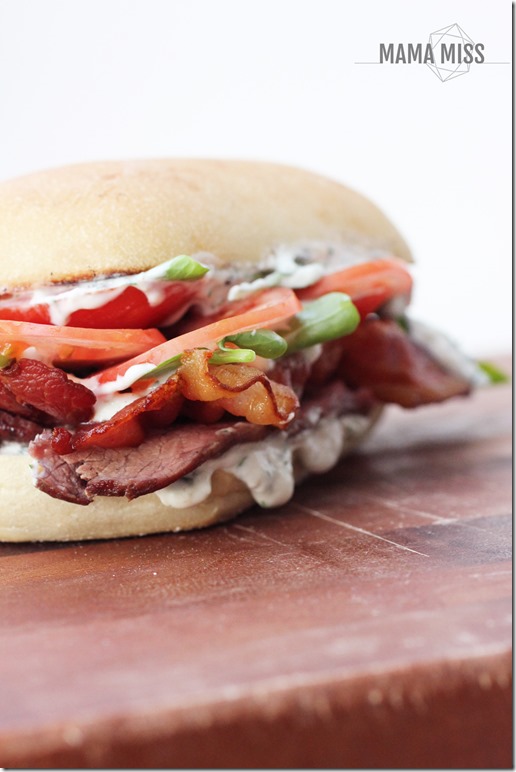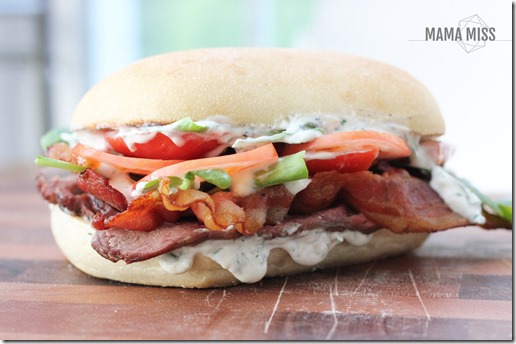 Steak Club Sandwich With Creamy Herb Spread
A delicious and delectable Steak Club Sandwich that is quick to make for an easy weeknight meal. Serve with some thin, crispy potato chips.
Ingredients
8 slices of bacon
1 cup of light sour cream
1 tablespoon parsley, chopped
1 tablespoon dill, chopped
1 tablespoon chives, chopped
1 tablespoon prepared horseradish
1 clove garlic, minced
1 tablespoon fresh lemon juice
salt & freshly ground pepper to taste
1 lb flank steak
1 tablespoon Worcestershire sauce
1 teaspoon olive oil
1 bunch watercress
2 vine ripe tomatoes, sliced
4 torta or ciabatta rolls
Instructions
Start off by cooking the bacon in the oven according to package directions. Cook until crisp.
While the bacon is cooking; In a small bowl, mix the sour cream, parsley, dill, chives, horseradish, garlic, lemon juice, and salt & pepper. Stir to combine & set aside.
Season the flank steak with Worcestershire sauce and salt & pepper, then drizzle with olive oil.
Cook the steak by either using the outdoor grill or broiler; Cook to desired doneness (I made ours well-done - about 8 minutes on each side/cooked to 165° F).
Let rest for 8-10 minutes then slice in strips, against the grain.
Slice the torta/ciabatta rolls in half, toast, and slather each side with the sour cream mixture.
Divide torta/ciabatta bottoms on four plates; Divide evenly among the bread bottoms (in this order) - sliced steak, bacon, watercress, and tomato. Add the top half of the roll.
Serve with pickles and chips.
https://www.mamamiss.com/blog/2014/05/31/steak-club-sandwich/
All rights reserved Copyright 2012-2019 Mama Miss Blog and Designs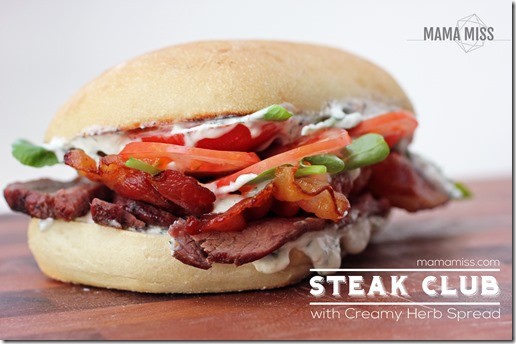 ♥
Like what you see?!
You can connect with me on:
Pinterest || Facebook || Twitter || Google +
♥
© Mama Miss. All images & content are copyright protected.
Feel free to share ONE picture and linking directly to this post for download.
Please do not copy directions, ingredients, or pdf files for your own website or Facebook page, visuals or words.
Copying my post partially, or fully, is strictly prohibited.
All work by Mama Miss is licensed under Creative Commons Attribution-NonCommercial-NoDerivs 3.0 Unported License.
♥♥♥
(Visited 6,874 times, 1 visits today)