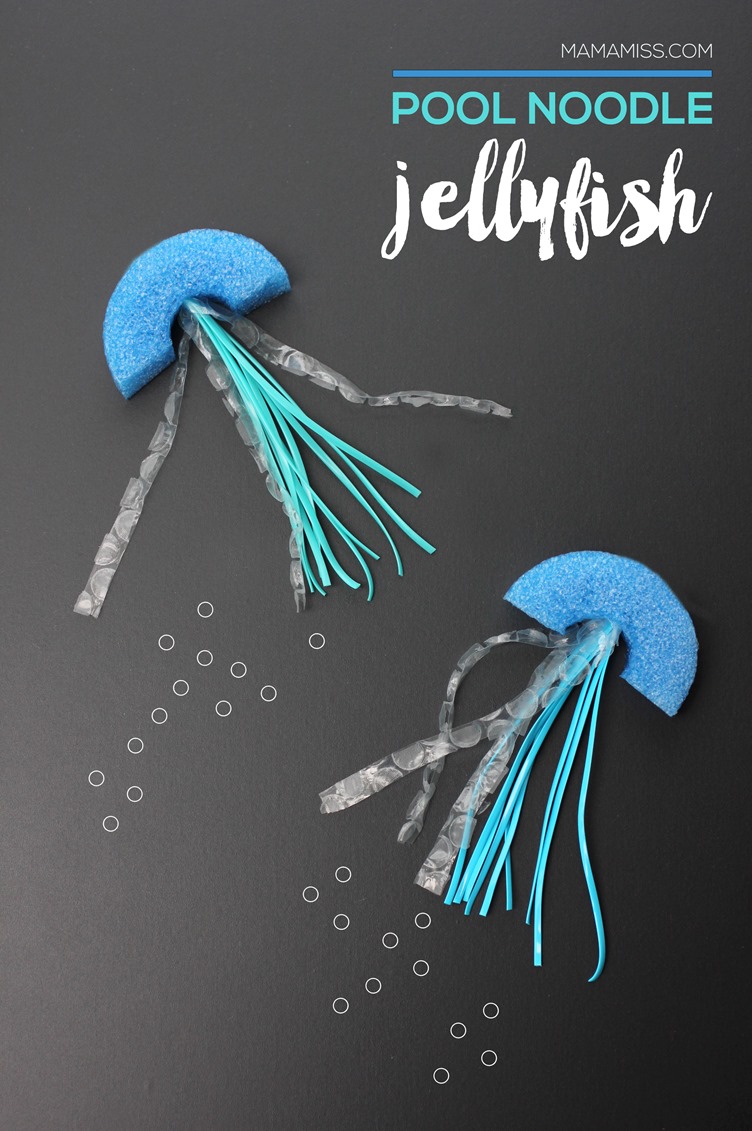 Got an extra pool noodle layin' around?  If not grab em' for a dollar at the dollar store.
ooooorrrr… you could even just machete off one of the ends of their little pool toy without them even knowing – ssshhhhhhhh – a one inch slice equals two little jellyfish – they won't even notice – do it for the jellyfish ;)
Well, however you wrangle a pool noodle for this project, you'll need very little of it.
Here's what you'll need to make these cute little pool noodle jellyfish with everyday craft materials.
bubble wrap, hijacked mine from my MIL, but you can get it here if you don't already have some.
teal plastic lacing, also called gimp or Rexlace
blue pool noodle
sharp knife
chopstick, or tool for making a hole in the pool noodle
scissors
(optional) craft glue
Here's how to make these pool noodle jellyfish – they're REALLY SIMPLE!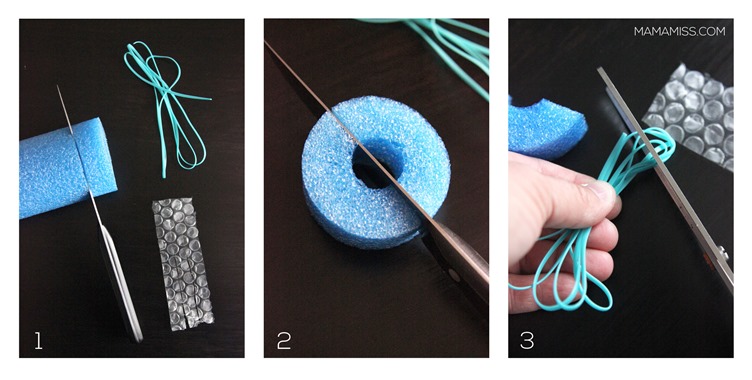 1.  Slice off about an inch off the end of the pool noodle.  Cut a strip of bubble wrap about 6" in length & 1 1/2" in width, then cut 3 vertical slits stopping 1/2" from the top (like shown).  Set aside.
2.  Cut the piece of pool noodle in half.
3.  Cut the plastic lacing, about 36".  Fold it in half over & over matching the length of the 6" bubble wrap piece.  On one end, cut off the loops so it's all the same length.  Set aside.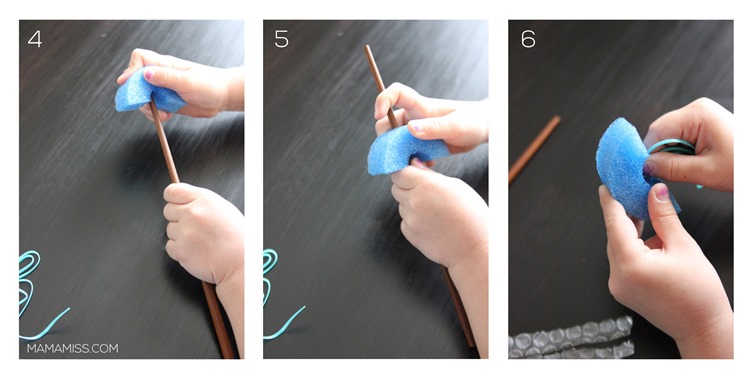 4.  Using your hole making tool (aka chopstick in our case), poke a hole through the middle of the of the pool noodle (like shown).
5.  Push it through to the other side.
6.  Bunch the folded end of the plastic lacing together.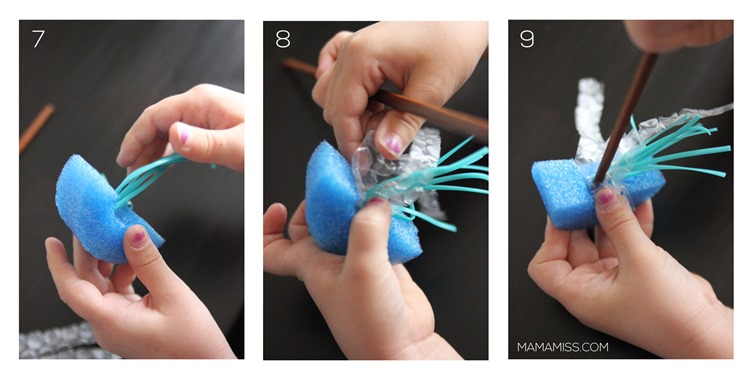 7.  Push the folded end of the plastic lacing in the hole.
8.  Stuff the top of the bubble wrap strip in the same hole.
9.  Using the chopstick, push them both in.  Secure further with a dab of craft glue in the hole, if necessary.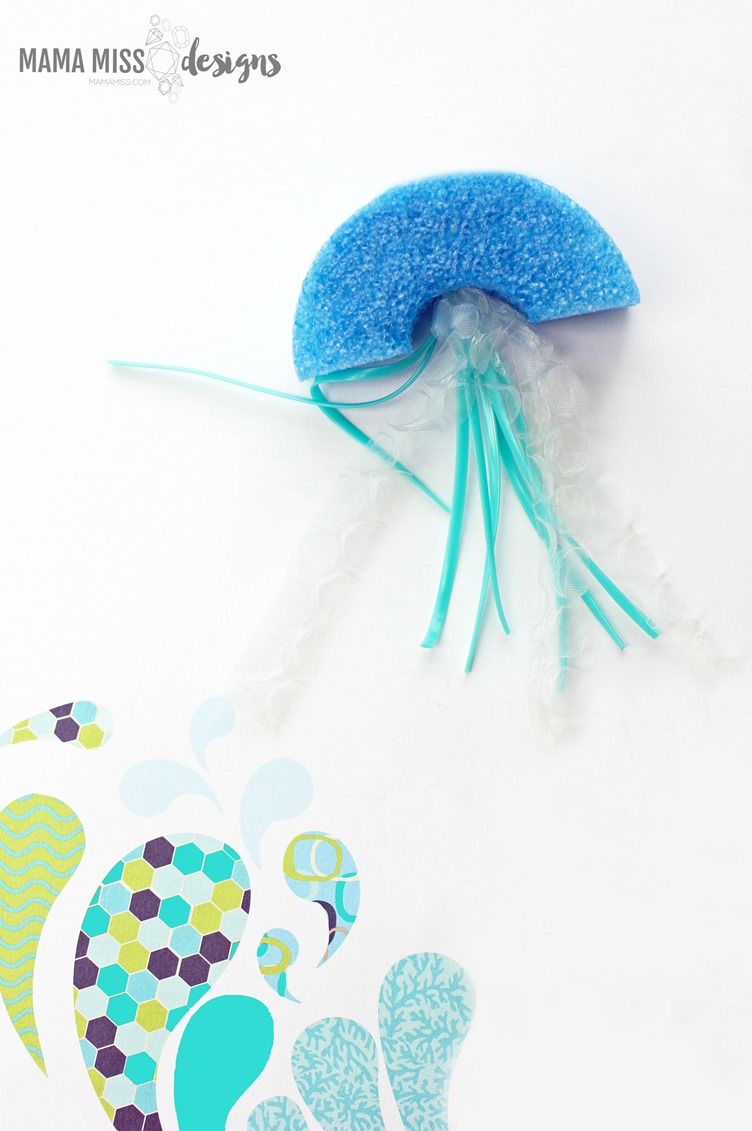 There ya go – a cute little jellyfish – or a swarm!
And add some jellyfish reading to the craftin' fun to enhance the learning!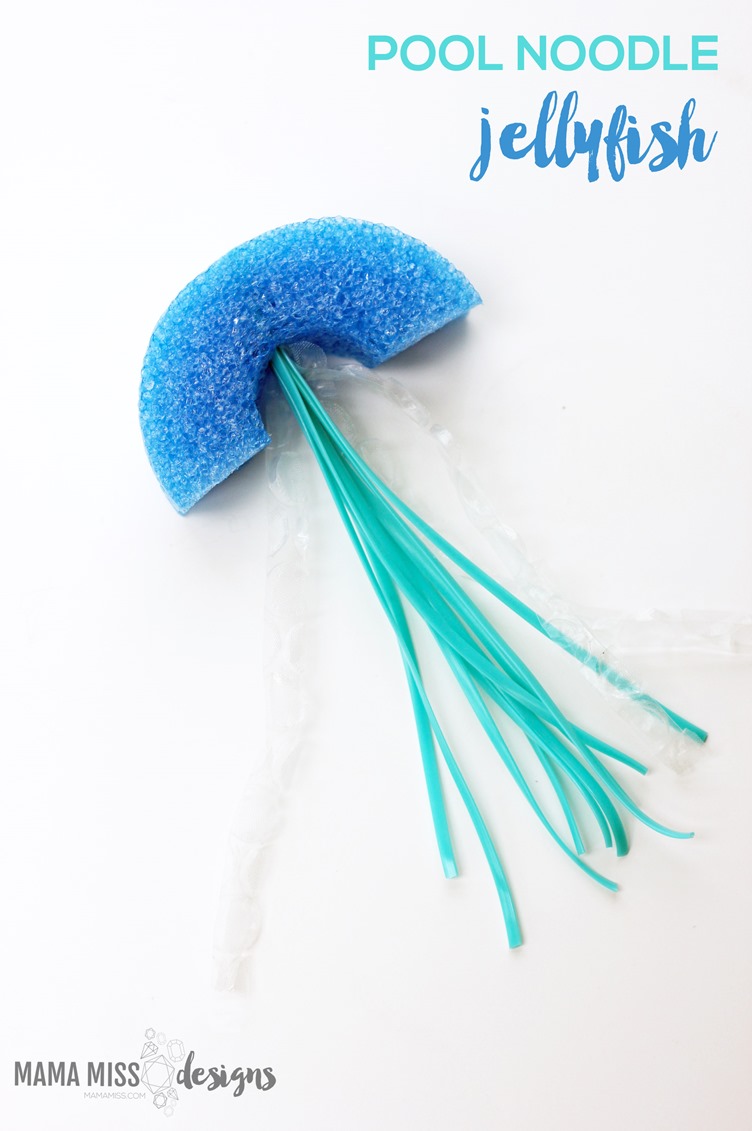 This post (along with last post!) are part of the Craft Closet Boredom Busters series with some brilliant other Bloggy Mamas!  We're rummaging our craft closets & bringing you fab crafts & activities with your basic craft materials – materials you already have in your craft closet!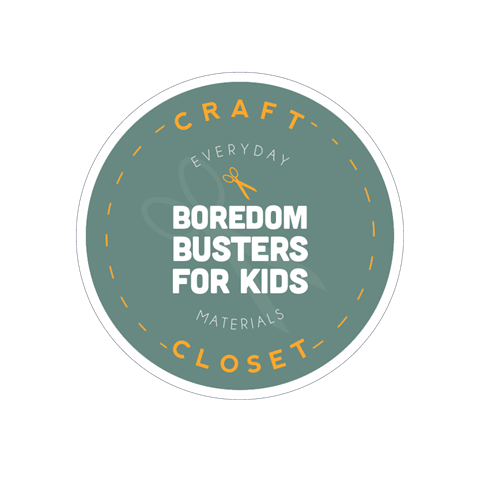 ♥
Like what you see?!
You can connect with me on:
Pinterest || Facebook || Twitter || Google +
And don't miss any updates…
♥
© Mama Miss. All images & content are copyright protected.
Feel free to share ONE picture and linking directly to this post for download.
Please do not copy directions, ingredients, or pdf files for your own website or Facebook page, visuals or words.
Copying my post partially, or fully, is strictly prohibited.
All work by Mama Miss is licensed under Creative Commons Attribution-NonCommercial-NoDerivs 3.0 Unported License.
♥♥♥
(Visited 5,591 times, 1 visits today)