Well, there you have it, 26 pretty little cards all in a row.
♥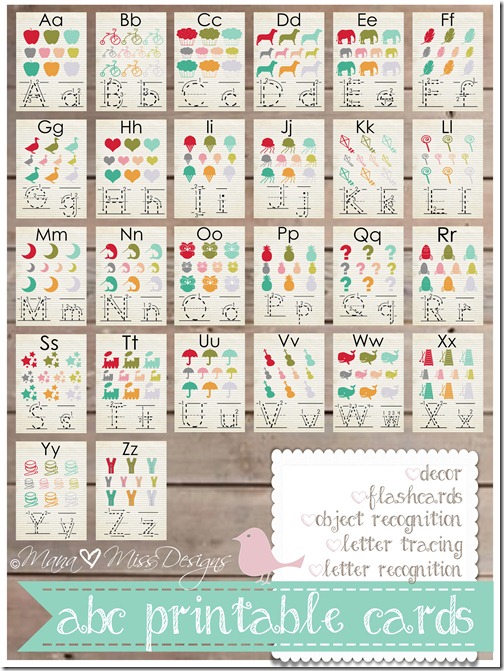 ♥
Each Alphabet Card is a 4-part learning tool…
how you say? well…
#1
FLASHCARDS…
…teach them their ABC's in a fun colorful way.
Each card has a lowercase letter & the corresponding uppercase letter.
#2
DÉCOR…
…line them up around the room and have them learn the ABC's.
Designed with colors & composition that is suitable for the kids' bedroom, playroom, (or your room ;), and not color defined, so they are for boys & girls alike.

For more inspiration…here's how I displayed my old alphabet cards in V's nursery (I just need to put up these new ones in her current room :)
#3
LETTER TRACING/PRINTING SKILLS…
…laminate them and trace the letters using the numbered steps.
This is my favorite part! Laminate the cards & put them in your purse or diaper bag with a dry erase crayon, and pull them out as an instant busy bag learning tool. At the grocery store (to keep them entertained in the cart – shopping in peace!), at the doctor's office, at the post office…etc
#4
OBJECT/LETTER RECOGNITION…
…teach them basic everyday objects in a fun colorful way.
Each card has an object that corresponds to the card letter.
♥
so are you excited yet?!
you can find these lovelies…
here…and here…and here…and here…(1 more ;)…
and here from the 2013 ABC's of…a 5-day series from the Kid Blogger Network!
xx ♥ m
There are also 70 bloggers of the Kid Blogger Network that are bringing you the ABC's series.
Click on the button to see them all!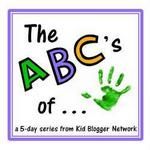 ---
Terms and Conditions
The above post allows a free printable PDF download; you will need Adobe Reader to do so.
It is free to download at Adobe's website here.
Please read here before you download any of mama♥miss's PDF files…thanks, man!
---
♥
(Visited 39,684 times, 1 visits today)