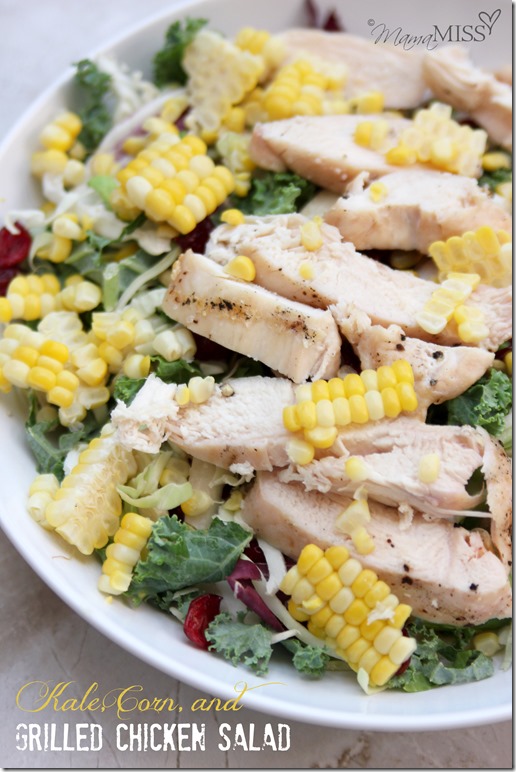 I often get asked about the kiddos & their meals. I don't feed them special meals (except for the occasional fun lunch – but I usually eat the same thing in a more, throw-it-in-a-container, less fun way ;).
They eat what we eat, only kiddo-fied! What do I mean by kiddo-fied?! Well, any adult meal can be kiddo-fied by adding fun kiddo elements. Elements like – candy eyes, sprinkles, mini chocolate chips – all are very low calorie but still provide that little snicker of sweetness to engage their interest in it. And, non-food fun like – fun plates, fun utensils, mini ANYTHING, food layout, creating a creature with cutters, fun colors, silicone cups in fun shapes, fun notes, etc. As long as you create a fun aspect to it – it will fly with wild colors in this house!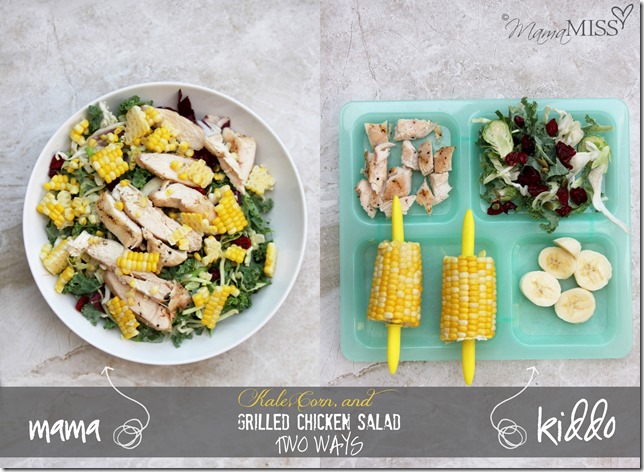 Take for example – this super yummy, "super food", and super healthy – Kale, Corn, and Grilled Chicken Salad – made for both hubs & me, and the kiddos. The kiddos have the same ingredients as us, only theirs is KIDDO-FIED – with a fun divided tray, mini corn-on-the-cobs, and some added bananas.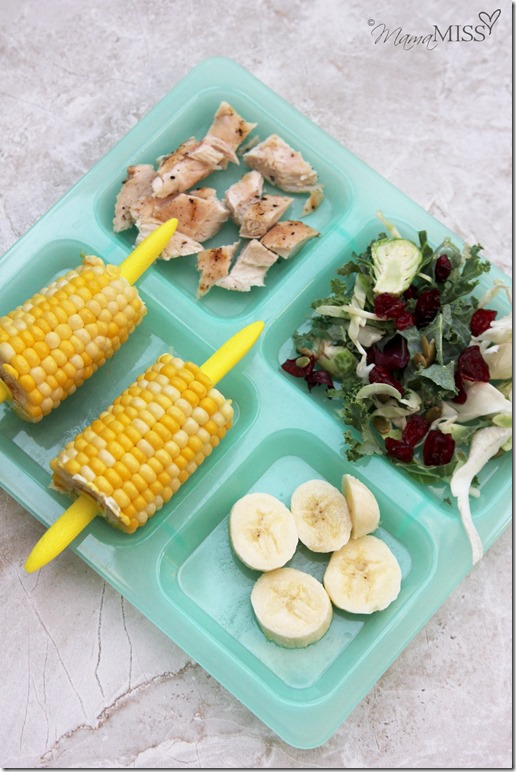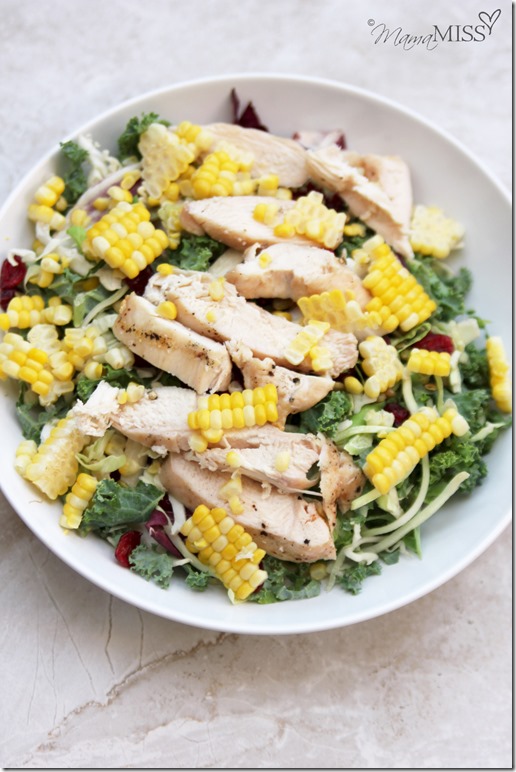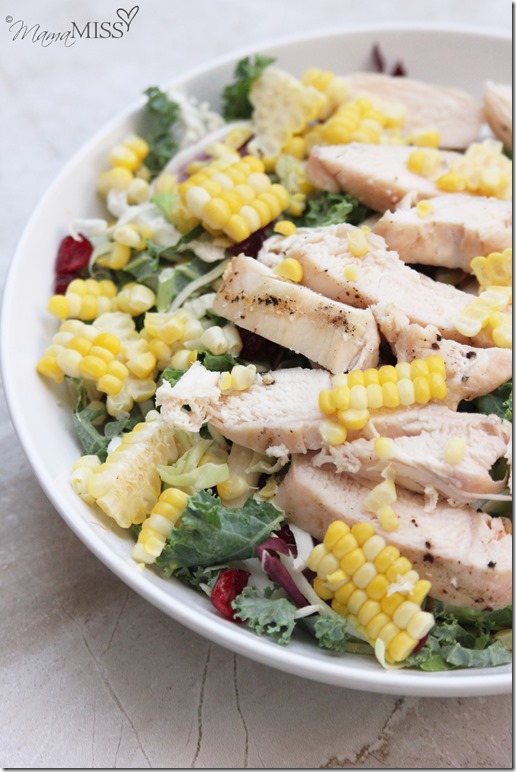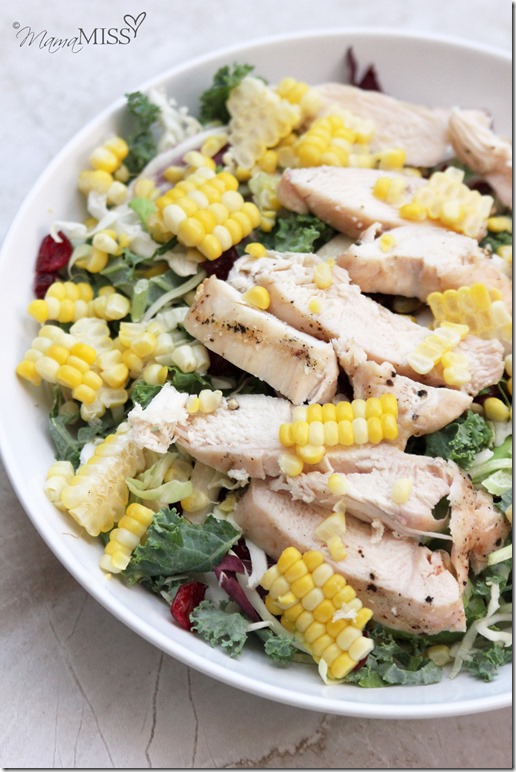 Kale, Corn, and Grilled Chicken Salad (made two ways)
This super yummy, "super food", and super healthy - Kale, Corn, and Grilled Chicken Salad is a simple and easy meal for the whole family.
Ingredients
3 chicken breasts
1 tablespoon olive oil
freshly ground coarse black pepper
freshly ground coarse sea salt
4 ears fresh corn, husked, cleaned and ends trimmed
3 cups kale, rinsed and chopped
1 cup green cabbage, rinsed and chopped
1/2 cup radicchio (also called red-leafed chicory), rinsed and chopped
1/2 cup raw brussels sprouts, rinsed, trimmed and sliced
1/2 cup raw broccoli stalks, rinsed and sliced
1/4 cup dried cranberries
1/8 cup pepitas
optional: dressing
Instructions
Season chicken with black pepper & sea salt. In a large skillet over medium-high, heat the olive oil. Add chicken to the heated skillet and lower temperature to medium, cover pan and grill chicken until the internal temperature reaches 165° F. Once fully cooked, cut 2 breasts of the chicken into strips and one breast into bite-sized chunks (alternatively you could also grill the chicken on an outdoor grill).
While chicken is cooking; Fill a large pot half full with water; bring to a boil. Add corn; cover and cook for 3-5 minutes (do not overcook).
Remove corn from pot; Cut two cobs of corn from the cob with sharp knife.
Place each corn, standing vertical, end side down on a cutting board. Using a sharp knife, holding near the top of the ear, start at the top and cut downward from the cob. Continue cutting until all of the corn is removed. Cut the two remaining corn on the cobs in half.
In a large bowl, add the kale, green cabbage, radicchio, brussels sprouts, broccoli stalks, cranberries, and pepitas. Toss together gently until combined. Set aside a handful for the kiddo plates.
Divide the remaining kale mixture between two large salad bowls. Top with grilled chicken and corn.
Divide the chicken chunks, small corn-on-the-cobs, and handful of kale mixture amongst the two kiddo plates.
optional: top with dressing (my favorite is poppy-seed dressing - it adds a nice sweetness to the salad).
https://www.mamamiss.com/blog/2013/10/01/kale-corn-grilled-chicken-salad-made-two-ways/
All rights reserved Copyright 2012-2019 Mama Miss Blog and Designs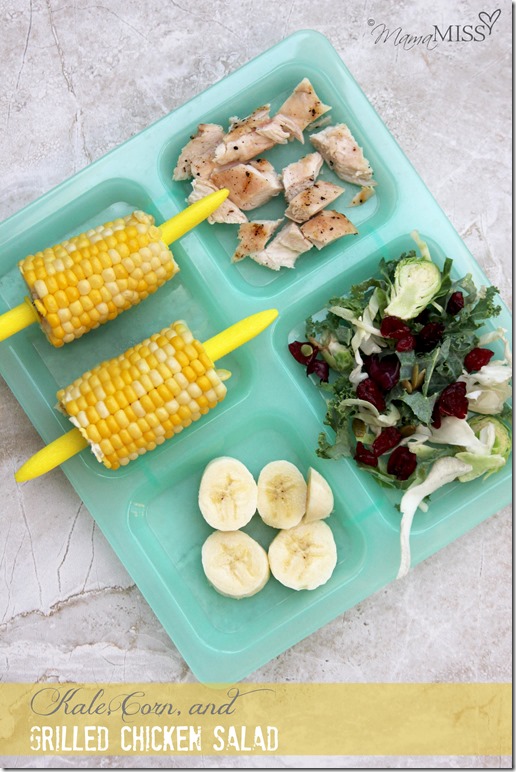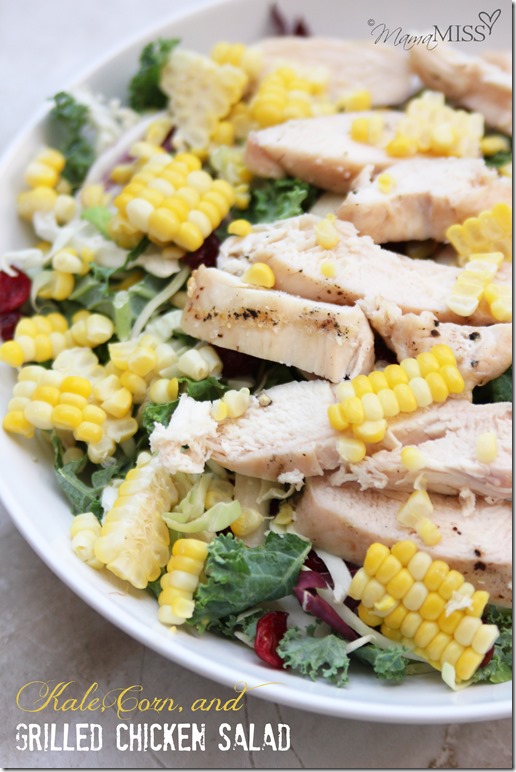 ♥
Like what you see?!
You can connect with me on:
Pinterest|Facebook|Twitter|Google + too!
♥
© Mama Miss. All images & content are copyright protected.
Feel free to share one picture and linking directly to this post for download.
Please do not copy directions, ingredients, or pdf files for your own website.
Copying my post partially, or fully, is strictly prohibited.
All work by Mama Miss is licensed under Creative Commons Attribution-NonCommercial-NoDerivs 3.0 Unported License.
♥♥♥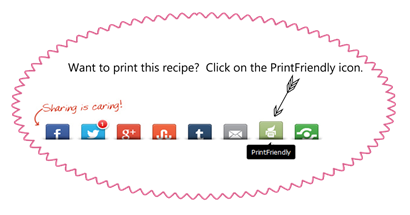 (Visited 3,213 times, 1 visits today)