ahhhh I love me some soup & a toasty grilled cheese sandwich.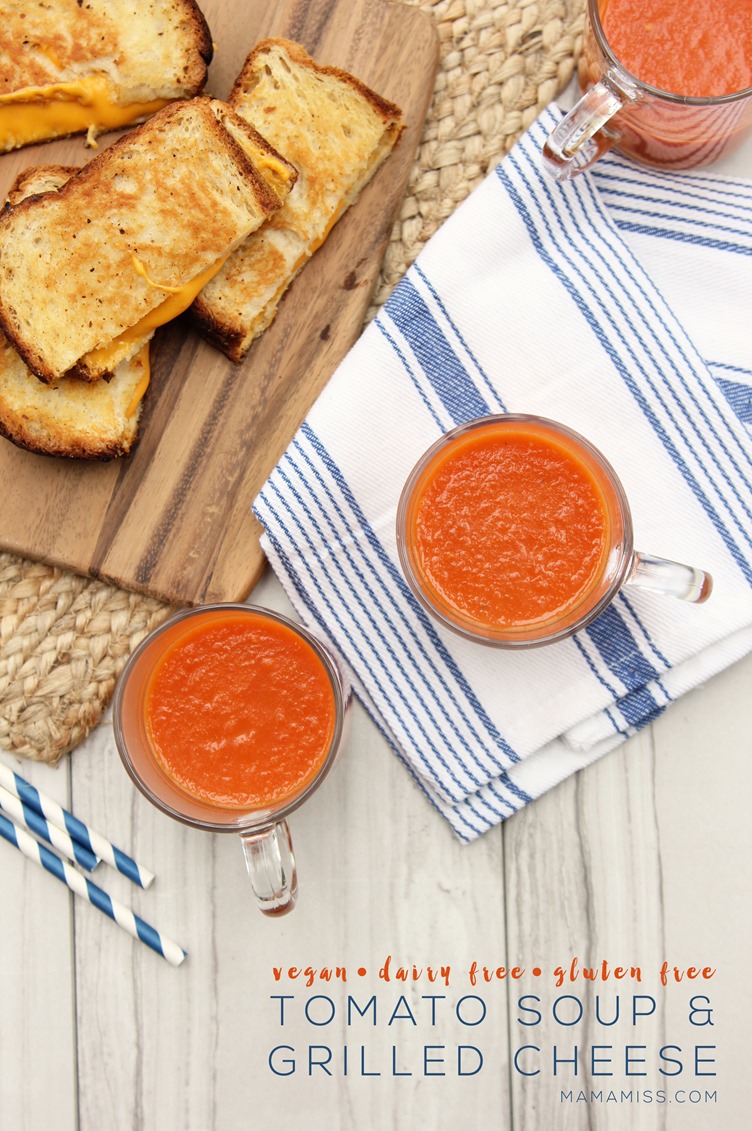 Vegan, gluten free, & dairy free ooooey gooey goodness with this Tomato Soup & Grilled Cheese.
Oh yeah I said VEGAN (no animal products)
annnnd GLUTEN FREE (rice flour)
annnnd DAIRY FREE (rice milk)
Sounds kinda' gross right?!  Oh but it's not, my friends.
This complete meal (well, sans the dairy free cheese in my grilled cheese) is a meal I regularly make for my entire family (you know the ones without the dairy & gluten issues that eat up their insides).
It's really quite simple & an easy weeknight meal the WHOLE FAMILY will love – I PROMISE even those picky eaters like my V loved it!  I mean c'mon who doesn't want grilled cheese for din din EVERY night?!  I do! I do!
Let's make some Vegan Tomato Soup and Grilled Cheese!  And remember if you want the normal grilled cheese for the rest of the fam – just use normal bread, butter spread, & cheese ;)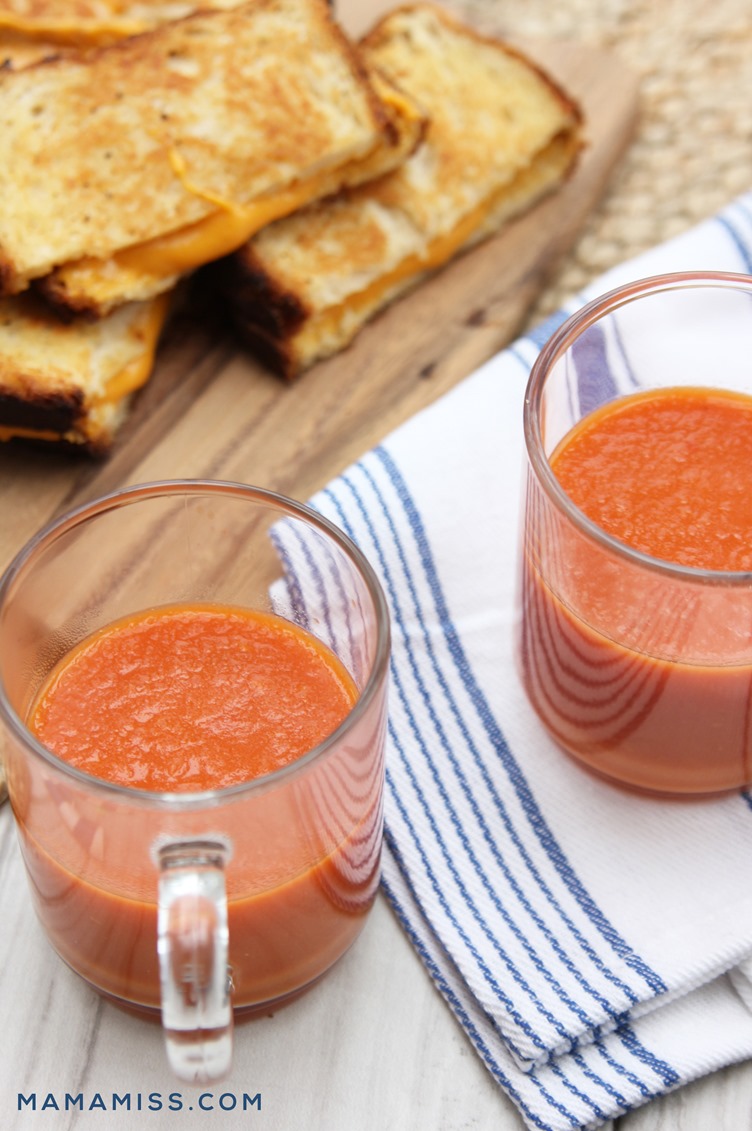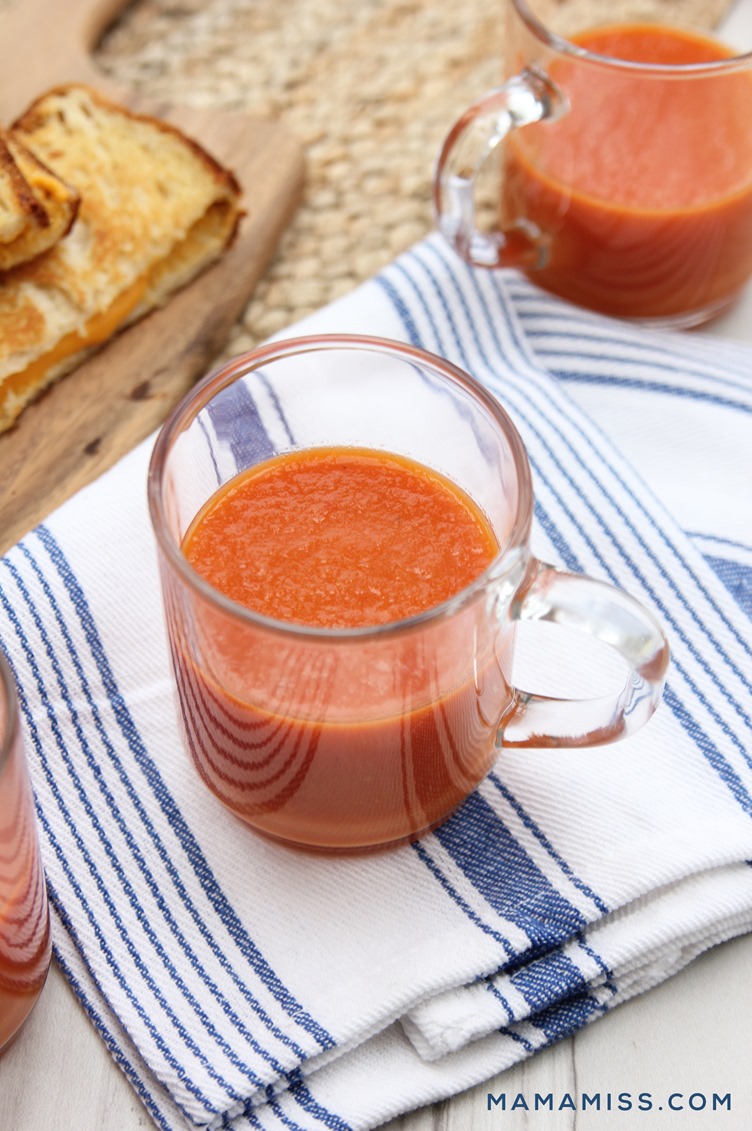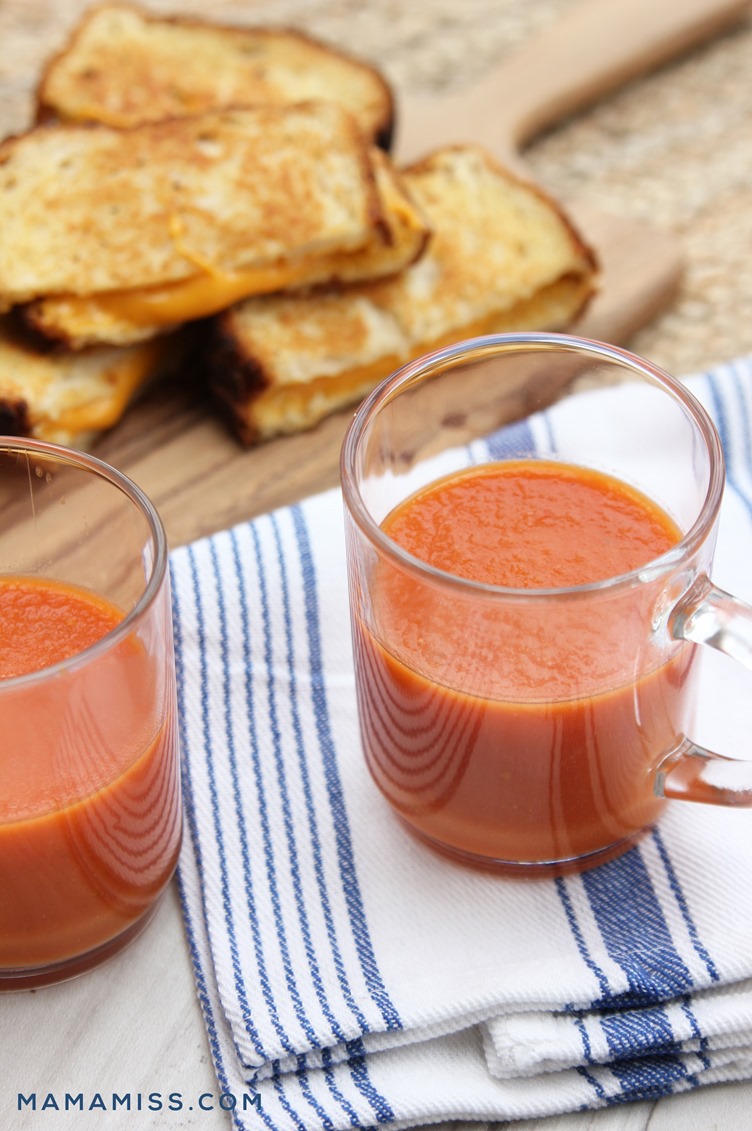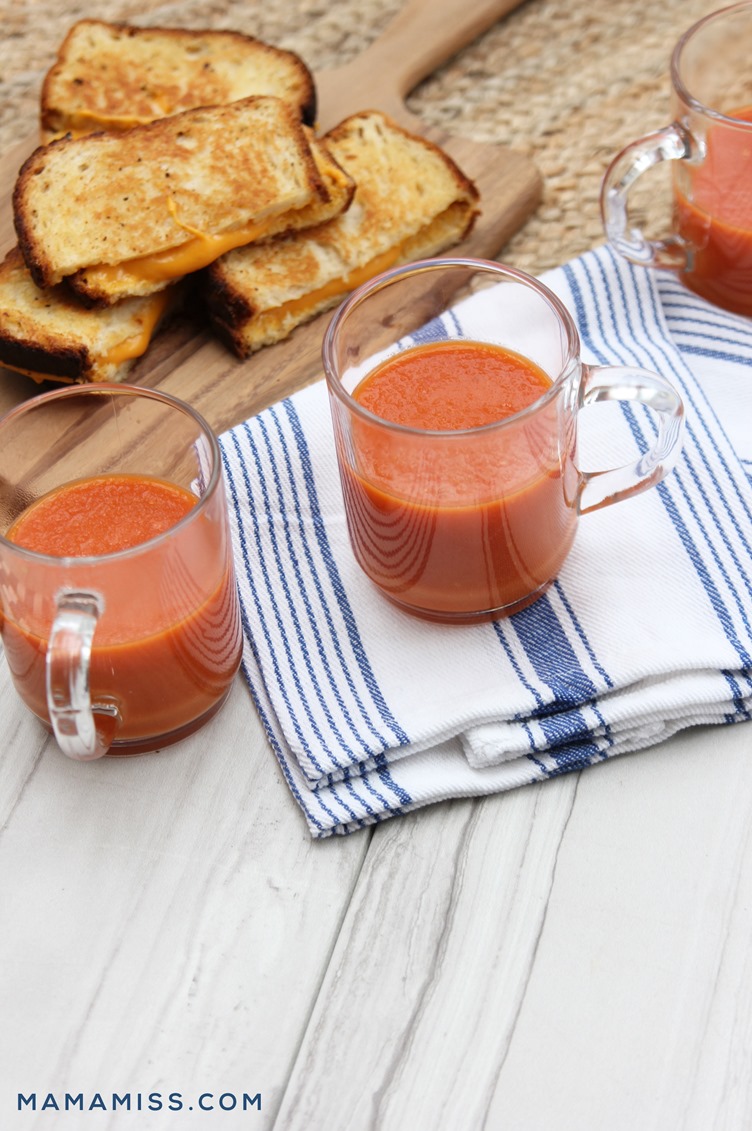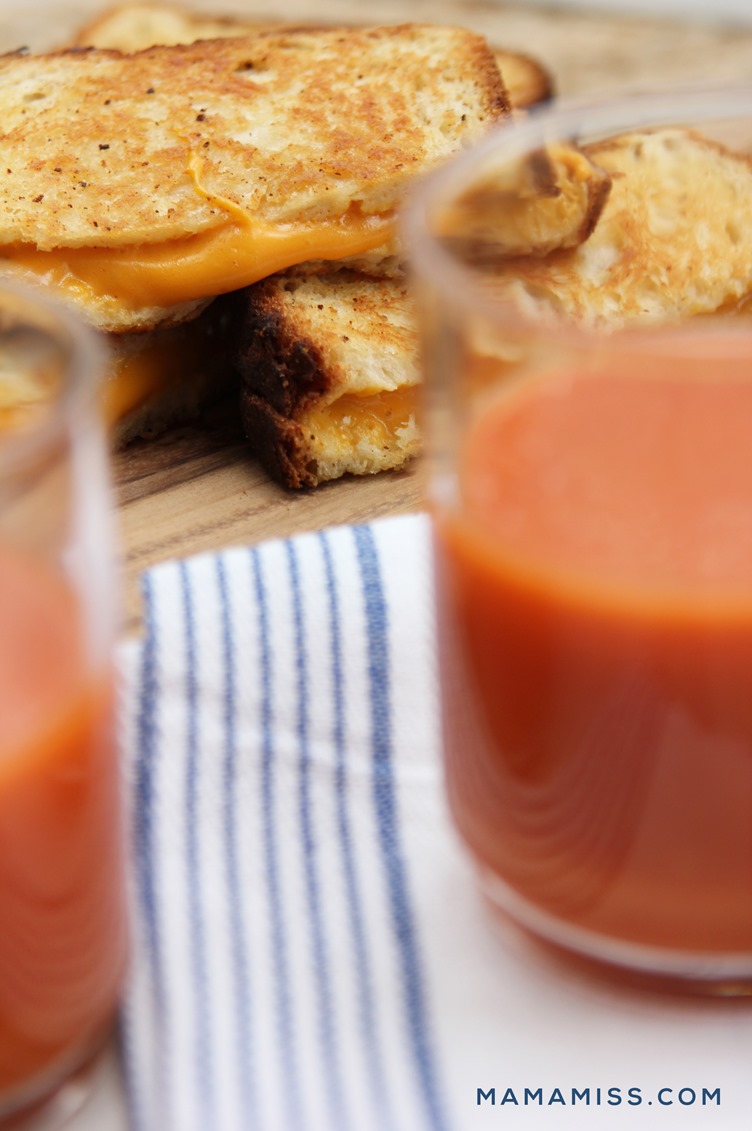 Vegan Tomato Soup and Grilled Cheese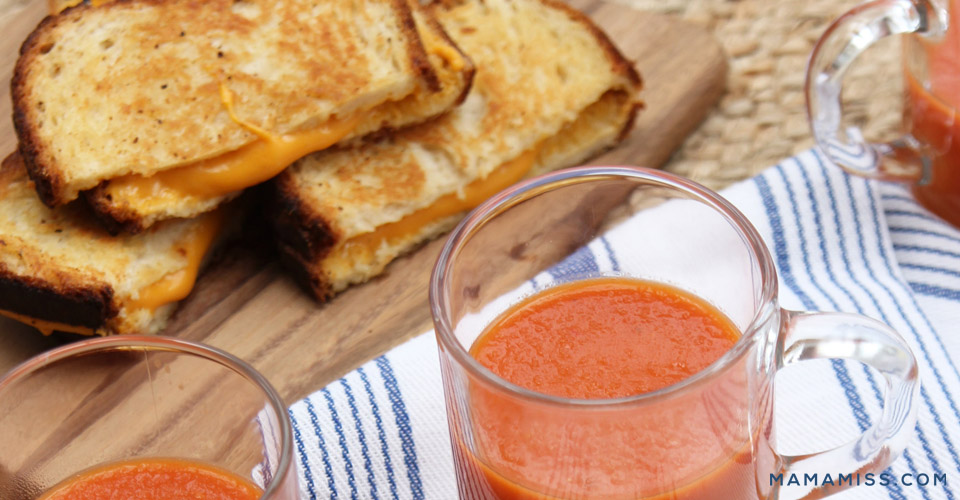 Vegan, gluten free, & dairy free ooooey gooey goodness is pulled together in this Tomato Soup & Grilled Cheese.
Ingredients
2 tablespoons olive oil
1 large sweet yellow onion, diced
1/2 teaspoon (or 1 clove) garlic, minced
2 cups organic vegetable broth, warmed
1/4 teaspoon salt
Freshly ground pepper
1 tablespoon agave nectar
1 - 28oz can whole plum tomatoes
1/2 cup plain rice milk - original
6 slices of dairy free cheddar cheese, I use
Daiya
Allergy Free Buttery Spread, room temperature, I use
Earth Balance
Instructions
Heat the olive oil in a dutch oven over a medium-high heat.
Add the diced onion, cook for 2 minutes, stir. Add the minced garlic and cook for 1 minute.
Sprinkle in the brown rice flour, cook and stir until light brown and it becomes aromatic.
Add the warmed broth slowly, stir. Add salt, a couple of grinds of pepper, and the agave nectar to the pot. Reduce heat to medium and cook for 2 minutes, stirring often.
Add the plum tomatoes and bring to a simmer. Reduce heat to medium-low and cook for 10 minutes.
Using an immersion blender, puree soup and tomatoes in the pot.
Add the rice milk, cook for 5 minutes. Season with salt & pepper if needed.
Spread the buttery spread on each bread slice.
For each sandwich, place 2 slices of bread together, butter on the outside, with a slice and a half of cheese inside each sandwich.
Place on griddle until cheese starts to melt and bread browns.
Serve with soup.
https://www.mamamiss.com/blog/2015/09/18/vegan-tomato-soup-and-grilled-cheese/
All rights reserved Copyright 2012-2019 Mama Miss Blog and Designs
So, you totally need to try it!!
Even if you aren't G-free or D-free, the soup is sooooooo yummy – just serve it up with some griddled, butter-slathered, crusty grilled cheese sandwiches & get your Vegan Tomato Soup and Grilled Cheese On (or non-vegan)!
nom nom nom…..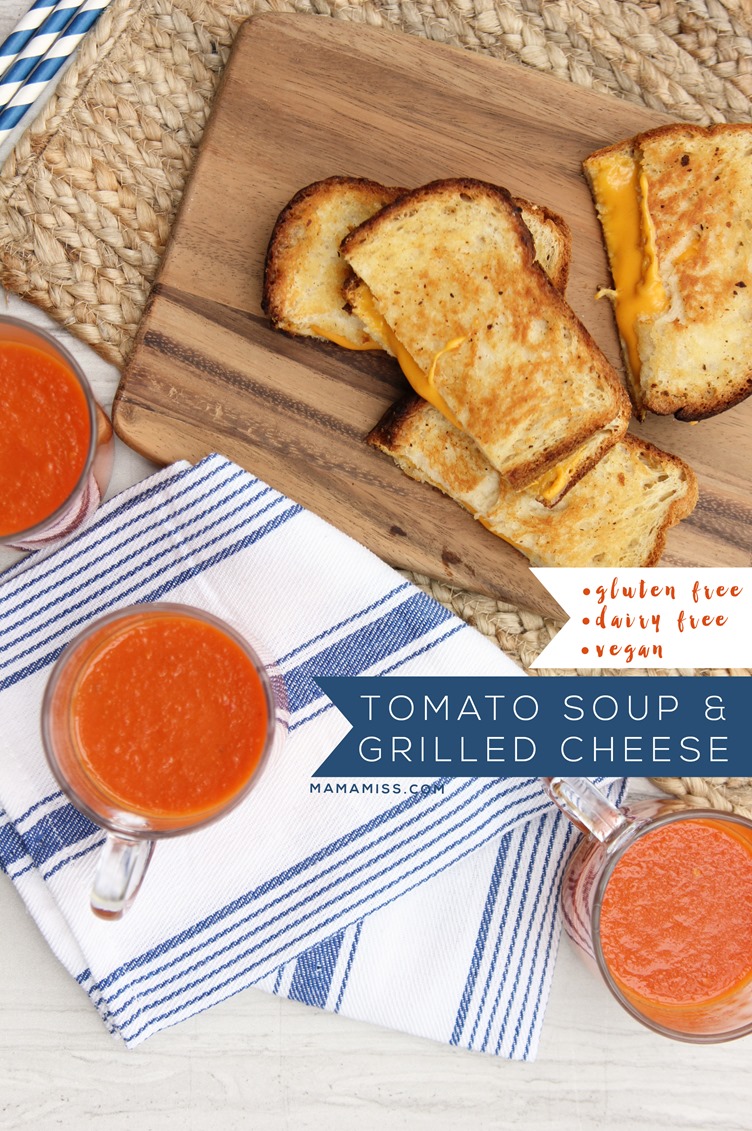 INSPIRE OTHERS BY SHARING!!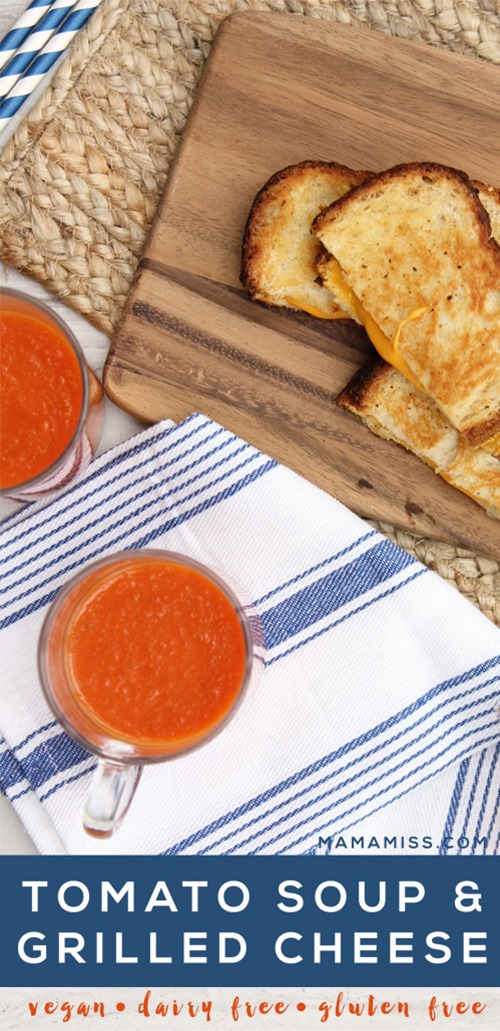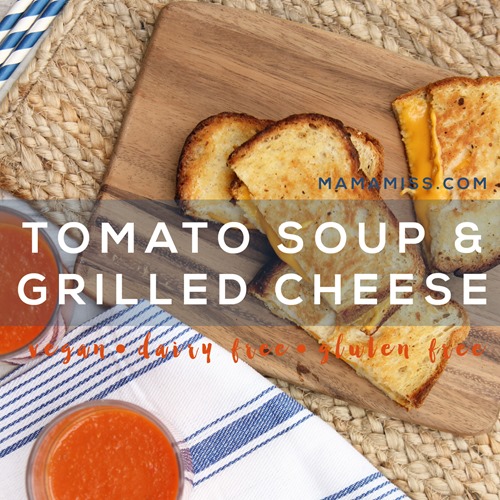 ♥
Like what you see?!
You can connect with me on:
Pinterest || Facebook || Twitter || Google +
And don't miss any updates, get new posts right away – sign up here…
♥
© Mama Miss. All images & content are copyright protected.
Feel free to share ONE picture and linking directly to this post for download.
Please do not copy directions, ingredients, or pdf files for your own website or Facebook page, visuals or words.
Copying my post partially, or fully, is strictly prohibited.
All work by Mama Miss is licensed under Creative Commons Attribution-NonCommercial-NoDerivs 3.0 Unported License.
(Visited 17,885 times, 1 visits today)