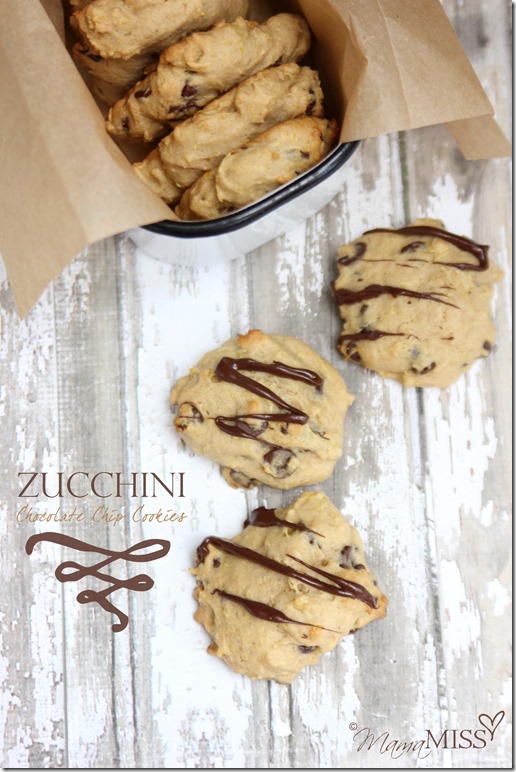 Can you believe these are… healthy …semi-healthy …okay maybe not at all that healthy!  But, they do have a whole zucchini baked in them – wowzers!
My MIL gave us some zucchini's a while back & I've been creating some yumminess with them.  These zucchini chocolate chip cookies are very cake-like (I'm guessing because of the left-over moisture from the shredded zucchini), with a slight tinge of honey nestled in – yum!
Oh & what cookie is not complete without a little chocolate drizzle?!  That's what I'm talkin' about!
So if you still have some zucchini just layin' around – these are sure to fulfill that zucchini baking need.  Because a little chocolate goodness sure beats plain ol' zucchini bread any day ;)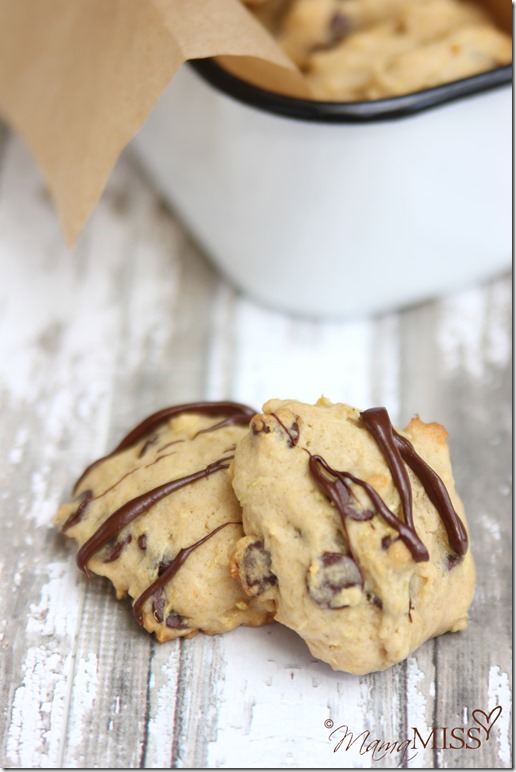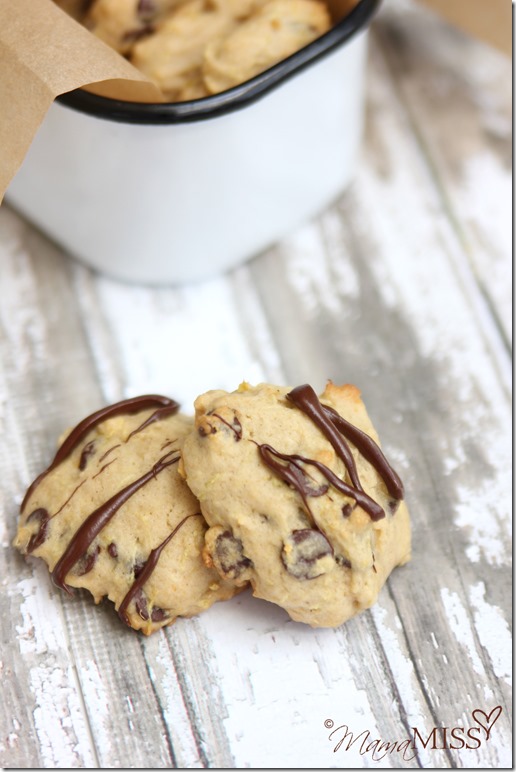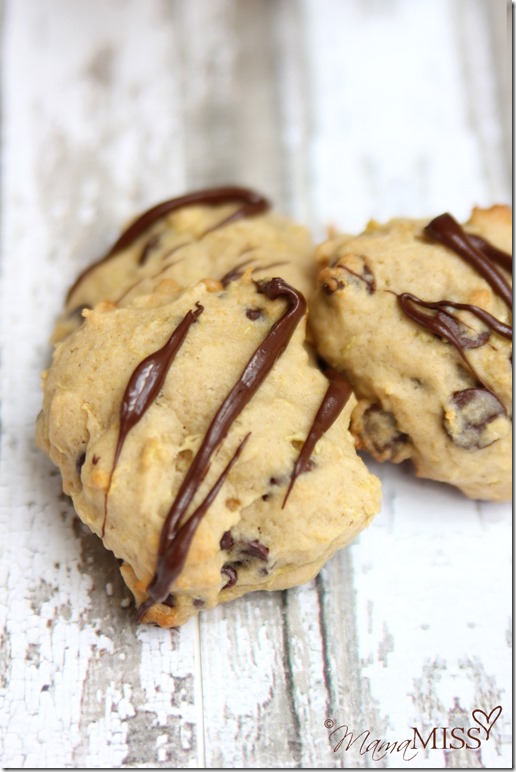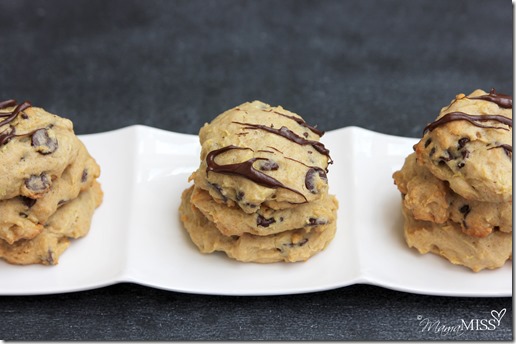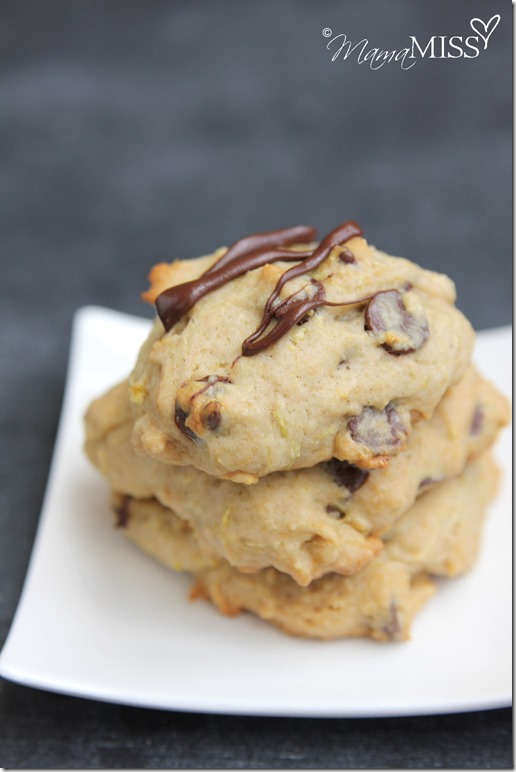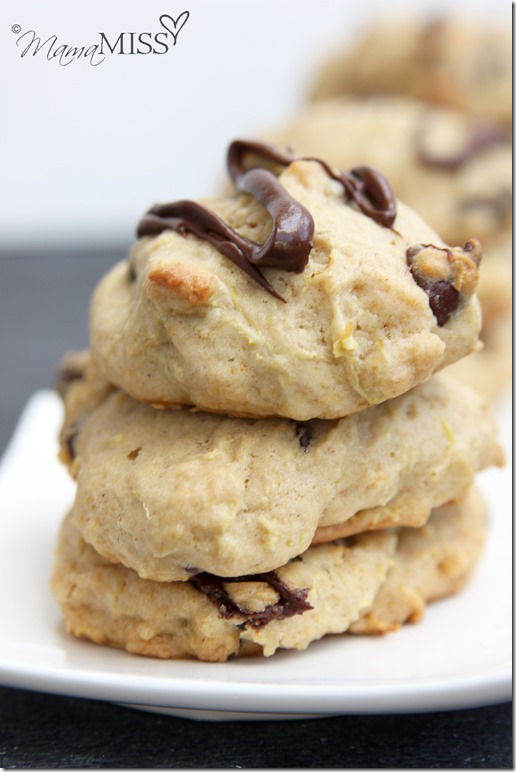 Zucchini Chocolate Chip Cookies
Zucchini + Chocolate = perfection in a cookie. With a tinge of honey that perfectly complements the chocolate - these Zucchini Chocolate Chip Cookies are sure to be a family favorite.
Ingredients
Cookies
1 medium zucchini
1 egg
1 stick (1/2 cup) butter, room temperature
1/2 cup light brown sugar
1/3 cup honey
1 tablespoon vanilla
2 cups flour
1/2 teaspoon baking soda
1/4 teaspoon salt
1/4 teaspoon cinnamon
1 cup semi-sweet chocolate chips
Topping
1/2 cup semi-sweet chocolate chips
Instructions
Cookies

Preheat oven to 350°.
Line a cookie sheet with parchment paper; Set aside.
Peel, and then finely shred your zucchini. Squeeze out all of the moisture (I placed the shreds in a heavy duty paper towel & then squeezed until the moisture was gone). After it was squeezed out and mostly dry, it produced about a 3/4 cup of shredded zucchini. Set aside.
In a large mixer add the egg, butter, brown sugar, honey, and vanilla; Mix until thoroughly combined.
In separate small bowl, sift together the flour, baking soda, salt, and cinnamon. Set aside.
While the mixer is on low, add the dry mixture to wet mixture, a little at a time; Blend until just combined.
Remove bowl from mixer and blend in the 1 cup of chocolate chips and 3/4 cup of shredded zucchini with a wooden spoon.
Spoon the batter, using about 1/8 cup of batter for each cookie, onto the parchment-lined cookie sheet; Place each drop about an inch apart.
Bake for about 11-13 minutes, until edges start to slightly brown.
Remove from oven, and let cookies cool completely.

Topping

Add the 1/2 cup of chocolate chips to a disposable plastic pastry bag. Place in microwave and microwave in thirty second intervals, until chocolate is melted.
Once the chocolate chips are melted, cut off tip on bag and drizzle the cookies with chocolate.
Notes
https://www.mamamiss.com/blog/2013/09/24/sweets-zucchini-chocolate-chip-cookies/
All rights reserved Copyright 2012-2019 Mama Miss Blog and Designs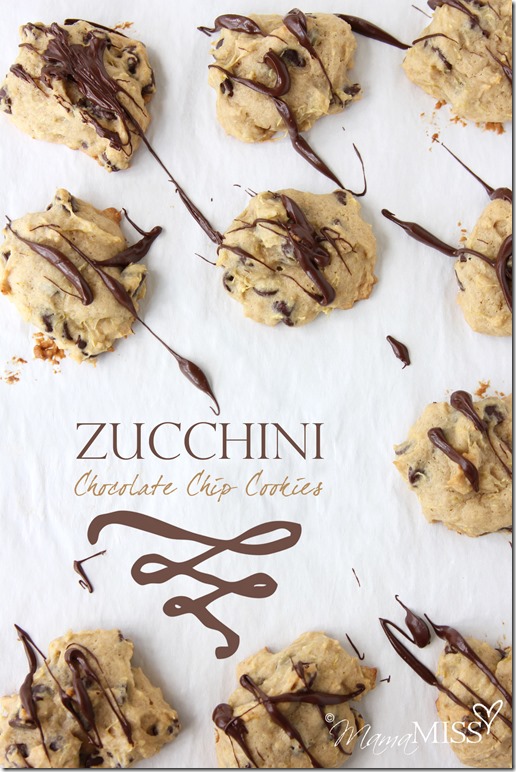 ♥
Like what you see?!
You can connect with me on Pinterest|Facebook|Twitter|Google + too!
♥
© Mama Miss. All images & content are copyright protected.
Feel free to share one picture and linking directly to this post for download.
Please do not copy directions, ingredients, or pdf files for your own website.
Copying my post partially, or fully, is strictly prohibited.
All work by Mama Miss is licensed under Creative Commons Attribution-NonCommercial-NoDerivs 3.0 Unported License.
♥♥♥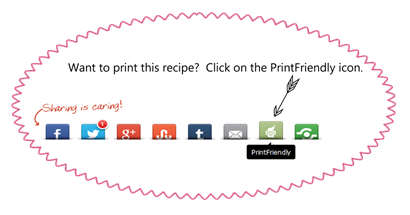 (Visited 3,609 times, 1 visits today)