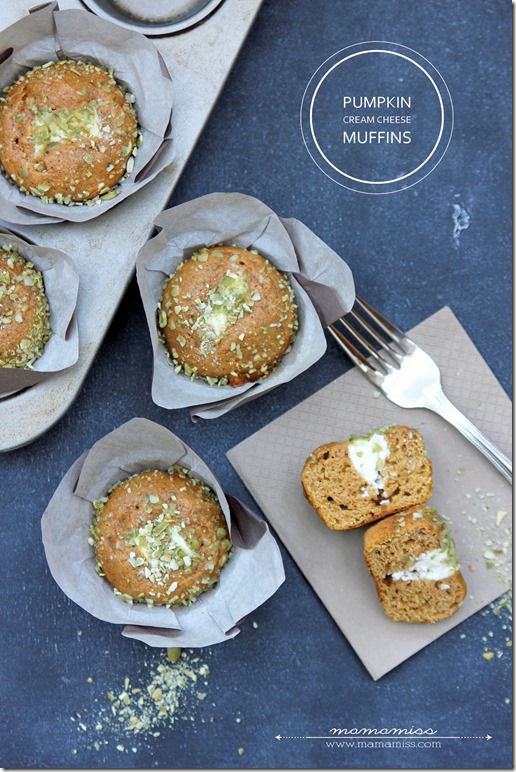 Who doesn't love pumpkin?!
Possibly a little late in the pumpkin game, due to pumpkin being a traditionally "fall" food – but hey – throw those pumpkin judgments out the window folks – these Pumpkin Cream Cheese Muffins are yummy!
Pumpkin is chocked full of nutrients – fiber, potassium, iron – it's a healthy muffin!  My favorite thing about these muffins – they are not too sweet – they are like the muffin version of a scone.  They provide the muffin texture, just enough sweetness to satisfy, and a little salty crunch at the end – yummers.  These Pumpkin Cream Cheese Muffins can be used as a dessert, or for a brunch, or are amazingly brilliant as a side dish for a meal.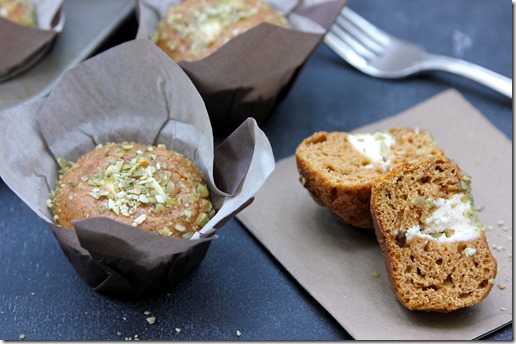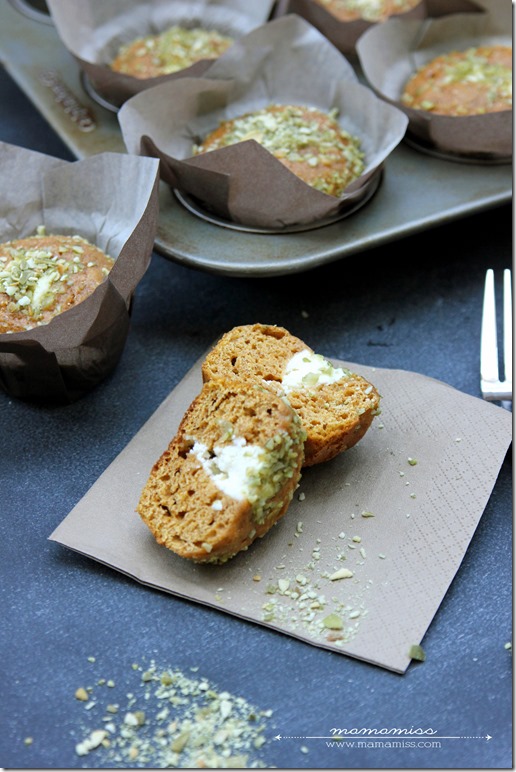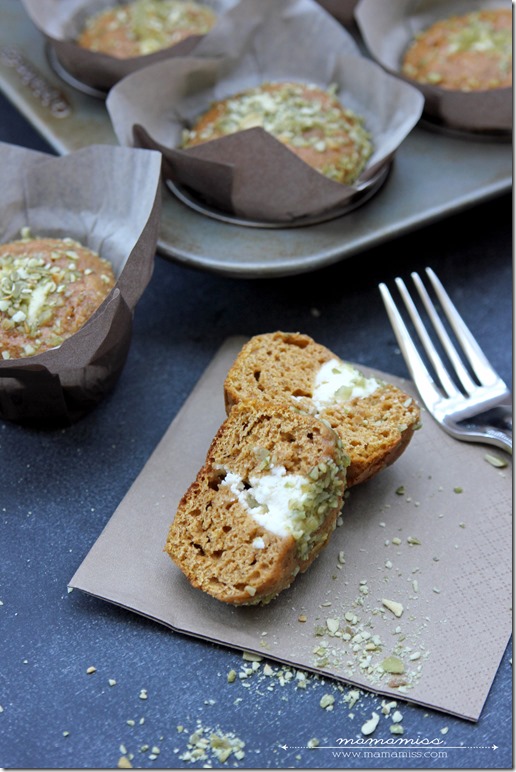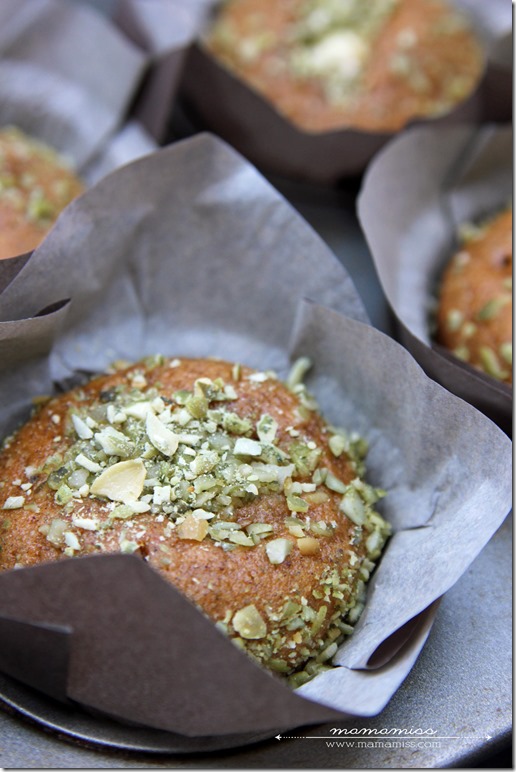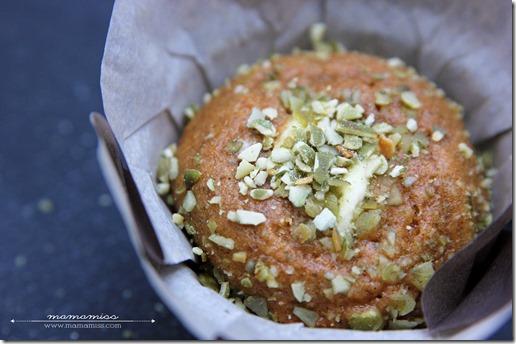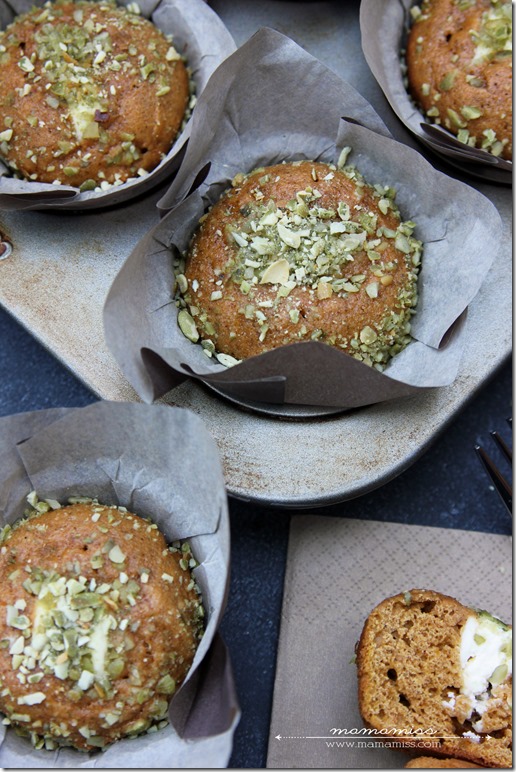 Pumpkin Cream Cheese Muffins
These delectable Pumpkin Cream Cheese Muffins are just slightly sweet with a tidbit of salty - the perfect combination.
Ingredients
1 – 8 oz package cream cheese, softened
2 cups pumpkin puree
2 cups granulated sugar
4 large eggs
1 teaspoon pure vanilla extract
3 cups all-purpose flour
1 teaspoon baking soda
½ teaspoon kosher salt
4 teaspoons pumpkin pie spice
1 teaspoon ground cinnamon
1 teaspoon ground nutmeg
½ teaspoon ground cloves
½ cup chopped salted pepitas
Instructions
Preheat oven to 350° F. Line muffin tin with paper liners or coat with cooking spray.
Remove cream cheese from package and roll into a long thin log. Wrap cream cheese log in saran wrap & stick in freezer until ready to use.
In a mixing bowl, beat the pumpkin puree and sugar with an electric mixer, until smooth.
Add the eggs, one at a time, beating the mixture well after adding each egg. Beat in the vanilla extract.
In a separate large bowl combine the flour, baking soda, salt, pumpkin pie spice, cinnamon, nutmeg, and cloves; Stir until blended. Slowly add the dry ingredients to the pumpkin mixture and mix until well blended.
Pour the batter into the prepared muffin tin, filling the cups half full.
Remove the cream cheese log from the freezer and cut the log into 24 pieces.
Place a piece of cream cheese into the middle of each muffin cup, pressing down slightly into the batter; Repeat for each muffin.
Sprinkle the top of each muffin with the chopped pepitas.
Bake for 20-25 minutes, until a toothpick entered into the batter center comes out clean.
Remove muffins from oven, and let cool in pan for 15 minutes.
Notes
https://www.mamamiss.com/blog/2014/01/09/pumpkin-cream-cheese-muffins/
All rights reserved Copyright 2012-2019 Mama Miss Blog and Designs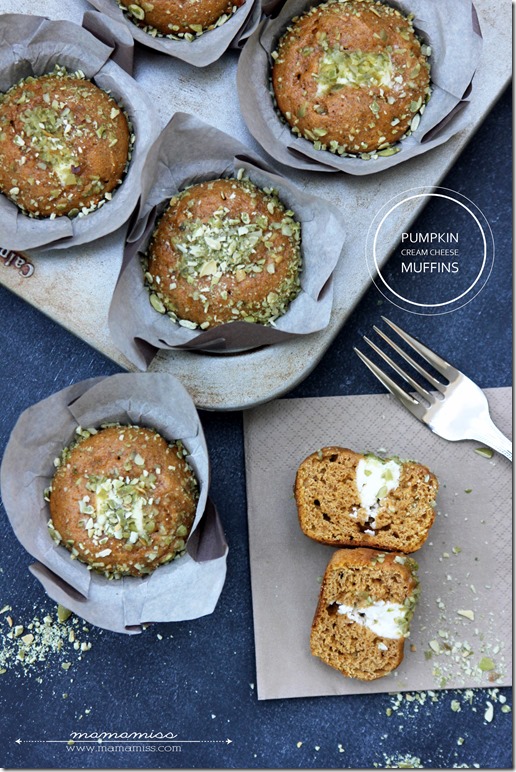 ♥
Like what you see?!
You can connect with me on:
Pinterest|Facebook|Twitter|Google + too!
♥
© Mama Miss. All images & content are copyright protected.
Feel free to share one picture and linking directly to this post for download.
Please do not copy directions, ingredients, or pdf files for your own website or Facebook page.
Copying my post partially, or fully, is strictly prohibited.
All work by Mama Miss is licensed under Creative Commons Attribution-NonCommercial-NoDerivs 3.0 Unported License.
♥♥♥
(Visited 881 times, 1 visits today)