So, as Mama Miss grows, so many things grow with it.
Most the time it's all kinds of fun stuff, sunshine and unicorns around these parts. But sometimes I got to get all serious & important on ya!
Let's talk trademarking your blog today.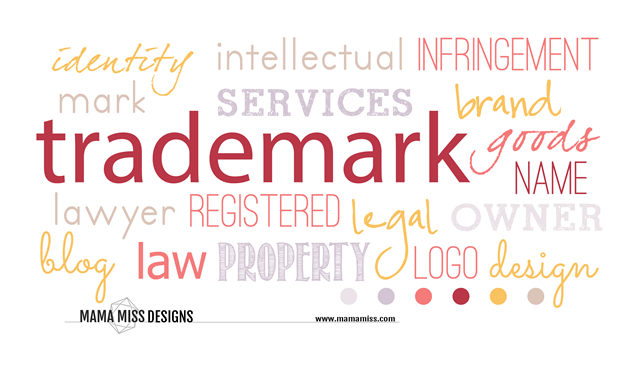 What is a trademark?
Well, a trademark is a legal tool to protect your brand. For example, in the blogging world, your trademarks are likely to be your blog name, your logo design, and your tagline, if you have one.

Why is trademarking your blog important?
Well, registering a trademark is especially important for a blogger because your blog name is your brand; it is how your followers know you and recommend you to others.
Have you worked hard to create a brand for your blog or your business? If your answer is yes, you need to take the next step to ensure your blog or business is legally protected. It is critical to protect your brand by registering it as a trademark with the U.S. Patent and Trademark Office (USPTO)! Simply owning the domain name is not enough.
Have you ever heard that saying – you gotta spend money to make money? Well, this is one of those times, my friends. It's like buying socks – I wear those suckers until they have holes in them – because spending money on socks, well, it's spending money on socks – it's no fun. If your business is growing this is something I highly recommend doing, especially if you have already established your brand and your clients/readers, don't wait for your brand to get holes in it. Let me give it straight to ya – it would be very bad if – here you are, brand established and someone swoops in & uses the same name and trademarks it before you. Am, I right?! I would seriously cry if this happened – everything gone, just like that.
My brand is growing, some days faster than my little monkeys, that's why I decided to face the music and start the trademark process, and start it right, with a trademark lawyer.
The Geller Law Group is the trademark lawyer I chose, and am in the process with, to have my brand registered. The main reason I chose The Geller Law Group, a woman-owned law firm, is that I know Rebecca Geller, I've met her face-to-face, I trust her & her law firm to handle this for me, and to make sure it's done efficiently.
They are so indeed very fab, that they are offering 10 gift certificates* valued at $100 each to be used towards trademark registration legal services with their law firm, The Geller Law Group – FOR YOU!!! How awesome is that – incentive to get the ball rolling for you and your brand. Just enter the Rafflecopter form below to enter!!
The Geller Law Group is a woman-owned law firm that serves as legal counsel to bloggers, small businesses and budding entrepreneurs. The attorneys at The Geller Law Group are experienced with many of the issues that bloggers face on a daily basis. Our blogging clients include top bloggers such as Honest Toddler and Honest Mom.
*The fine print: This offer is only available to new clients of The Geller Law Group who are over the age of eighteen (18), and are US residents. The Geller Law Group does not guarantee a successful registration of your mark, which may be determined unavailable or unregistrable with the United States Patent and Trademark Office for a variety of reasons. The gift certificates are valid for sixty (60) days following the beginning of the Giveaway. Only one gift certificate per client.
You can also connect with The Geller Law Group here:
Website || Facebook || Twitter || Google +
Here are some other great points and helpful tips from The Geller Law Group:
· One major issue is that you may be accidentally using the registered trademark of (or something confusingly similar to) another person or company. Even if you are doing this accidentally, they still may be able to send you a "cease and desist" letter, warning you to stop using your mark or business name because you are now in violation of their federally registered trademark. Once this happens, you will be mired in litigation and expensive legal fees for years, or simply be forced to give up your mark entirely.
· In the alternative, if someone else begins using your mark (or begins to use a mark confusingly similar to it), and your mark is is not registered with the United States Patent and Trademark Office (USPTO), you cannot prevent the other person or company from using a mark that you have invested a great deal of time and money in.
· However, if you have a trademark registered with the USPTO and someone else starts to use it, you can send them a cease and desist letter of your own and have a tremendous legal tool to protect your brand.
· For a trademark to be registered with the USPTO, it needs to be distinctive. Basically, this means that a strong mark does not simply describe the goods or services offered, or where they originate from, or who they are offered by (so "Fairfax Mother's Blog" or "Geller Blog" will be harder to register than "Mama, may I?" as a blog name, for example).
· Most importantly, registering a trademark should be done with the assistance of an attorney experienced in trademark law. The trademark search to make sure your mark is distinguishable and not the same as or confusingly similar to any registered trademarks is very technical and detailed, and is best completed by someone with plenty of experience. Many clients simply do a basic search on the USPTO website and mistakenly believe they can trademark their brand. We counsel many clients who have tried to register a trademark on their own to save money, and these clients frequently end up spending twice as much on legal fees for an appeal because the USPTO rejected their application. When applications are denied, the filing fee is not refunded and an appeal is much more costly. It is in your own financial interest to hire a lawyer to help with your trademark search and application from Day 1.

♥
Like what you see?!
You can connect with me on:
Pinterest || Facebook || Twitter || Google +
♥
© Mama Miss. All images & content are copyright protected.
Feel free to share ONE picture and linking directly to this post for download.
Please do not copy directions, ingredients, or pdf files for your own website or Facebook page, visuals or words.
Copying my post partially, or fully, is strictly prohibited.
All work by Mama Miss is licensed under Creative Commons Attribution-NonCommercial-NoDerivs 3.0 Unported License.
♥♥♥
(Visited 472 times, 1 visits today)