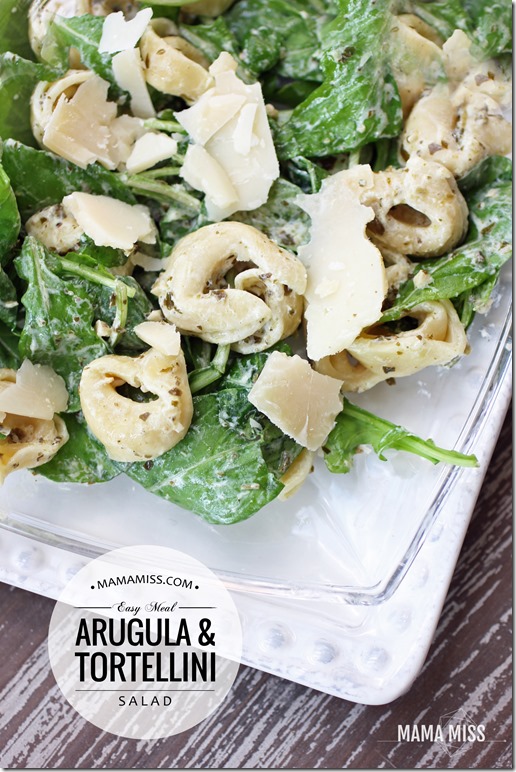 I'm all about QUICK & EASY meals (if you haven't figured that out already).
Some weeks I get all excited & creative to try new things and extremely complicated meals.  When these creative streaks in the kitchen happen, hubs promptly says "oooh the chef is getting sassy".  Well, I think the majority of the time this chef is far from sassy lol.  She's tired, and crazy busy, and she just wants simple and fast.  Tell me most of you feel the same way?!
Well, this Arugula Tortellini Salad requires no defrosting, no heavy prep, the kids will eat it, and it's relatively healthy.  And when I say "relatively healthy" I mean, it's not like eating a bowl full of fresh steamed veggies, but it's far from a fast food meal.  So it's relatively healthy, and simple, and kid-edible, and quick.  Four words I LOVE to hear when making a meal for the whole family.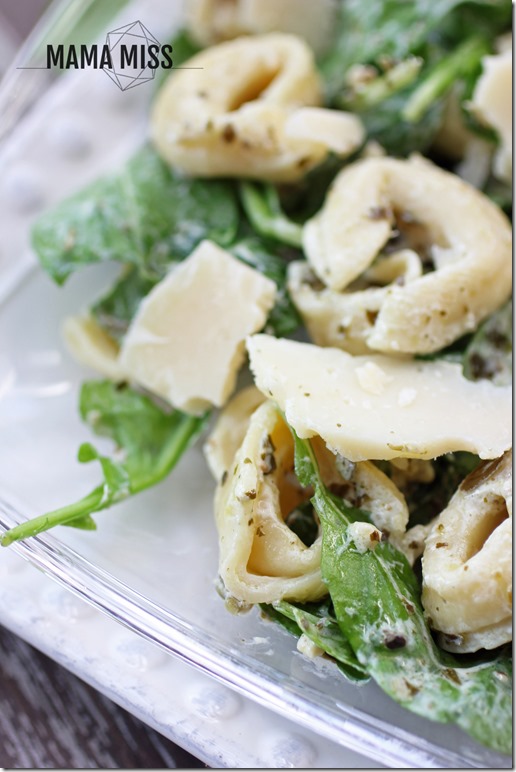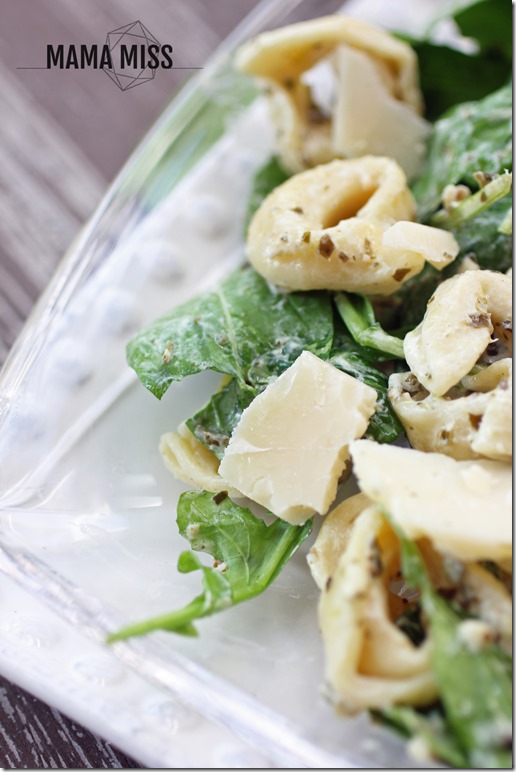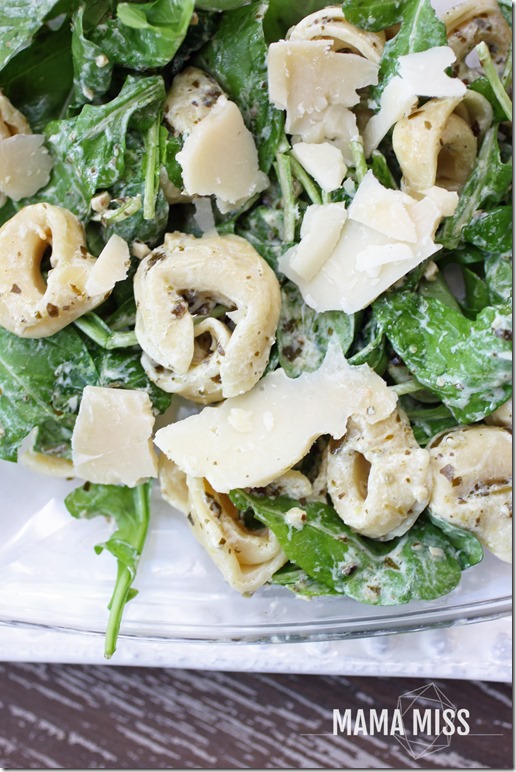 Speaking of whole family.
I RARELY make separate meals for kids.  I mean, once in a blue moon, rare.  The only time the kiddos get separate meals is if the dish is overly spicy, which is indeed rare since I'm not a spicy food fan either, only hubs is.  So, when I am creating recipes or doing extreme altering to them, I'm adapting them to fit our family's needs, for our family time.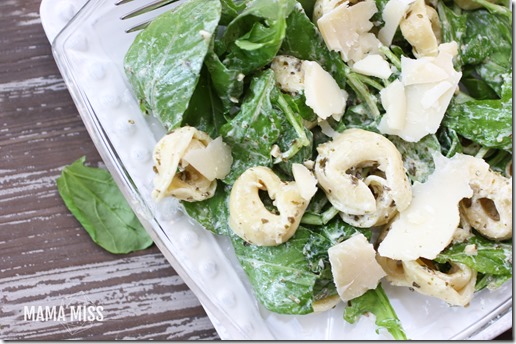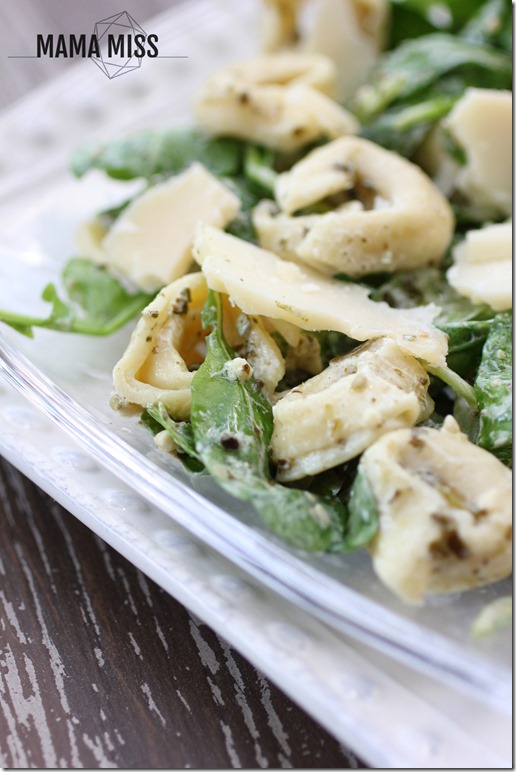 Speaking of family time.
Meals at breakfast & lunch are chaotic – dinner is family time.  We eat together every night, at the kitchen table.  The kids eat what we eat.  V, sometimes T, sets the table and helps serve the meals.  We go around the table every night and either share "what our favorite part of that day was", or "what we were thankful for that day".  I started off doing this sporadically, and more recently I've been so consistent with it that V has taken the torch (heart swoon) and goes around & asks everyone at dinner now.  My favorite, my absolute favorite… is when we have family visiting for dinner and she goes around & asks them too – truly makes my heart smile.
So, the Arugula Tortellini Salad.  Enjoy!
Ingredients
1 16 oz bag frozen cheese tortellini
1/4 cup pesto
1/4 cup 0% plain Greek yogurt
1 8 oz bag baby arugula
fresh Parmesan, shaved into strips with grater or vegetable peeler
salt & pepper
Instructions
Cook tortellini according to package directions; Drain.
While tortellini is cooking, in a small bowl, combine pesto and Greek yogurt; Stir to combine.
Rinse & dry arugula, add to large bowl.
Add cooked tortellini and yogurt/pesto mixture to arugula in large bowl; Toss to combine.
Season with salt and pepper. Top with fresh Parmesan shavings.
https://www.mamamiss.com/blog/2014/04/11/arugula-tortellini-salad/
All rights reserved Copyright 2012-2019 Mama Miss Blog and Designs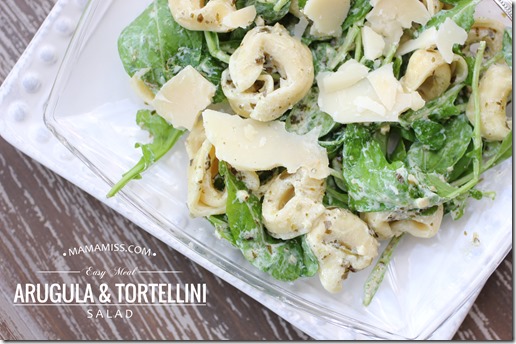 ♥
Like what you see?!
You can connect with me on:
Pinterest || Facebook || Twitter || Google +
♥
© Mama Miss. All images & content are copyright protected.
Feel free to share ONE picture and linking directly to this post for download.
Please do not copy directions, ingredients, or pdf files for your own website or Facebook page, visuals or words.
Copying my post partially, or fully, is strictly prohibited.
All work by Mama Miss is licensed under Creative Commons Attribution-NonCommercial-NoDerivs 3.0 Unported License.
♥♥♥
(Visited 2,903 times, 1 visits today)