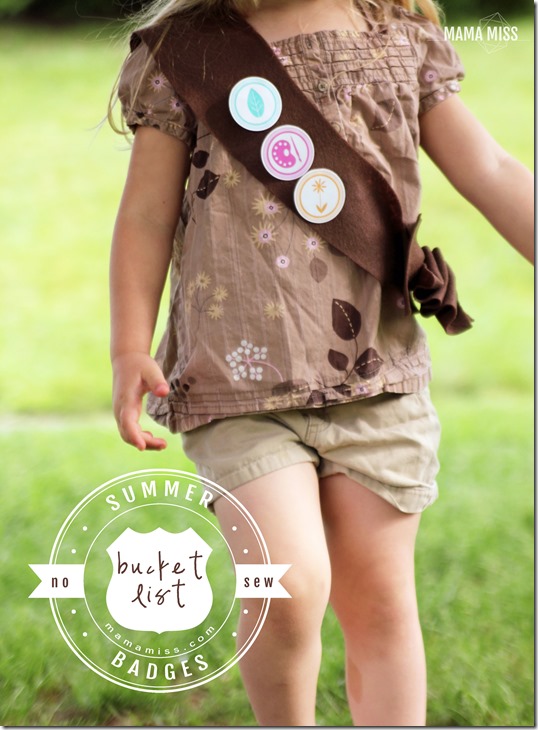 So, bucket badges?!  What are they?!
Well, to be honest I created them as kind-of a visual accountable Summer Bucket List for my kiddos.
Inspired by brownie uniforms & their sashes – I thought how brilliant would it be to create something similar.  But instead of badges of "starting a fire" or "climbing a mountain"  (ha-ha you know, average things that a preschooler is able to do ;) – I thought why not create a summer bucket list!!
Our summer bucket list is a list of things we want to do this summer – our summer to-do list!  With the help of V – we created these badges with images representing our summer bucket list.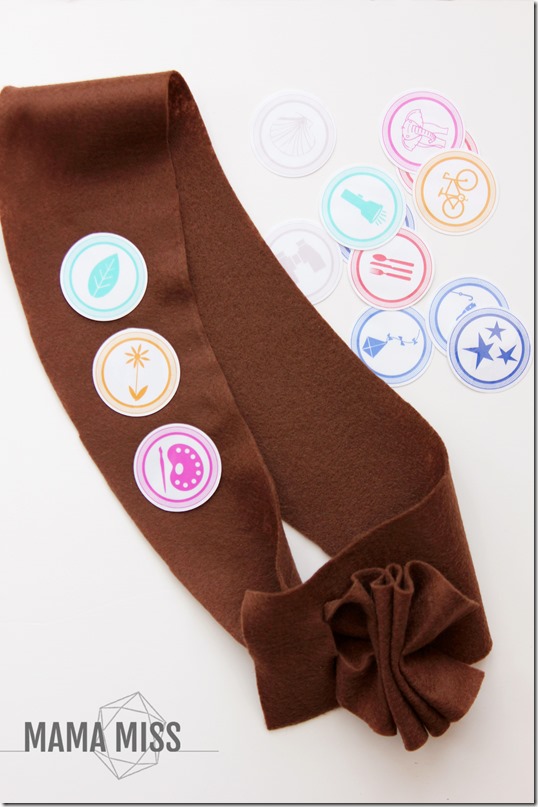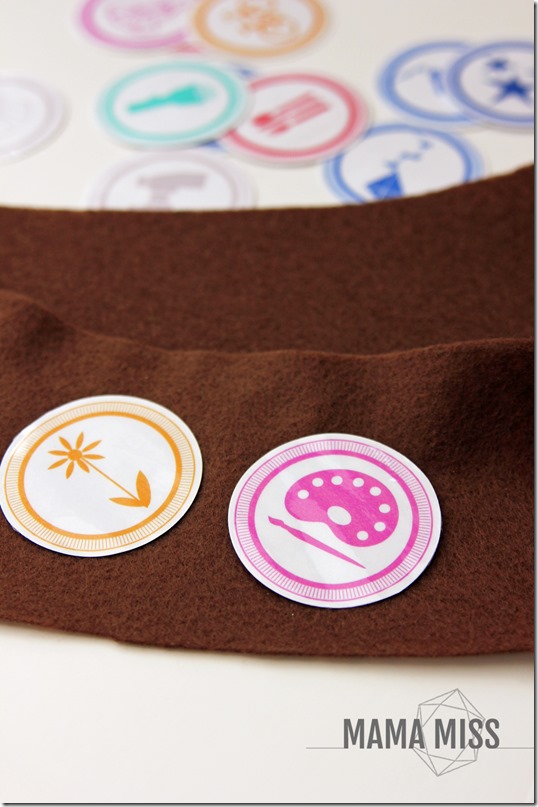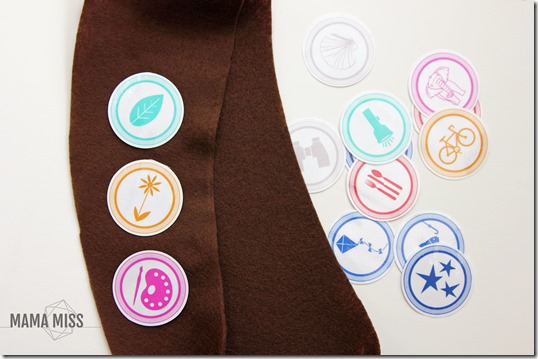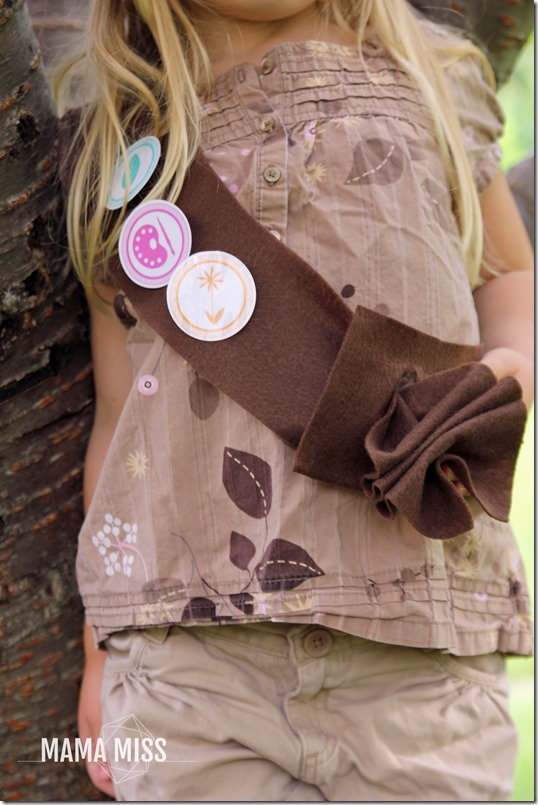 On the Summer Bucket List:
fly a kite (kite)
lay in the grass & watch the clouds (clouds)
go to the zoo (elephant)
lay on a blanket & absorb the night sky (stars)
play flashlight tag (flashlight)
care for a flower (flower)
go to the beach (shell)
create a self portrait (artist palette & brush)
go bird watching (binoculars)
cook/bake something together (utensils)
go on a family bike ride (bicycle)
go camping (tent)
go fishing (fish & hook)
go on a nature hike (leaf)
plus a couple of blank ones for you to make your own!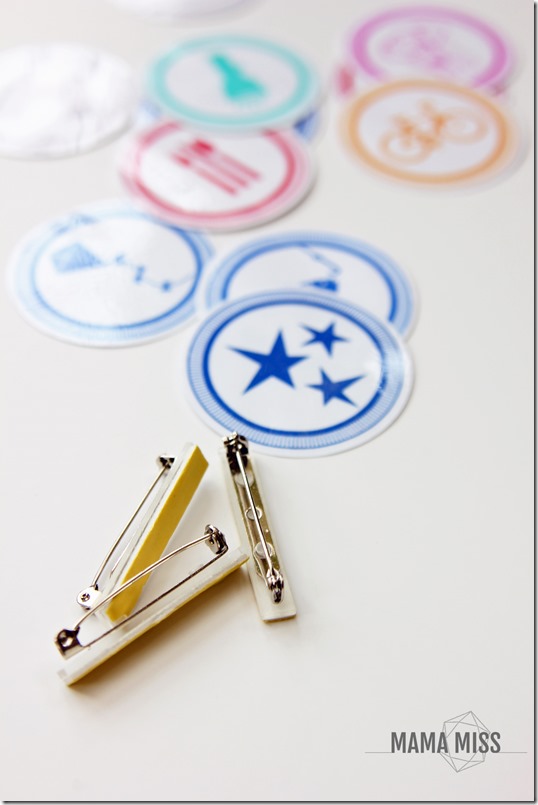 What you'll need to create your own Summer Bucket List sash & badges: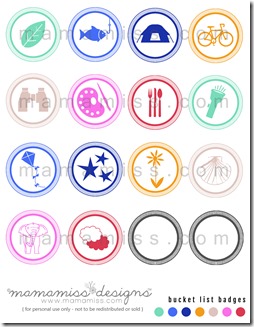 How to create your own Summer Bucket List sash & badges:
Using your brown felt & fabric chalk, drape your felt on your child in desired way – creating a sash – mark with chalk as to where to cut.
Cut felt with fabric scissors.
Cut slit in back side to weave extra felt through (I also gathered mine into a girly ruffle to make it extra fancy – but this is totally optional).
Fit on your child to make sure it works.  If not, make adjustments.
Laminate printable badges (if using the "create your own" ones – be sure to "create" them before you laminate them).
Using your 2-inch circle punch, punch out laminated circle badges.
Attach each badge to an adhesive pin back.  You could also use Velcro Fabric Fusion Tape too.
When the items from your bucket list are achieved – pin the badge on!!
A wearable Summer Bucket List = PERFECTION.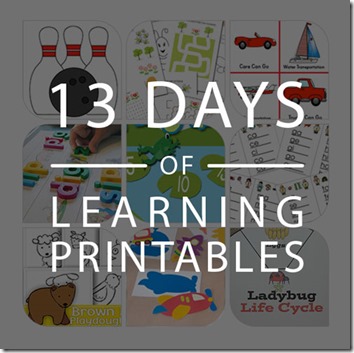 This post is part of the 13 Days of Learning Printables For Kids series.  Between May 7th to May 26, 13 of us kid bloggers will be sharing a learning printable with you.  There are some pretty fun printables in this series so be sure to check them out!
| Life Over C's | The Measured Mom | Preschool Powol Packets | Itsy Bitsy Fun |
| The Connection We Share | Teaching Mama | Lovely Commotion |
| 3 Dinosaurs | Edventures With Kids | This Reading Mama | Mama Miss |
| A Moment In Our World | The Mommy Talks | Ingles360 |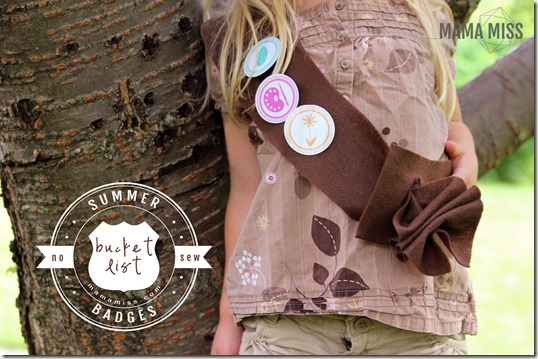 ♥
Like what you see?!
You can connect with me on:
Pinterest || Facebook || Twitter || Google +
♥
© Mama Miss. All images & content are copyright protected.
Feel free to share ONE picture and linking directly to this post for download.
Please do not copy directions, ingredients, or pdf files for your own website or Facebook page, visuals or words.
Copying my post partially, or fully, is strictly prohibited.
All work by Mama Miss is licensed under Creative Commons Attribution-NonCommercial-NoDerivs 3.0 Unported License.
♥♥♥
(Visited 4,322 times, 1 visits today)