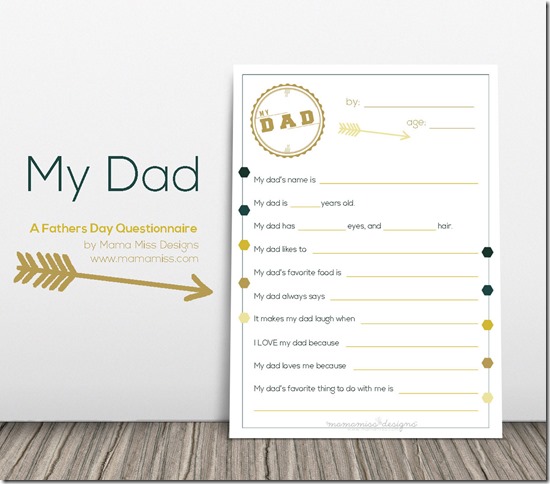 Last year I designed a Fathers Day Questionnaire that everyone loved – so I thought, why not update the wheel this year & create a new one with some more questions added!
Last year was perfect for the 2-3 year old, this year V's a little older so I wanted to add some more questions for her to answer about her daddy.  This year V is writing, so I will help her spell the answers for her to write.  But, it is not necessary for your child to be able to write – last year V told me the answers & I filled in the Fathers Day Questionnaire with what she told me (which is what I'll do for T this year).
I also simplified the design this year and added a new color palette; some dark slate gray tones, some goldenrod shades, and a little bit of dark khaki.  Perfect Dad colors, I do believe!
I think it came out pretty clean & classic – perfect for every dad.  Perfect to put in a memory book, or to hang on the wall in dad's office in a nice frame.
Plus the answers – I'm sure they will be priceless and lots of giggles will ensue!!
Whatya think?!  I hope you enjoy it too!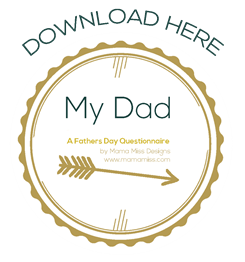 ♥
Like what you see?!
You can connect with me on:
Pinterest || Facebook || Twitter || Google +
♥
© Mama Miss. All images & content are copyright protected.
Feel free to share ONE picture and linking directly to this post for download.
Please do not copy directions, ingredients, or pdf files for your own website or Facebook page, visuals or words.
Copying my post partially, or fully, is strictly prohibited.
All work by Mama Miss is licensed under Creative Commons Attribution-NonCommercial-NoDerivs 3.0 Unported License.
♥♥♥
(Visited 6,411 times, 1 visits today)