So, Kool-Aid Dyed Rice. Here are some really GENIUS reasons why I dye with kool-aid vs. food coloring in creating sensory bins for the kiddos.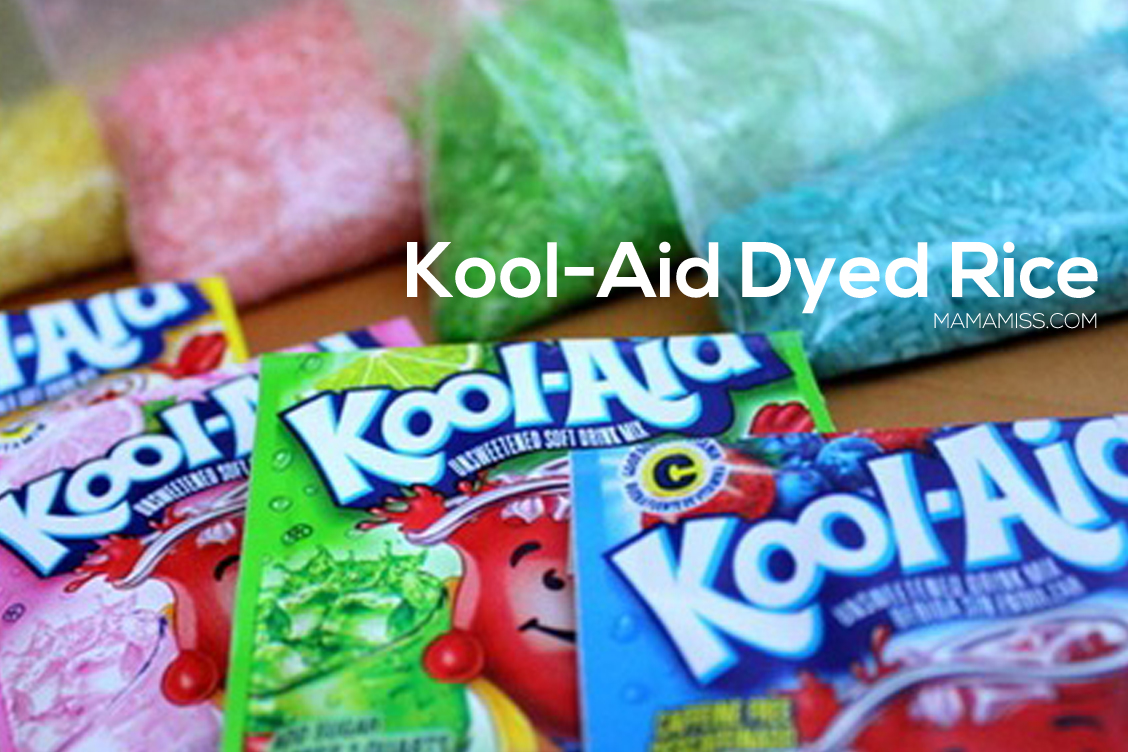 Why Kool-Aid Dyed?
kool-aid doesn't dye your hands after it dries like the food coloring does

it smells good, so it covers the rubbing alcohol smell, which even after the rice dries can still be overwhelming

the colors are gorgeous, much brighter than food coloring would make
So, have I convinced ya?  are you a kool-aid convert? (side note: when purchasing kool-aid, to determine the color that it will dye to, look at the picture on the front, of the liquid in the cup that mr. kool-aid man is holding – don't be fooled by the color of the envelope – the color in the cup is the color it will dye to)
MATERIALS
Gallon-Size Freezer bags (use the Freezer ones, they are thicker & easier to shake the mixture with)
Tray for drying overnight
For each color/freezer bag of rice, you will need:
1 cup of rice (I buy a huge 5lb or 10lb bag at Walmart very cheap just for this purpose)
1 teaspoon rubbing alcohol
1/2 teaspoon kool-aid (weirdly packets can vary from color, to how much is in each envelope but generally each envelope contains 1 teaspoon)
INSTRUCTIONS
Open your freezer bag nice & wide and stand it up.
Firstly, add the 1 cup of rice.
Secondly, add the 1/2 teaspoon kool-aid.
Thirdly, add the 1 teaspoon of rubbing alcohol.
Next, seal it shut (make sure it is shut…because wet kool-aided rice is NOT a fun experience to clean up).
Now it's time to shake, shake, shake it up (this can be a fun part in the process for the kids to do too).
Then, let it sit for a good 15 minutes.
Next, pour it out onto a tray and get it as flat as it will go so that you can dry it overnight (or for at least 6-8 hours). I usually make little tin foil boats in the tray to separate the colors & it looks soooo pretty too!
When it is dry, it will be all clumped together. Smoosh (this is the technical word) it down to separate the rice grains and you are good to go (smooshing is also fun for the kiddos to do too, to get them involved).
Finally, separate the colors in the sensory bin to your liking.
Have fun with your new sensory bin!!!! :)

♥
Like what you see?!
You can connect with me on:
Pinterest || Facebook || Twitter
And don't miss any updates, get new posts right away – sign up here…
♥
© Mama Miss. All images and content are copyright protected.
Feel free to share ONE picture and link directly to this post for download.
Please do not copy directions, ingredients, or pdf files for your own website or Facebook page; visuals or words.
Copying my post partially, or fully, is strictly prohibited.
All work by Mama Miss is licensed under Creative Commons Attribution-NonCommercial-NoDerivs 3.0 Unported License.
(Visited 20,163 times, 2 visits today)