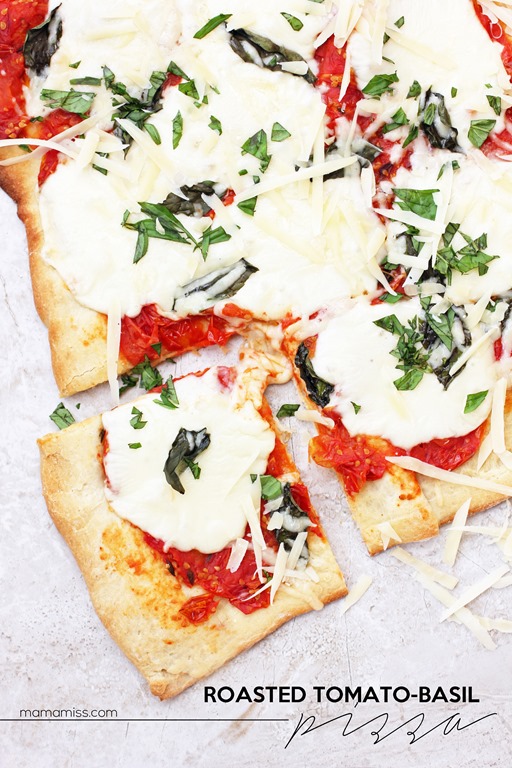 mmmm I love me some pizza (homemade especially)!  The smells permeating through the house, the sweetness of the fresh tomatoes… mmmmm… mmmmm… mmmmmm.
Today I have for you something that has become rather a weekly staple up in here – this Roasted Tomato-Basil Pizza – a semi-homemade masterpiece of yumminess.  How is it semi-homemade?  Well the tomato base is created from fresh tomatoes, roasted – by you!  And the dough, I suppose you could fuddle with the ol' yeast & make your own but I'd rather use a pre-made crust (lazy I am).
The tomato base is TRULY the secret ingredient that sets this Roasted Tomato-Basil Pizza apart from the rest.  Don't skimp here – believe me – it's the best & it's really not that much extra effort, I promise!!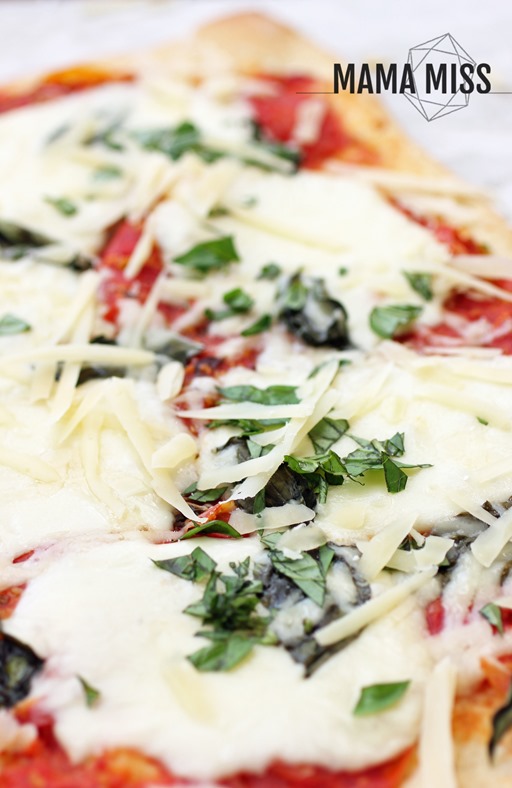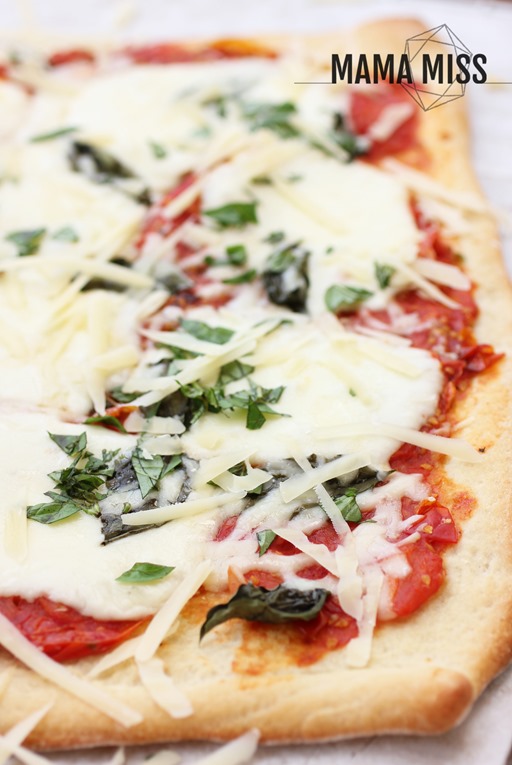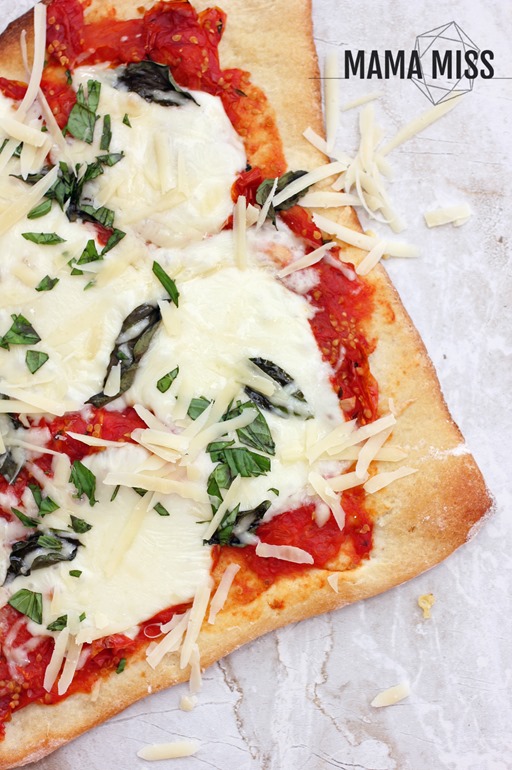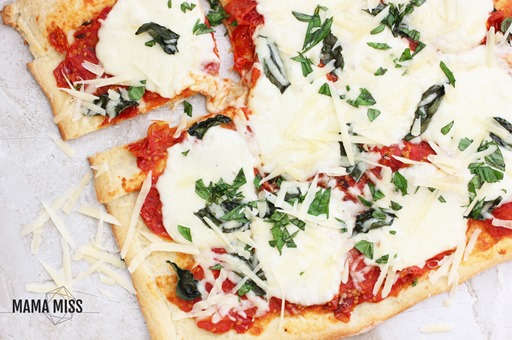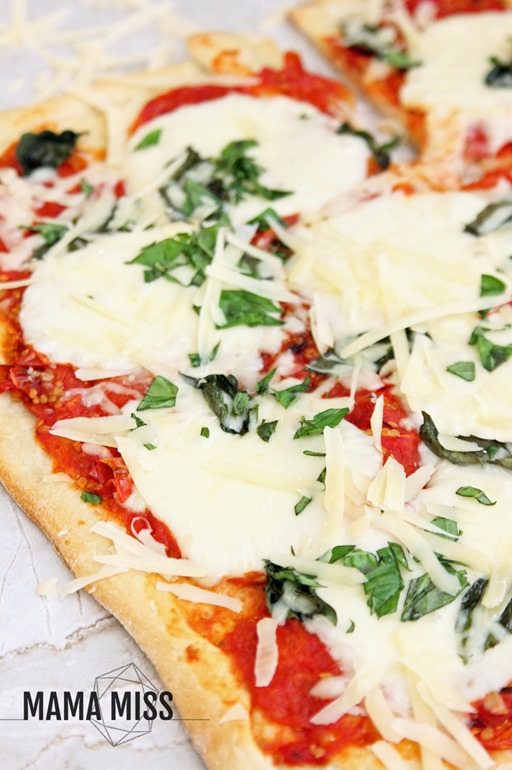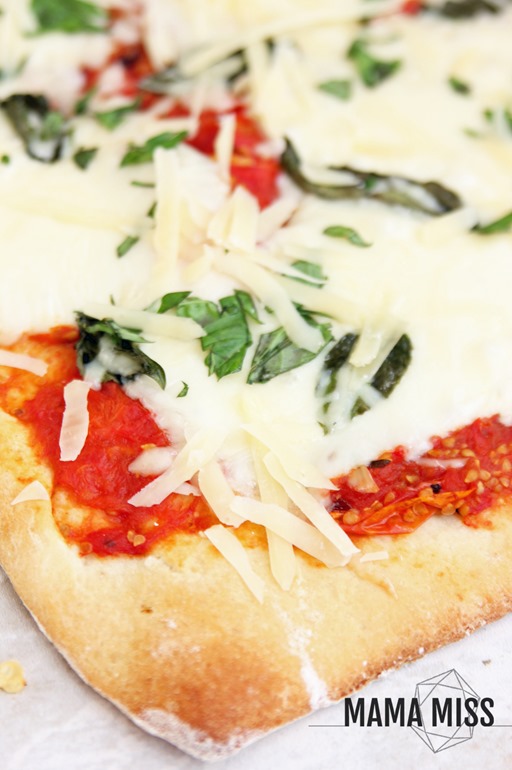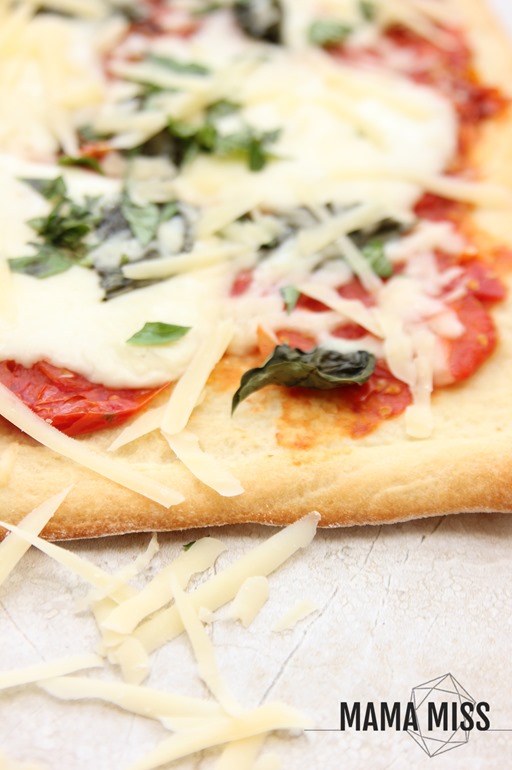 Roasted Tomato-Basil Pizza
With a fresh homemade base, made with roasted tomatoes, this pizza is the definition of yummy & sets it apart from your typical Roasted Tomato-Basil Pizza.
Ingredients
Pizza
2 lbs small fresh tomatoes (about golf ball sized), sliced in half
3 cloves fresh garlic, peeled and sliced
12 branches fresh thyme
1 bay leaf
2 tablespoons olive oil, plus extra for dough
ground sea salt & pepper
8 oz fresh mozzarella cheese, sliced
3 stems fresh basil, leaves removed
1/4 cup fresh Parmesan cheese, grated
Additional topping
1 stem fresh basil, leaves removed and finely chopped
1/4 cup fresh Parmesan cheese, grated
Instructions
Prep the tomatoes.

Preheat oven to 350° F.
In a large bowl toss together the sliced tomatoes, garlic slices, fresh thyme branches, and bay leaf. Add the 2 tablespoons olive oil and freshly ground sea salt and pepper, toss.
On a medium jelly roll pan, lined with parchment paper, evenly distribute the tomato mixture so that it is a single layer.
Roast in the oven for 1 hour, checking halfway through the roasting to make sure the garlic isn't burning, redistribute if needed.
After one hour, remove from oven and set aside to cool.

Make the pizza.

Preheat oven to 400° F.
On a lightly floured surface, roll out the dough to desired thickness/shape.
Place the dough on a baking sheet.
Brush the dough lightly with olive oil, prebake for 8 minutes.
While dough is prebaking, drain the tomatoes well in a small holed strainer, removing all the liquid, thyme branches, and bay leaf.
After 8 minutes of prebaking the dough, remove from oven then distribute the drained roasted tomato mixture over the dough.
Place the fresh mozzarella slices over the tomato mixture, then add the fresh basil leaves, and then finally add the freshly grated Parmesan over the top.
Return the pizza to the oven, bake 7-10 minutes longer, or until crust is golden brown.
Remove from oven and add additional toppings - chopped basil & Parmesan cheese.
Notes
https://www.mamamiss.com/blog/2014/07/18/roasted-tomato-basil-pizza/
All rights reserved Copyright 2012-2019 Mama Miss Blog and Designs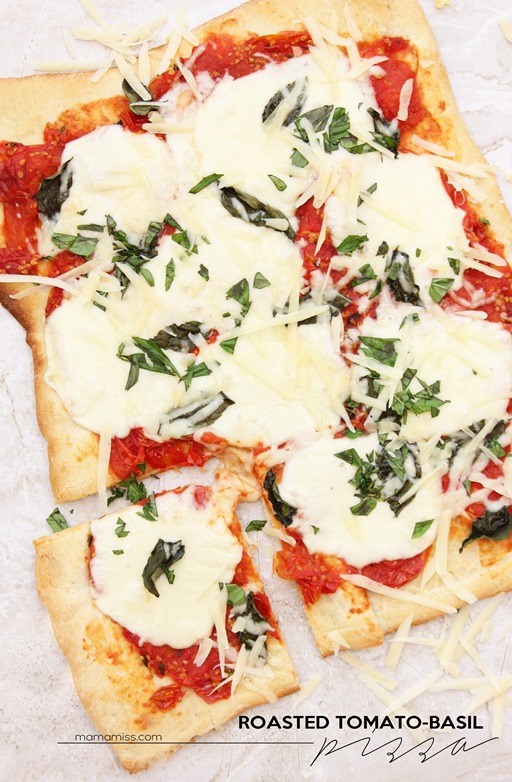 ♥
Like what you see?!
You can connect with me on:
Pinterest || Facebook || Twitter || Google +
And don't miss any updates…
♥
© Mama Miss. All images & content are copyright protected.
Feel free to share ONE picture and linking directly to this post for download.
Please do not copy directions, ingredients, or pdf files for your own website or Facebook page, visuals or words.
Copying my post partially, or fully, is strictly prohibited.
All work by Mama Miss is licensed under Creative Commons Attribution-NonCommercial-NoDerivs 3.0 Unported License.
♥♥♥
(Visited 1,341 times, 1 visits today)