I heart me some Simple Iced Coffee….YUM! I was never a coffee drinker, I mean N.E.V.E.R, I simply hated it. But, I blame my sister – she converted me to a coffee drinker.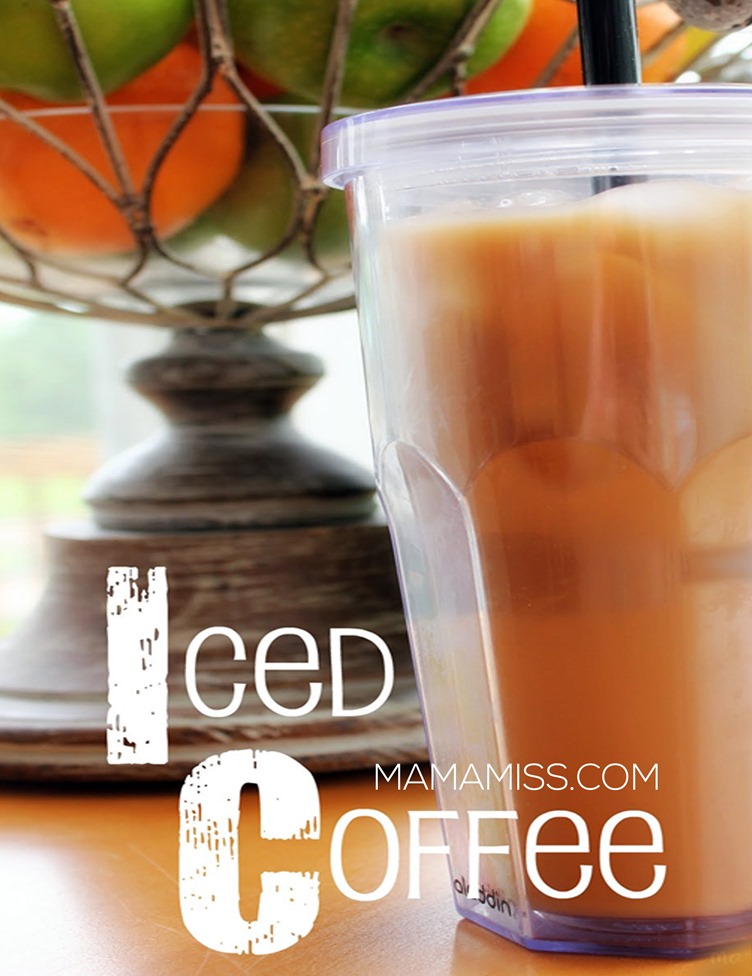 The "years ago version" was complete with, a third of coffee, a third of milk, and a third of sugar (I realize this is probably not what you'd consider "iced coffee" per se, but more likely it would be called iced sugar – HA!
Well, that was the past, this is now. Now my Simple Iced Coffee is about three-quarters coffee, a quarter coconut milk, and about a tablespoon of simple syrup (and that simple syrup, well it's super simple too – click here for that recipe).
Simple Iced Coffee
Now, this Simple Iced Coffee recipe is fine tuned down to the wire to get it just right – it makes approximately 3 liters of iced coffee base with the cold brew method.  I do believe I have perfected it for my taste – and I hope it brings you complete happiness as well.
Ingredients/Tools
3 Liters of water (1 jug)
1 3/4 cups ground dark roast coffee
liquid measuring cup
2 large pitchers
long-handled strainer
cheesecloth
To start off
Firstly, remove 1 1/2 cups from the 3 L water jug (you will need to have extra room in the jug to put in the ground coffee). You can either drink the water (from said removal), or chuck it into that soon-to-be-dead plant in the corner.
Secondly, add the ground coffee into the remaining water in the 3L water jug. Now, stir it up, or, you can just put the cap back on and shake – shake, shake it up! Shake it until all of the coffee grounds are moistened, or until it's turned into a Polaroid picture (haha I crack myself up).
Thirdly, and most importantly, just let it sit for the next 8 hours, or overnight works too.
The straining process
With the large pitcher and the long-handled strainer over the pitcher, start to dump the coffee mixture into the pitcher through the long-handled strainer. You will do this a couple of times to get the thick parts out. By going back and forth (transfering it from pitcher to pitcher), you will get it down to the finer coffee granules – which is what you want.
After that, using the cheescloth with the finer granules of coffee that remain, repeat the last couple of steps, as you did with the strainer.
The Simple Iced Coffee is complete after you've strained it and will need to be stored in the refrigerator to chill.
Finally, after it is chilled, just add some ice, the creamers and sweeteners you prefer, and you will then have – voilà, yummy Simple Iced Coffee!
Adapted from Annie's Eats.

♥
Like what you see?!
You can connect with me on:
Pinterest || Facebook || Twitter
And don't miss any updates, get all new posts straight away – sign up here…
♥
© Mama Miss. All images & content are copyright protected.
Feel free to share ONE picture and link directly to this post for download.
Please do not copy directions, ingredients, or pdf files for your own website or Facebook page; visuals or words.
Copying my post partially, or fully, is strictly prohibited.
All work by Mama Miss is licensed under Creative Commons Attribution-NonCommercial-NoDerivs 3.0 Unported License.
(Visited 743 times, 1 visits today)