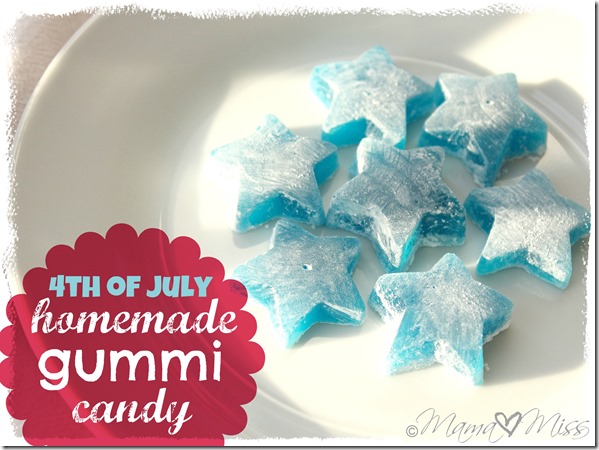 These have been on my to-do list for what seems like forever…and I keep promising V we will make them…and she keeps asking me when we are going to make them!
Well, we FINALLY made them & they are yummo – sticky (well, before you slather them in cornstarch), but yummo :)  V calls them "boo gummies" – I call them "homemade gummi candy using blue Jell-O" :)
More importantly, said gummies are V approved and almost completely gone at this point!
We made these with a silicone star mold I got in the dollar section at good ol' Target with the 4th of July stuff…you should head on over, they probably still have them…and buy two…hint hint…I have another tutorial coming later for the second mold ;) (You can also find them at Amazon)

.
V helped in picking out what color/flavor she wanted, dumping the water & the packets in the saucepan, stirring, and then of course eating :)
YAY!  Yummy gummies shaped like stars for the 4th! :)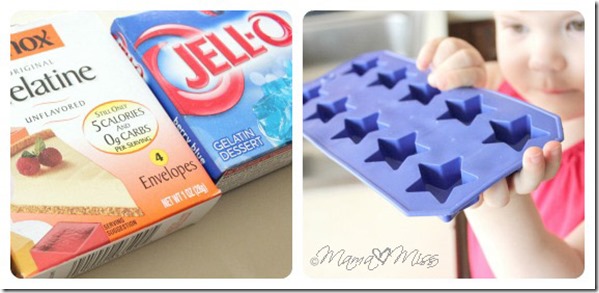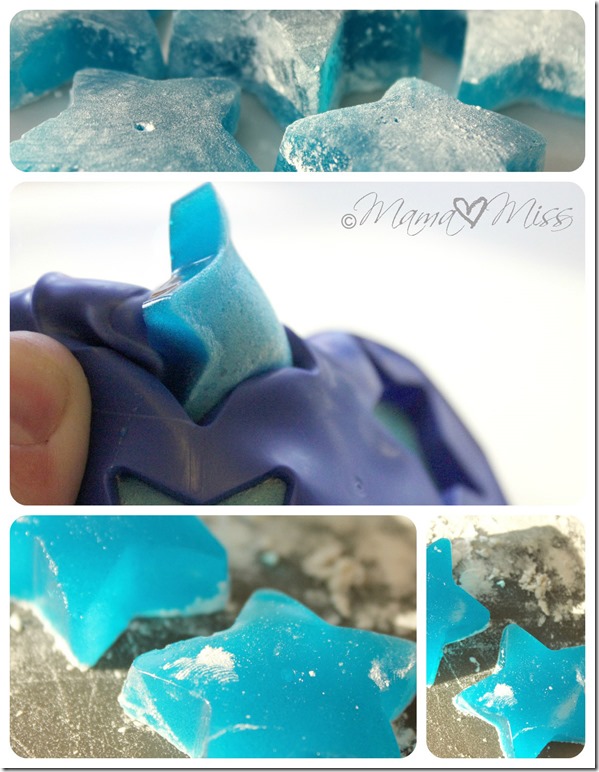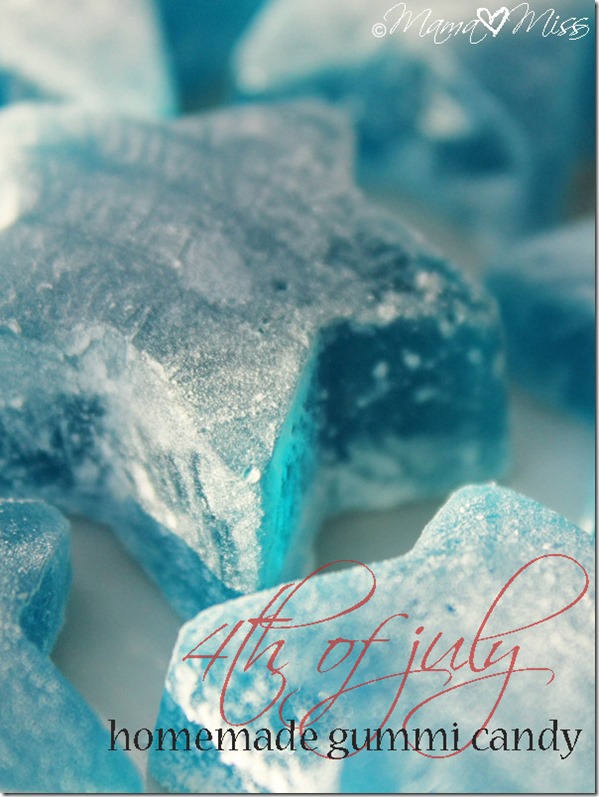 These fun & nostalgic homemade gummies are sure to be a hit with all!
Ingredients
2 – 3oz. boxes of Jell-O
3 – 1/4 oz. packages of unflavored gelatin (they come in a 1 oz. box with 4 packs, each pack is 1/4 oz.)
1/2 cup cold water
silicone mold
cornstarch
Instructions
Pour water into a small saucepan. Sprinkle the Jell-O and unflavored gelatin over the water; Stir. Let stand for 10 minutes.
After 10 minutes, place saucepan over medium heat & stir until gelatin is dissolved, about 5 minutes.
Remove from heat and let stand for 1 minute to cool slightly.
Pour from saucepan into a heat-proof pourable container. Pour Jell-O mixture into mold.
Allow to sit for 20 minutes to cool completely.
Dust the backs of the gummies and a cutting board with cornstarch to prevent sticking.
Peel gummies out of mold and onto the cutting board, covering them with cornstarch on the front & back (it will be tough to pry these out of the mold, but you will not hurt the shape of the gummi by doing so).
Store in a sealed container at room temperature – these do not need to be refrigerated.
Eat yummy gummies!
Notes
https://www.mamamiss.com/blog/2012/06/26/edible-fun-4th-of-july-homemade-gummi-candy/
All rights reserved Copyright 2012-2019 Mama Miss Blog and Designs

© Mama Miss. All images & content are copyright protected.
Feel free to share one picture and linking directly to this post for download.
Please do not copy directions, ingredients, or pdf files for your own website.
Copying my post partially, or fully, is strictly prohibited.
♥
Want more 4th of July fun?  Be sure to check these out too!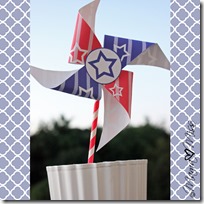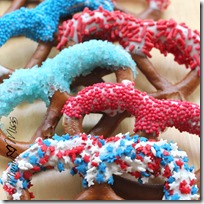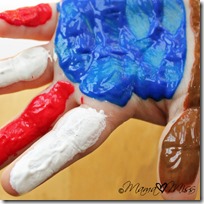 ♥
(Visited 3,388 times, 1 visits today)