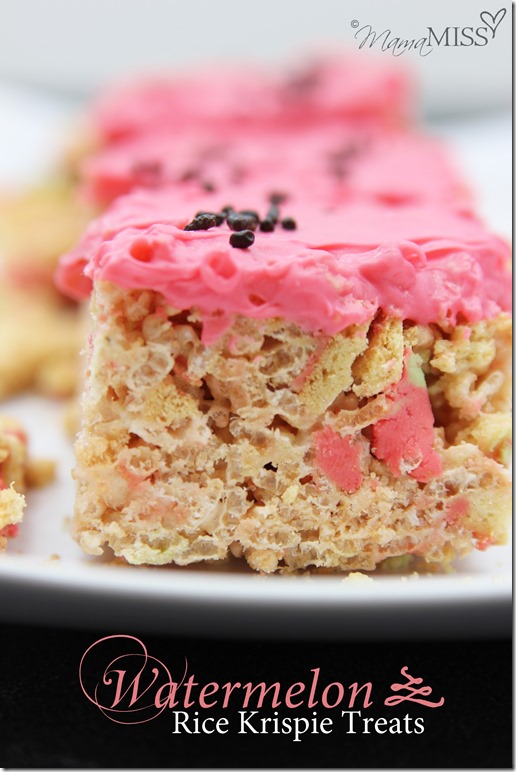 oh yeah – you read that title right – that's what's up!!
Watermelon Rice Krispie Treats!
So how did I get some watermelon into my rice krispies you wonder?! Via the Watermelon Oreo my friends! Gross you might think – but, oh no – oh, so good. I almost didn't have enough after (cough-cough) sampling stuffing them (cough-cough) in my mouth.
So, this is super easy my friends – the basic rice krispie recipe with some Watermelon Oreos thrown in. Don't have Watermelon Oreo's – no worries – try regular Oreo's or vanilla Oreo's or mmmmmm DOUBLE STUFF OREOS – YESSSSS that's the ticket!! It won't be watermelon flavor – but I can't imagine as your entire household consumes the entire tray in one night – that.it.won't.even.matter. And that's the truth, Ruth :)
So here's the nitty gritty – simple & sweet!
Watermelon Rice Krispie Treats
This watermelon rice krispie treat is the perfect summer no-bake dessert that is quick and easy to make.
Ingredients
6 cups Rice Krispies Cereal
5 cups mini marshmallows
3 tablespoons butter
optional (for decoration)
chocolate sprinkles
Instructions
Coat a 9x13 baking dish with cooking spray, set aside.
Add the

Oreos

to a freezer baggie and crush until various sizes of cookie are produced, from fine to chunk.
In a large bowl, add the

Rice Krispies

and crushed

Oreos

. Stir to combine.
In a large saucepan, melt butter and marshmallows together over medium heat. Stir until completely melted. Remove from heat.
Pour melted marshmallow mixture over cereal & cookie mixture.
Using a spatula pre-coated with cooking spray, quickly stir to fully combine.
Spread mixture into prepared baking dish. Flatten mixture with spatula into the dish.
Allow

Rice Krispie Treats

to cool completely. Cut into squares and serve
Optional: Following instructions on dipping chocolate; Melt chocolate, color chocolate with food coloring, then dip squares into chocolate. Decorate with additional crushed

Oreos

following the above method of crushing. Add chocolate sprinkles
https://www.mamamiss.com/blog/2013/07/10/watermelon-rice-krispie-treats/
All rights reserved Copyright 2012-2019 Mama Miss Blog and Designs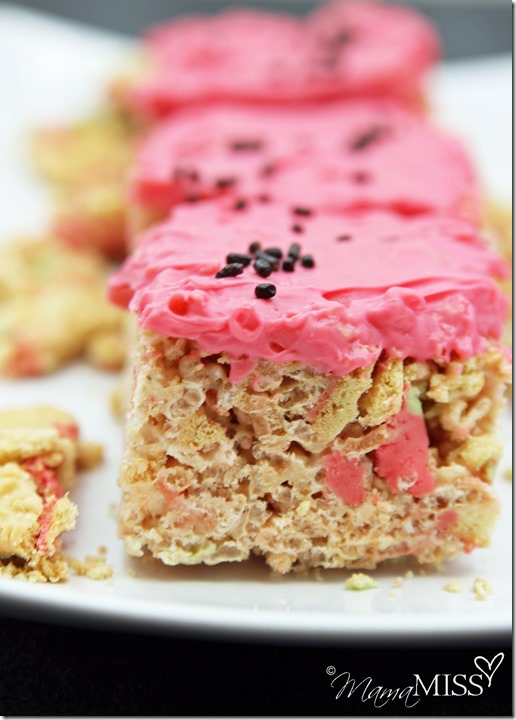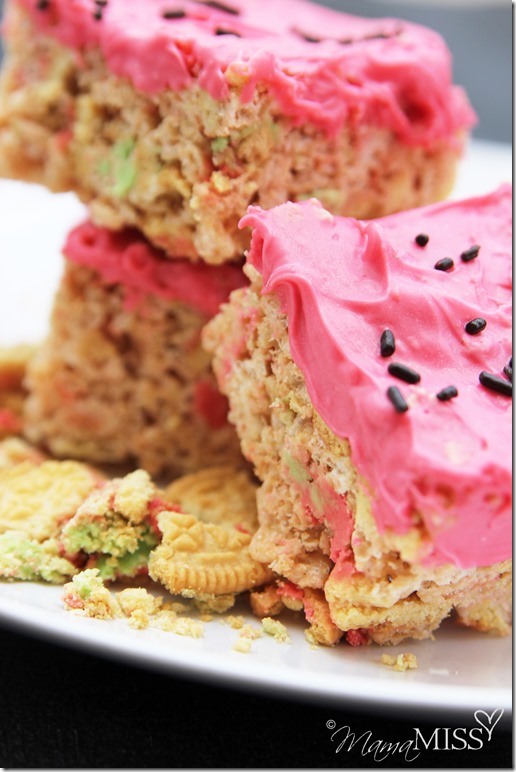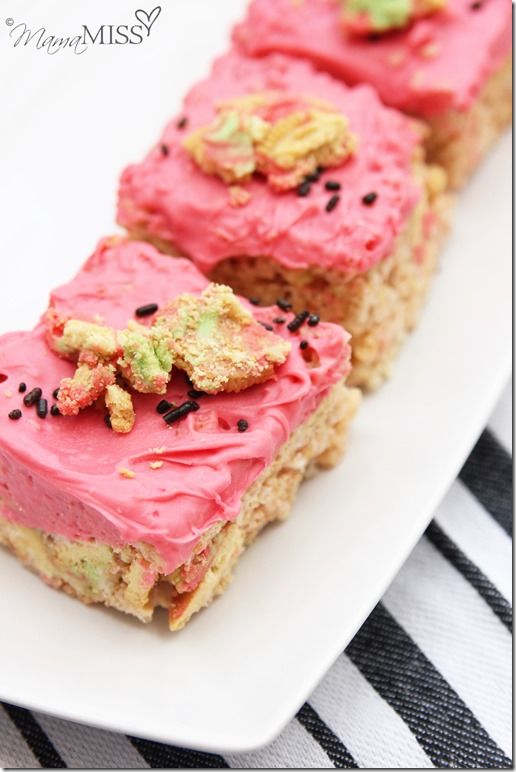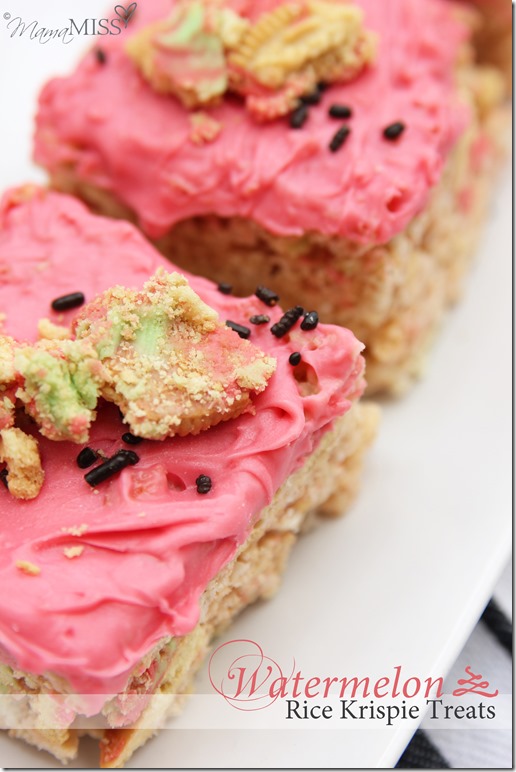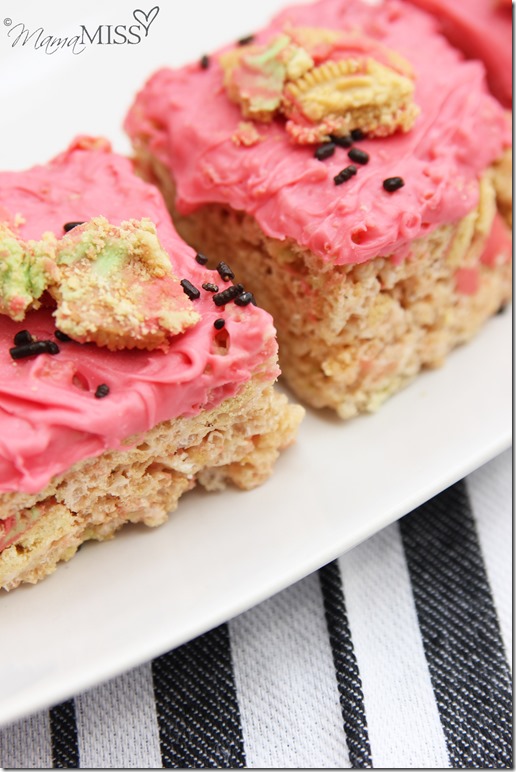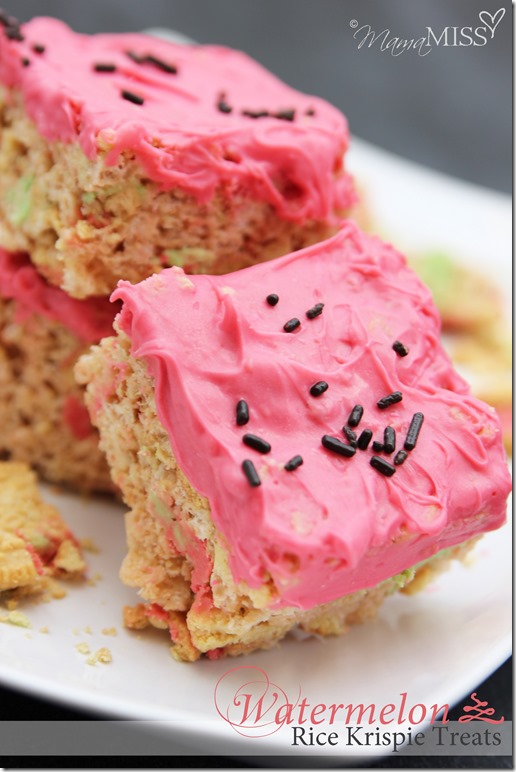 ♥
Like what you see?!
You can connect with me on Pinterest|Facebook|Twitter|Google + too!
♥
© Mama Miss. All images & content are copyright protected.
Feel free to share one picture and linking directly to this post for download.
Please do not copy directions, ingredients, or pdf files for your own website.
Copying my post partially, or fully, is strictly prohibited.
All work by Mama Miss is licensed under Creative Commons Attribution-NonCommercial-NoDerivs 3.0 Unported License.
♥♥♥
(Visited 1,921 times, 1 visits today)