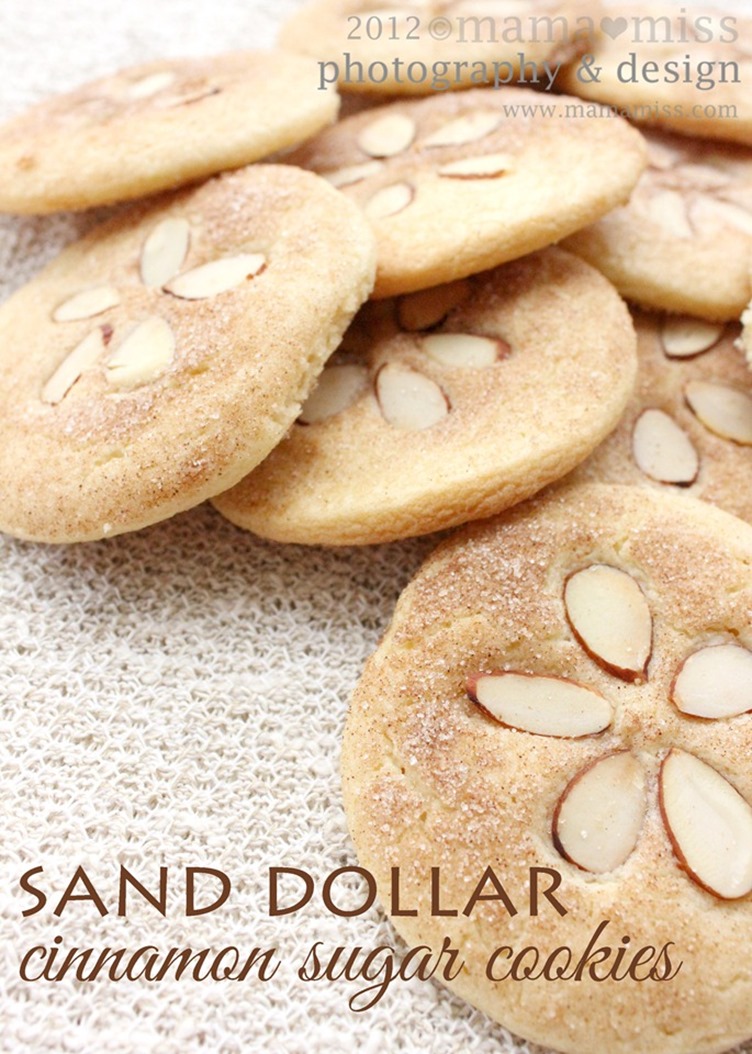 Well, since it is beach week here at the Mama Miss abode, I thought, why not make some beach-y cookies?
YAY!  Genius thoughts I might add if they involve cookies!! :)
While I made these Sand Dollar Cinnamon Sugar Cookies, little miss V was given a little slab of dough all her own to make her own little creations (this dough is PERFECT for those little hands to work with!)
What, you didn't know you could find sand flowers & sand bunnies at the beach?  Well, you must not have looked hard enough :)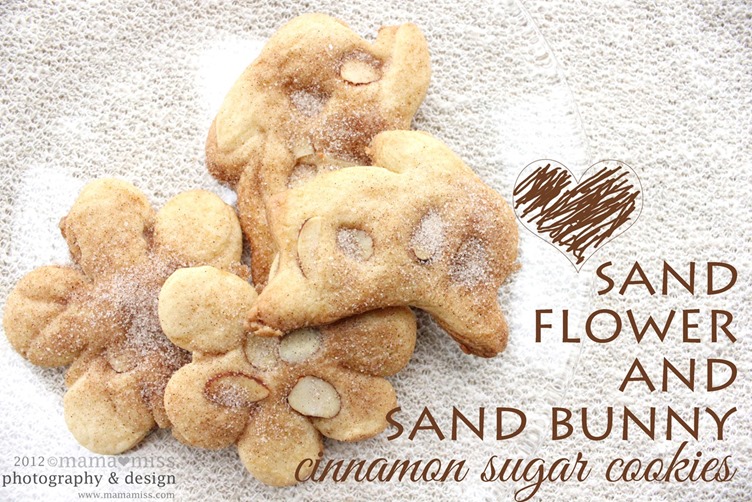 And here it is, every bit of its fabulousness (it's a word now, don't ya know?!) ;)
Sand Dollar Cinnamon Sugar Cookies
Tools:
Large mixing bowl
Mixer
Spatula
Plastic wrap
Rolling pin
2 5/8"(68mm) circle cutter (I used this)
Pastry mat (I have this one) or a clean floured surface
Pastry brush
Parchment paper
Baking sheets
Cooling racks
Sand Dollar Cinnamon Sugar Cookies
Do you love sand dollars as much as me?! Try these easy to make sand dollar cinnamon sugar cookies - that look just like the real thing! Yummy & perfect!
Ingredients
1 cup unsalted butter, softened (15 sec in the microwave & another 5 sec will get you there, if you don't want to wait for butter to soften on its own – HA – it is like watching paint dry – it's simply fascinating ;)
2 cups powdered sugar (mmm mmm mmm…can taste the sugary goodness already!)
2 eggs whole
2 eggs separated (yolks in one bowl/whites in another – c'mon it's fun!)
2 teaspoons vanilla extract
2 pinches of kosher salt
3 1/2 cups all-purpose flour
1/2 teaspoon baking powder
cinnamon sugar (this gets sprinkled on top)
sliced almonds
Instructions
Preheat the oven to 350° F.
In a large bowl, cream together the butter and powdered sugar; Mix until very creamy. (I may or may not have taken a lick after this step – HA! ;)
Add the 2 whole eggs and 2 yolks only (reserve the whites for later from the egg separation above); Beat until well combined.
Add vanilla and salt; Blend well.
Add flour and baking powder; Stir until the dough is very soft.
Form a ball with the dough; Wrap in plastic wrap and refrigerate for at least two hours (I left mine in the fridge overnight).
Line baking sheets with parchment paper.
Roll out the dough to 1/4" thick on a floured surface and cut out 2 5/8" circles.
Brush the circles with the reserved egg whites.
Sprinkle each circle lightly with cinnamon sugar and press 5 almond slices into the center of each circle to make a sand dollar (like the pic above).
Bake at 350° F for 3 minutes.
After 3 minutes, remove the baking sheet from the oven and press the almonds in again, making slight indentations in the circle.
Add more cinnamon at this point too, if need be, to adjust the overall coloring of the final cookie.
Place the baking sheet back in the oven and bake until the edges are golden brown, another 10 minutes (this time will vary depending on how thick you cut the circles, so just keep an eye on them around the 7 minute mark).
Remove from oven; Let rest on baking sheet for 3 minutes.
Transfer to cooling racks to cool completely.
Dig in!!!
Store in an airtight container to keep up to 5 days (Yeah right, these won't last 5 minutes!)
Notes
https://www.mamamiss.com/blog/2012/07/31/eats-sand-dollar-cinnamon-sugar-cookies/
All rights reserved Copyright 2012-2019 Mama Miss Blog and Designs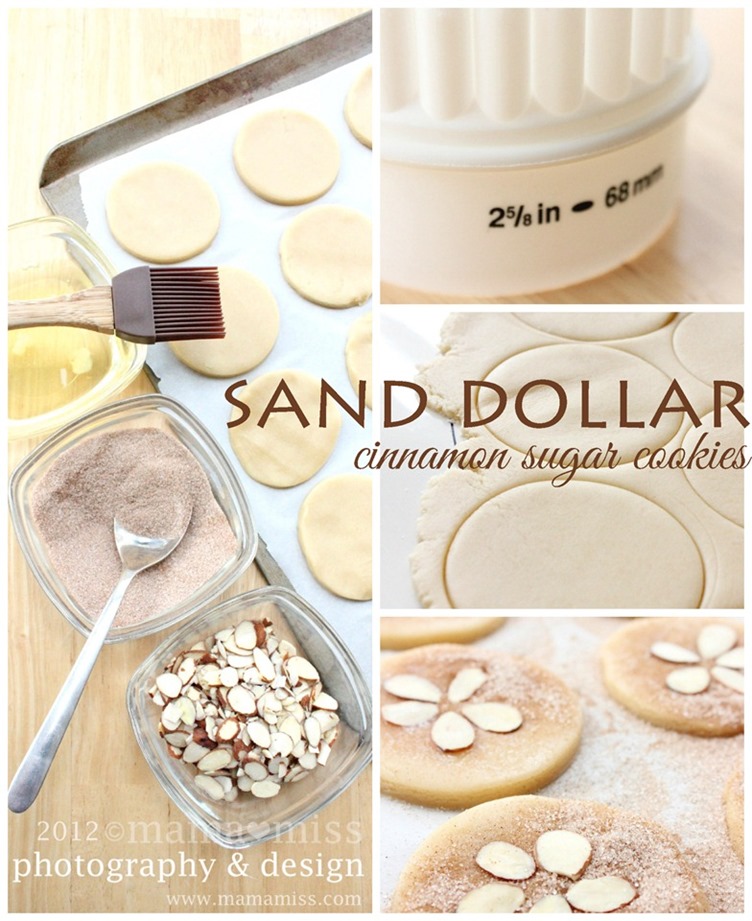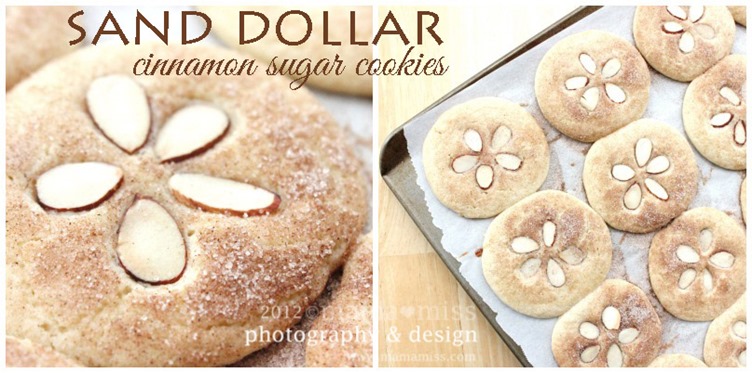 ♥
Like what you see?!
You can connect with me on:
Pinterest || Facebook || Twitter || Google +
And don't miss any updates…
♥
© Mama Miss. All images & content are copyright protected.
Feel free to share ONE picture and linking directly to this post for download.
Please do not copy directions, ingredients, or pdf files for your own website or Facebook page, visuals or words.
Copying my post partially, or fully, is strictly prohibited.
All work by Mama Miss is licensed under Creative Commons Attribution-NonCommercial-NoDerivs 3.0 Unported License.
♥♥♥
(Visited 214,342 times, 18 visits today)