I love me some leeks.  Although, I'd never eat leeks raw, because, well, ewww.  But, cooking with leeks, especially in soups like this Cheesy Potato Leek Soup, is a whole other story…yummy yum yum yum!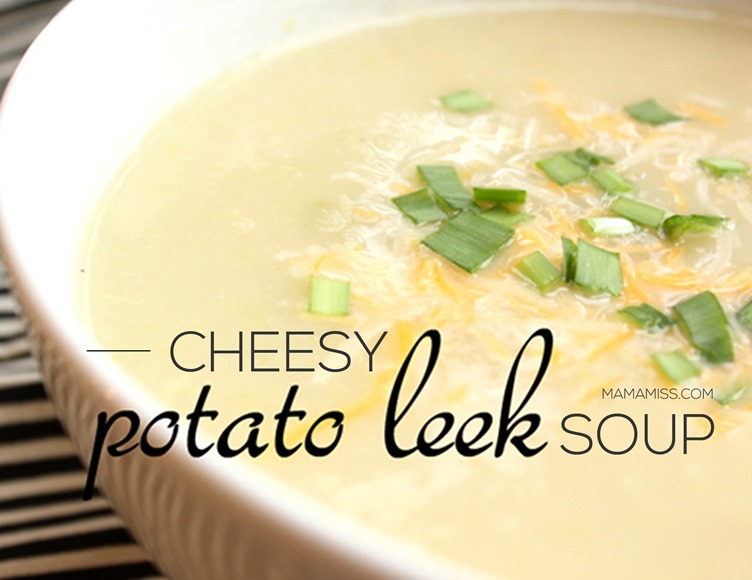 What are leeks?
Leeks are related to onions and offer a more milder, sweet flavor than an onion.  Leeks are also a low-calorie, fat-free food with many nutrients, including folate, iron, vitamin B6 and vitamin C, ya know FYI.
The key part to cooking with leeks is the washing process, which is very relaxing (but maybe that's just me – ha!).  (side note:  it just occurred to me that I find the cleaning process of leeks RELAXING…not a bubble bath…not a foot massage…WASHING LEEKS!!!)  What is wrong with me?  Clearly I need a spa day.
Because the leeks are at ground level they tend to be filled with dirt and grime between leaves; therefore, it is imperative to clean thoroughly between the leaves…and here's the trick to that.
Leek prep
Start by cutting off the root of the leek.
Next, cut off the dark green stems, down to the light green part.
Then, cut each leek lengthwise.
Slice each half in ¼ inch slices horizontally.
Fill a bowl with very cold water & dump the sliced leeks in the water.
Swish around the sliced leeks thoroughly to remove excess dirt.
Take the leeks out in handfuls to a colander (DO NOT DUMP BOWL INTO COLANDER, the dirt will sink to the bottom of the bowl & you will be dumping the dirt too).
Rinse again in the colander thoroughly until all dirt is removed.
see, so pretty…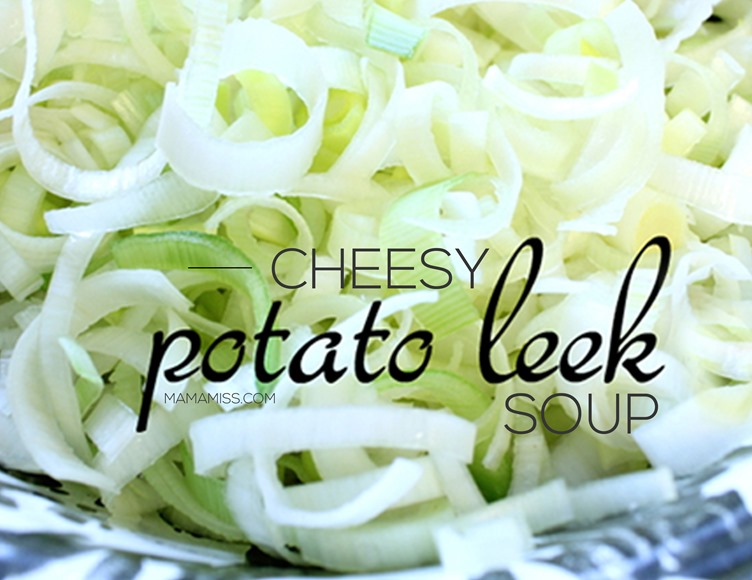 Ingredients
3 medium leeks (about 5 cups) sliced, white and light green parts
Butter, 1 tablespoon
Flour, 1 tablespoon
1/4 large white onion, chopped
4 small russet potatoes, peeled and cubed
3, 14.5 ounce cans of chicken broth, low sodium
1/2 cup, 2% milk
salt and pepper to taste
Shredded cheddar cheese
optional garnish: chives
Directions
See "leek prep" steps above to start.
In a dutch oven, or equivalent, melt the butter on a low flame. After the butter is melted add the flour. Stir well using a wooden spoon; this will thicken the mixture and intensify the flavors.
Next, add leeks, onions, potatoes, and chicken broth to dutch oven and bring to a boil.  Once boiling, cover the pot and bring the burner down to a low simmer for 20-25 minutes, until the potatoes are soft.
Once the potatoes have softened and the soup has simmered, using an immersion blender, blend the soup to your desired consistency. If you want it creamy, blend it for longer. If you want it chunky blend it less. While the immersion blender is blending add the milk, salt, and pepper.
Finally, ladle to bowls and serve with cheddar cheese and other desired garnishes.
Adapted from Skinny Taste.

♥
Do you like what you see?!
You can also connect with me on:
Pinterest || Facebook || Twitter
Don't miss any updates, get new posts right away – sign up here…
♥
© Mama Miss. All images and content are copyright protected.
Feel free to share ONE picture and link directly to this post for download.
Please do not copy directions, ingredients, or pdf files for your own website or Facebook page – visuals or words.
Copying my post partially, or fully, is strictly prohibited.
All work by Mama Miss is licensed under Creative Commons Attribution-NonCommercial-NoDerivs 3.0 Unported License.
(Visited 750 times, 1 visits today)