Disclosure: I was sent sample ReSqueeze pouches to write this post, but all my opinions are my own.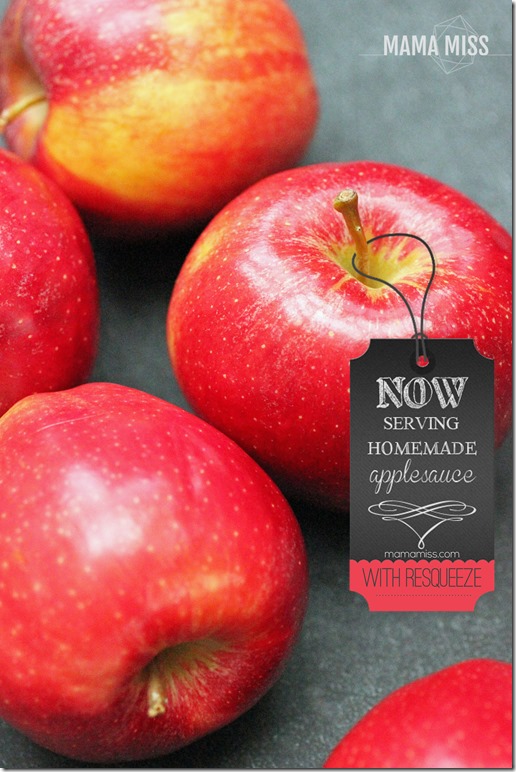 I'm a bare bones kinda gal & given the choice, I prefer, all natural things vs. overly processed things… in life… in general.
TOYS… I like natural wood blocks vs. colored ones, and crayons & paper vs. a drawing app
EXPERIENCES… I favor trips to a real working farm vs. an amusement-type one with blow up jumpers
PHOTOGRAPHY… I love natural light shots vs. man-made lighted ones with a ton of props
FOOD… I prefer homemade applesauce vs. processed applesauce (I like to know what's going in it).
But sometimes convenience gets in the way – these are of course things I prefer, but not things that happen all the time – life tends to change your intentions quite often.  That's why it's okay to compromise with some stuff.
ReSqueeze pouches are not only convenient (they wash in the dishwasher!), but they also allow me to make my own applesauce (and leave less of a carbon footprint with trash!).  Plus with anything I've come to find true, with V&T – if they help in the process of making it – they are super excited to eat it!!  BAM BAM and BAM!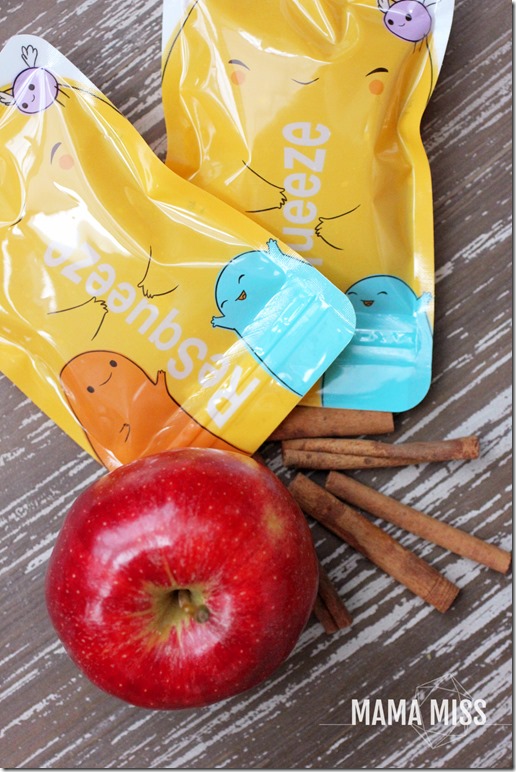 ReSqueeze pouches are super easy to fill!  Just fill, zip & go!!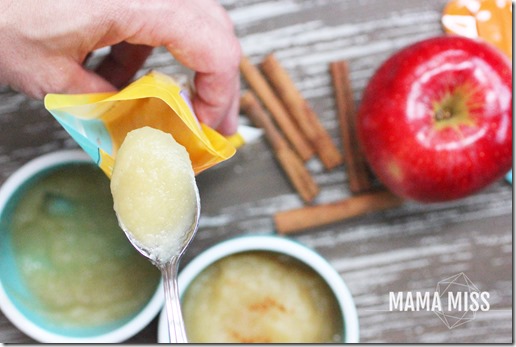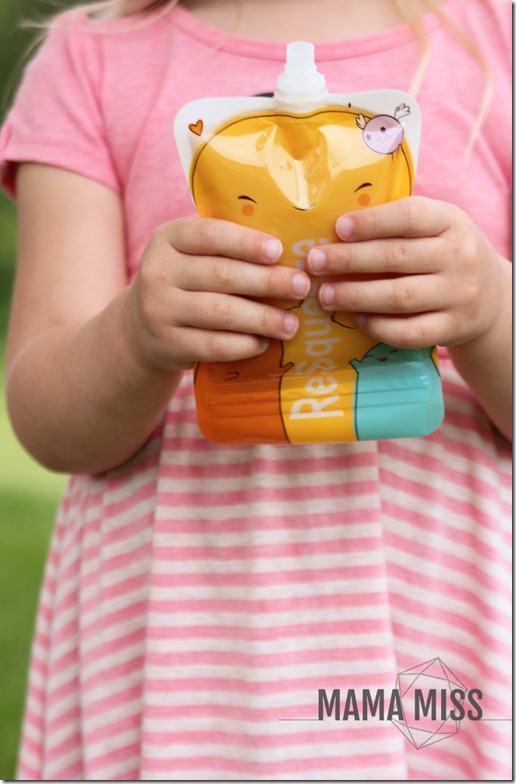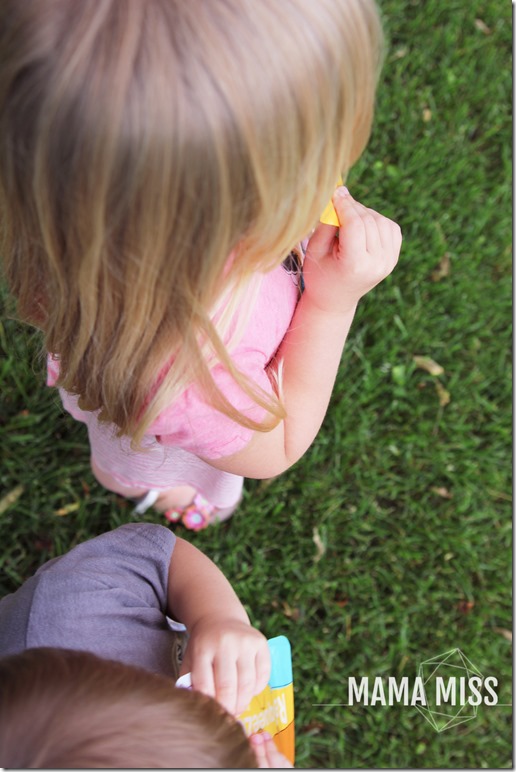 ReSqueeze is…  BPA & PVC Free – Dishwasher Friendly – Freezer Safe – Made In The USA – Reusable
This homemade applesauce recipe is ultra simple and without all the processed sugars (fresh apples have natural sugars – you don't need to add more – trust me!).
And my super cool friends at ReSqueeze are giving away some ReSqueeze pouches just for you guys, to one lucky winner!  Just hop below the homemade applesauce recipe to sign up using the Rafflecopter form and you will be entered to win an 8-pack of ReSqueeze pouches (a $24.99 value).
An ultra simple, homemade applesauce recipe - without all the processed sugars (fresh apples have natural sugars – you don't need to add more – trust me!).
Ingredients
4 med/large gala apples
¾ cup water
2 cinnamon sticks
Instructions
Peel, core & chop apples into small pieces.
Place chopped apples in a large pot; Add water and cinnamon sticks.
Place pot on burner, over medium heat. Cover the pot and let cook for 15-20 minutes; Stir occasionally and add more water if necessary.
After apples are fully cooked (when they are super soft) add them to the blender & blend to a thinner consistency.
Let cool & enjoy!!
https://www.mamamiss.com/blog/2014/05/29/homemade-applesauce/
All rights reserved Copyright 2012-2019 Mama Miss Blog and Designs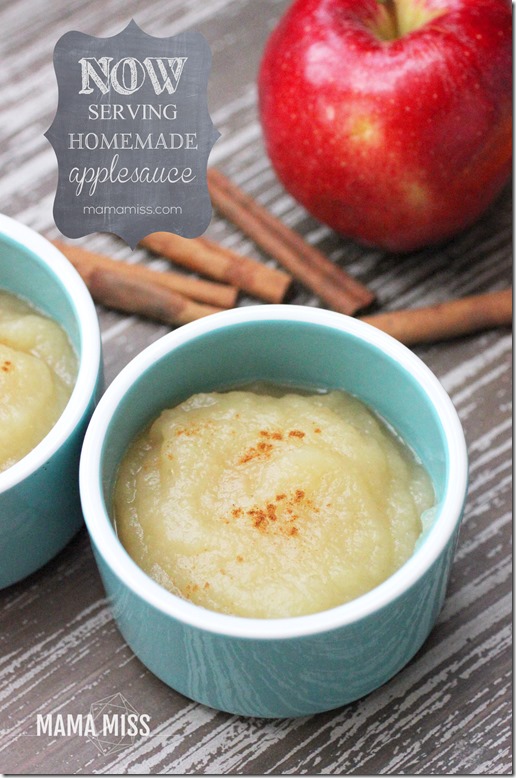 Love ReSqueeze as much as me?!
You can follow along with them here:
Pinterest // Facebook // Twitter // Instagram

♥
Like what you see?!
You can connect with me on:
Pinterest || Facebook || Twitter || Google +
♥
© Mama Miss. All images & content are copyright protected.
Feel free to share ONE picture and linking directly to this post for download.
Please do not copy directions, ingredients, or pdf files for your own website or Facebook page, visuals or words.
Copying my post partially, or fully, is strictly prohibited.
All work by Mama Miss is licensed under Creative Commons Attribution-NonCommercial-NoDerivs 3.0 Unported License.
♥♥♥
(Visited 1,180 times, 1 visits today)