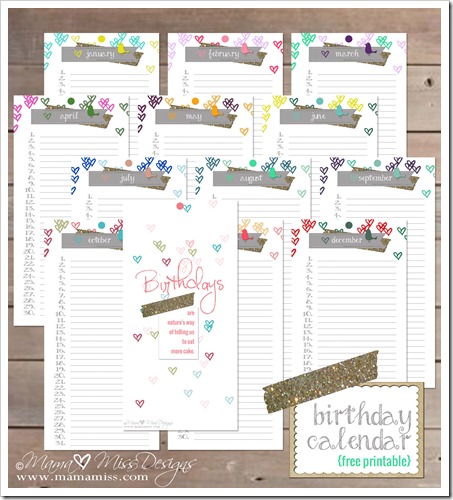 Do you secretly rely on Facebook to keep you in the birthday loop?  I do!  I am the WORST when it comes to remembering birthdays and important days.  This is what is called a Birthday Calendar, it is perfect for keeping an eye on important dates at a glance (hey, ANY help I can get!).  My hope for 2013 is to become more organized – I will never forget an important date again (fingers & toes crossed!)  So, therein lies my need to create this – a hopeful approach to the new year in keeping it all straight!!!  I hope this free printable I designed is as helpful for you (as I plan on it being for me ;) in remember birthday's!  I also added a fun little quote to the cover, because, why not? :) "Birthday's are nature's way of telling us to eat more cake"….awww yeah – ANY excuse to eat more cake is what I always say (or maybe I just say that in my head ;)
♥
Plus,
there are so many ways to hang it…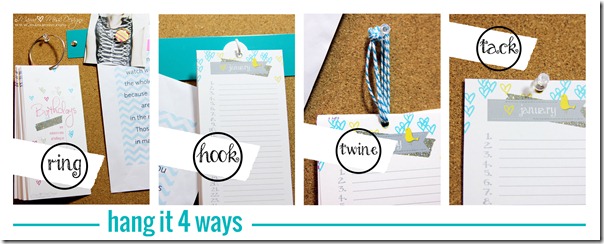 as well as taking it all apart & tacking them all up individually too…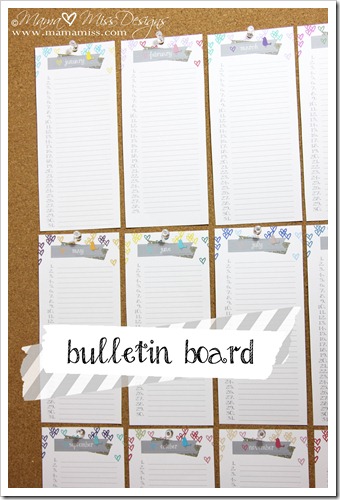 The calendar pages print out on standard 8 1/2×11 sheets.
They print 2 to a page, with an optional cover page & birthday quote, so, 7 pages total.
They all have a little dot on the top of each to indicate where to hole punch.
They work best printed out on heavy cardstock.
Just click on each highlighted month groupings to download the PDF's.
xx ♥ m
---
Terms and Conditions
The above post allows a free printable PDF download; you will need Adobe Reader to do so.
It is free to download at Adobe's website here.
Please read here before you download any of mama♥miss's PDF files…thanks, man!
---
♥
(Visited 13,039 times, 1 visits today)