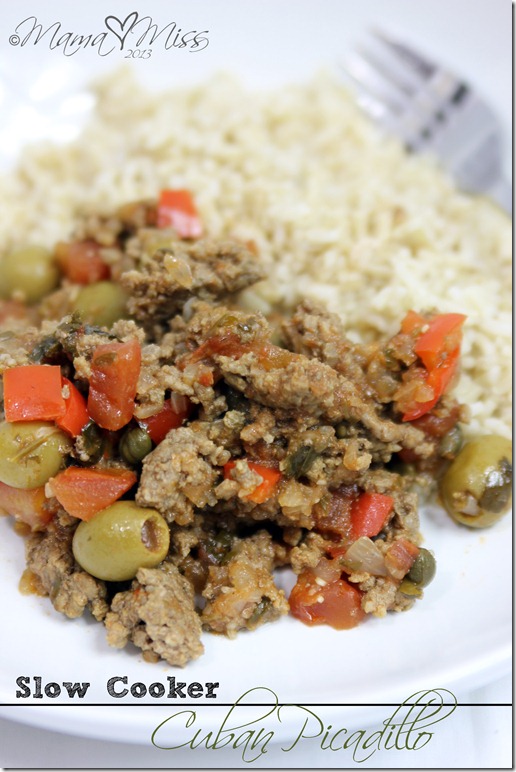 I was a little skeptical about this recipe at first, I'm not a huge fan of ground beef in the slow cooker, well, except for chili :)  But the gist of it is – if I blog about it – it is hubs approved (my toughest food critic ;), and worthy of blogging about!  I was drawn to this recipe because of the olives.  I'm a huge fan of Greek food, so much so, earlier this month I tried a new chicken dish with olives in the slow cooker and it was, to say the least, an epic fail.  I felt the need to validate the olive's worthiness in the slow cooker.
slow cooker + olives = ♥
favorite salad = greek salad.
favorite sandwich = gyro.
favorite new beef crockpot meal = this one!
Slow Cooker Cuban Picadillo
This version of the classic Cuban meal provides the slow process of marinated the meat in olives for hours, which enhances the flavor.
Ingredients
1 lb ground beef
1 med yellow onion, minced
1 med red bell pepper, diced
1 1/2 tsp garlic, minced
1 plum tomato, diced
8 oz can tomato sauce
1/2 cup cilantro, minced
1/2 cup green manzanilla olives with pimentos
1 TBSP olive brine (from jar)
1/4 cup capers
1 1/4 cup water
1 1/2 tsp cumin
1/4 tsp garlic powder
2 bay leaves
kosher salt and pepper
Instructions
Brown your ground beef in a large skillet over medium-high heat.
Season your beef with salt & pepper.
Once beef is cooked and no longer pink, drain skillet of all liquid.
Add the minced onion, diced pepper & garlic to skillet with the beef and cook an additional 3-4 minutes.
Transfer your beef-veggie mixture to the slow cooker.
Add the diced tomato, tomato sauce, minced cilantro, olives, brine, capers and water to the slow cooker on top of the beef mixture.
Add the cumin, garlic powder, bay leaves and salt & pepper.
Stir mixture thoroughly.
Cook in slow cooker for 3-4 hours on high or 6-8 hours on low.
Once fully cooked add salt & pepper to taste.
Remove & discard bay leaves.
Serve with rice.
Notes
https://www.mamamiss.com/blog/2013/01/27/eats-slow-cooker-cuban-picadillo/
All rights reserved Copyright 2012-2019 Mama Miss Blog and Designs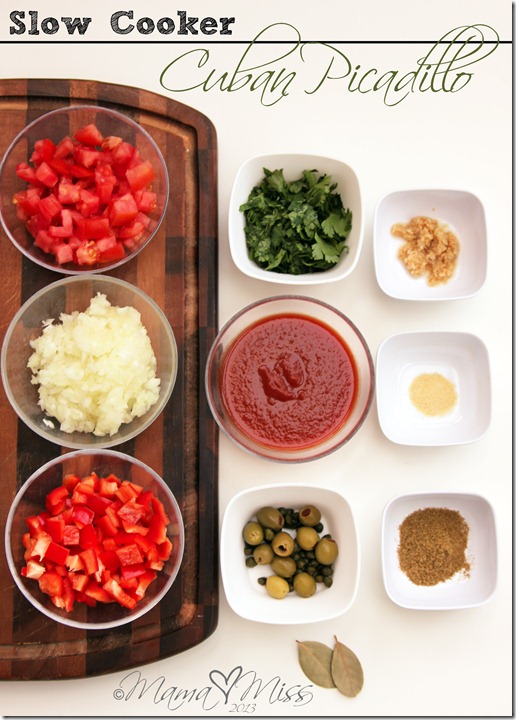 xx ♥ m
(Visited 6,917 times, 1 visits today)