It's been a while since we've been able to participate in the Virtual Book Club, but I was super excited for the month of February – Dr. Seuss!
So with Dr. Seuss's birthday coming up soon (March 2nd) plus Virtual Book Club, I couldn't wait any longer to dive into all the ideas I have to celebrate this occasion.
For the festivities we read our current favorites, The Foot Book and There's a Zamp in my Lamp.
We also read several others we've been checking out for the first time, including One Fish Two Fish Red Fish Blue Fish.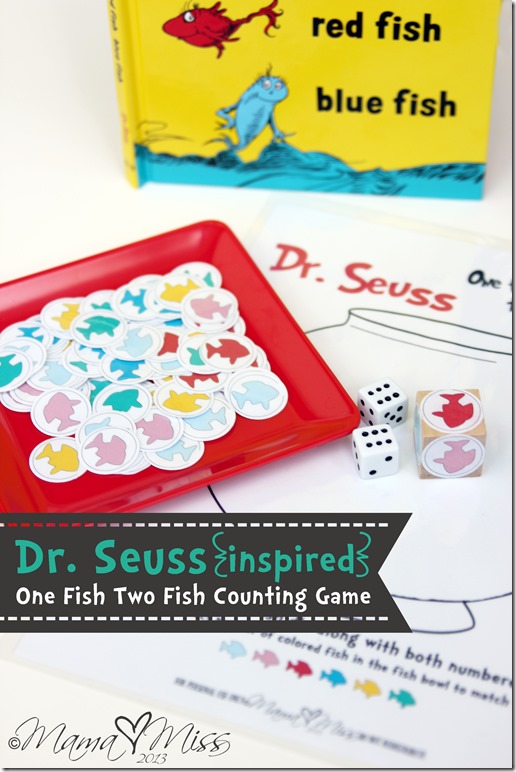 So let's get started shall we?
I'll start the Seuss-A-Palooza with a free printable that goes along with One Fish Two Fish Red Fish Blue Fish, our current Dr. Seuss read :)
It's a simple game to practice counting, numbers, and colors with a fish bowl & some little fishies to swim in the bowl :)
Fine motor skills are also practiced by having their little hands pick up the small game pieces and placing them in the bowl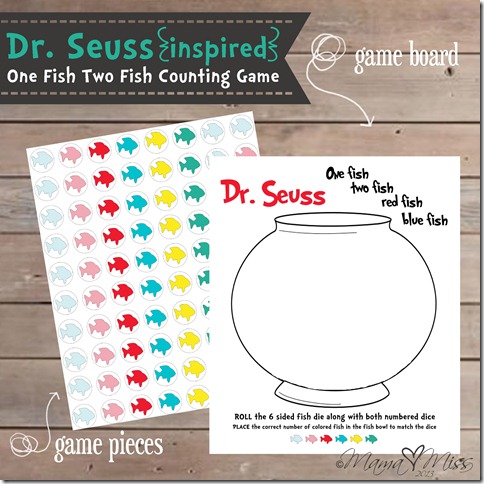 Here's what you'll need:
Here's how to make it:
Print out your two printable sheets (see below to print); the game board & game pieces

Before you laminate

the fish sheet, using your circle punch, punch out

one

fish in each color to make the die, set these 6 fish aside
Laminate both printable sheets
Using your 1" circle punch, punch out all your little fishies. These 72 laminated pieces are your game pieces (12 of each color because the highest number that can be rolled is twelve)
Next, attach the 6 non-laminated fish circles to the wooden die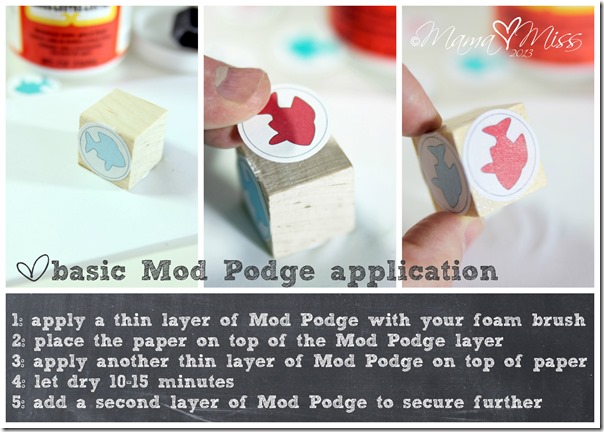 Once the fish die is dry, gather your set of regular dice, game pieces and game board to begin.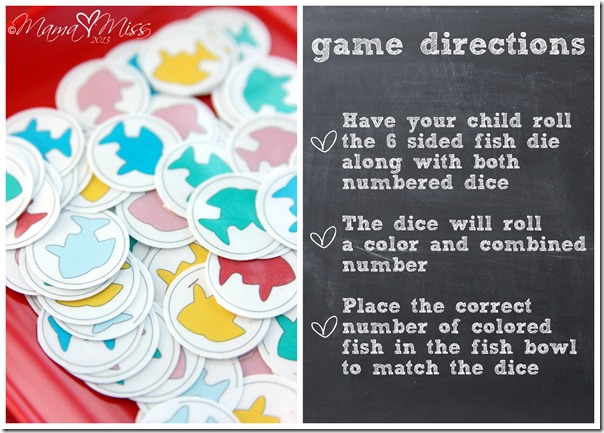 Make an advanced game to count up to 24.
Just print out a second fish printable, and follow the instructions to make a second fish die along with 72 more colored fish game pieces.
click on each button to print the PDF downloads


If you'd like to participate in the Virtual Book Club too, see here to find out the monthly book selections.
Also, make sure you check out the Virtual Book Club Facebook page as well, for daily happenings :)


Take a look at our current Dr. Seuss favorites…

xx ♥ m
---
Terms and Conditions
The above post allows a free printable PDF download; you will need Adobe Reader to do so.
It is free to download at Adobe's website here.
Please read here before you download any of mama♥miss's PDF files…thanks, man!
---
♥
(Visited 129,646 times, 3 visits today)