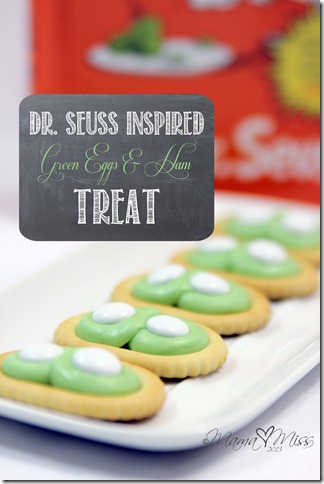 These are a super-simple 3 ingredient treat, to go along with Dr. Seuss's Green Eggs & Ham
book!
We made these yesterday and then we read Green Eggs & Ham over & over & over & over again :)
The crackers don't really look like ham, well, they kinda look like ham?  Maybe?!
Finding a cracker that looks like ham was indeed a tricky task on it's own!
But, this is the whimsical, make-believe, and silly world of Dr. Seuss!
So, these are our whimsical version of Green Eggs & Ham in all their yumminess (and a far cry from what real green eggs & ham would look like – & that's a good thing)!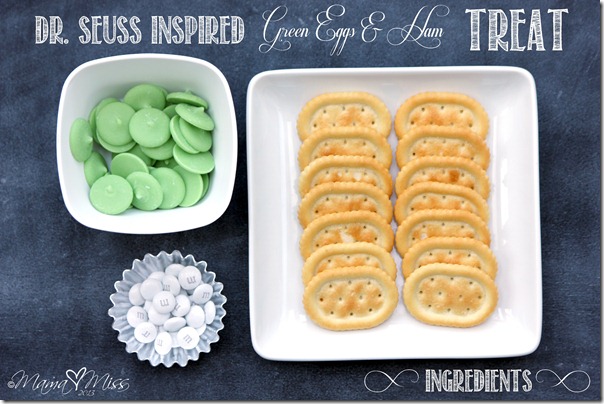 These tasty sweets are a fun treat to enjoy while reading the book Green Eggs & Ham with your little one. And, wrapped up in a pretty treat bag - they would be a perfect favor for a Dr. Seuss themed party.
Ingredients
White M&M candies
Instructions
Preheat oven to 350° F.
Line baking sheet with parchment paper.
For the number of treats you are making - lay out that number of crackers.
Place two green chocolate wafers on each cracker, overlapping them slightly, like the picture below.
Place in oven on middle rack for 2 minutes.
Remove from oven & immediately place an M&M in the center of each melted wafer depressing slightly.
Transfer completed treats to a plate and chill in the refrigerator for 15-20 minutes to set.
https://www.mamamiss.com/blog/2013/02/21/fun-eats-dr-seuss-inspired-green-eggs-ham-treat/
All rights reserved Copyright 2012-2019 Mama Miss Blog and Designs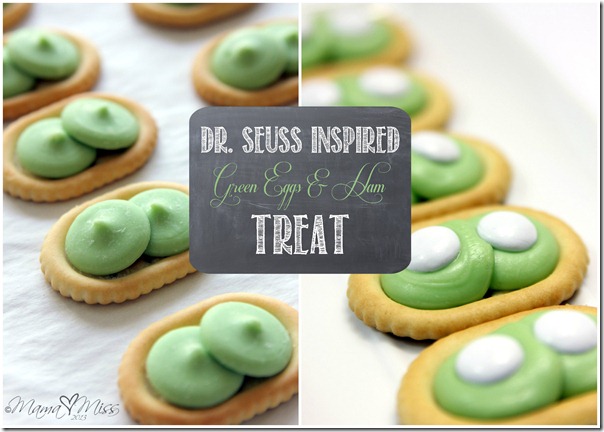 ♥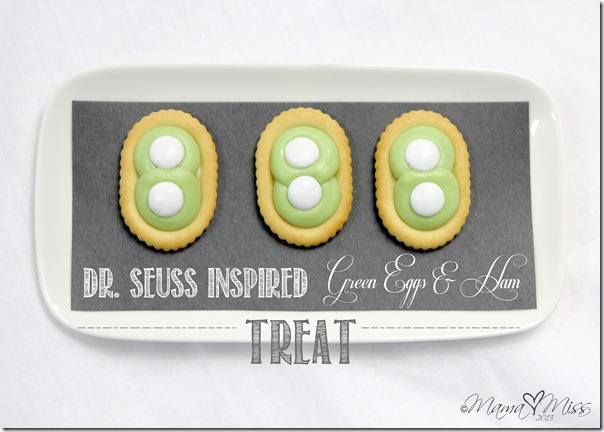 And if you'd like to join us in all of our Dr. Seuss reading fun, these are our current Dr. Seuss favorites…

xx ♥ m
---
Terms and Conditions
The above post allows a free printable PDF download; you will need Adobe Reader to do so.
It is free to download at Adobe's website here.
Please read here before you download any of mama♥miss's PDF files…thanks, man!
---
♥
(Visited 6,243 times, 1 visits today)