My current obsession is fonts – swirly fonts, bold fonts, chalkboard fonts, classic fonts, romantic fonts, wait – who am I kidding, I've always been obsessed with fonts!
So, I decided to do this roundup for two fantastic reasons.
One, I must get asked at least twice a week about fonts that I use on my photos or printables!  How awesome is it, that you guys are as obsessed with fonts as much as me?!  So very awesome indeed :)
Two, I must have a billion-gazillion fonts stored on my computer & this girl needs to get font organized – stat!  So, this is the plan, Stan.  I'm just throwing around ideas here, but, I'm thinking I'll do this "font love" series going forward as a seasonal thing; spring, summer, fall, Halloween, Christmas, etc., or whenever it tickles my fancy I suppose too :)
And how will this keep me organized, pray tell?  Well, I'm thinking of printing these out as a poster (feel free to do the same – let's get organized together!) when I publish them & putting them in a binder labeled as "font love"!  That way, when the season rolls around, I can just flip open to my trusty binder, and see the fonts that I would like to use, or be inspired by, for that season.
Wahoo! Well, let's get started on the first of a new series!
These are are currently my favorite spring fonts, all free to use for personal use.  Just click on the label for the style you like, and it will bring you to the font site to download for free.
♥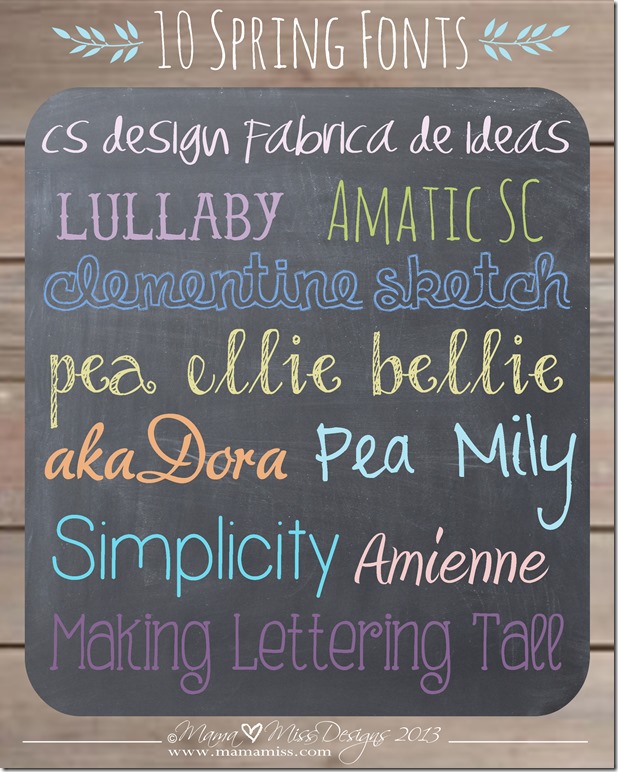 cs design Fabrica de Ideas ♥ Lullaby ♥ Amatic SC ♥ Clementine Sketch ♥ pea ellie bellie ♥ akaDora ♥ Pea Mily ♥ Simplicity ♥ Amienne ♥ Making Lettering Tall
Enjoy!
oh & PS…wondering how to print it without a printable…lookee here…go to the bottom of my post and do this…


© Mama Miss.All images & content are copyright protected.If you want to republish this recipe or tutorial, please re-write it in your own words and link back to this post.Copying my post partially, or fully, is strictly prohibited.
xx ♥ m
(Visited 2,985 times, 1 visits today)