Why hello there…I feel like I haven't posted in FO-ever!  This past week/weekend has been just a smidge (just a smidge ;) of wild & crazy over here.  I consider it an accomplishment that I even remembered to make dinner most nights last week.  So, you know it MUST be crazy…because you better not get in the way of me & some good eats ;)
I'm sure I've told you before how I am addicted to a bargain (ha-ha – aren't we all?)!  Well, every spring & fall I participate in a circuit of kids consignment sales – and this past weekend was the LAST ONE of the spring circuit (and the one I work the longest shift for).
Whew – I can relax now until the fall circuit!
"Relaxing" – ahhh – what is this foreign term I speak of?! ;)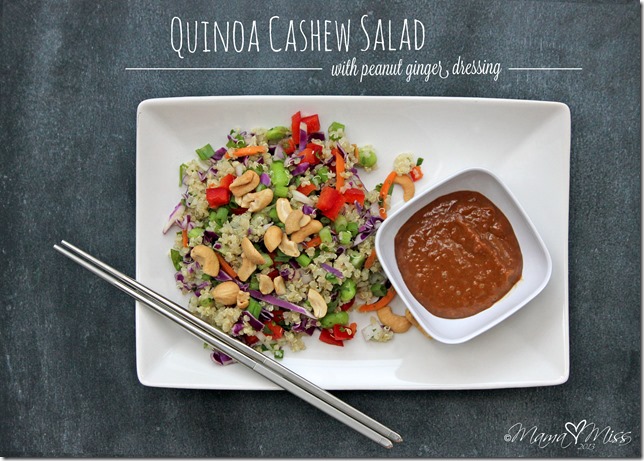 So, lets get down to brass tacks (you know, because me and colloquial English – yep, I reference it all the time – HA!).
Did I lose ya?!  No worries, sometimes it's only funny to me, and that, well…that's okay :)
So, here's that yummy salad I made last week trying to venture some more into the Quinoa world.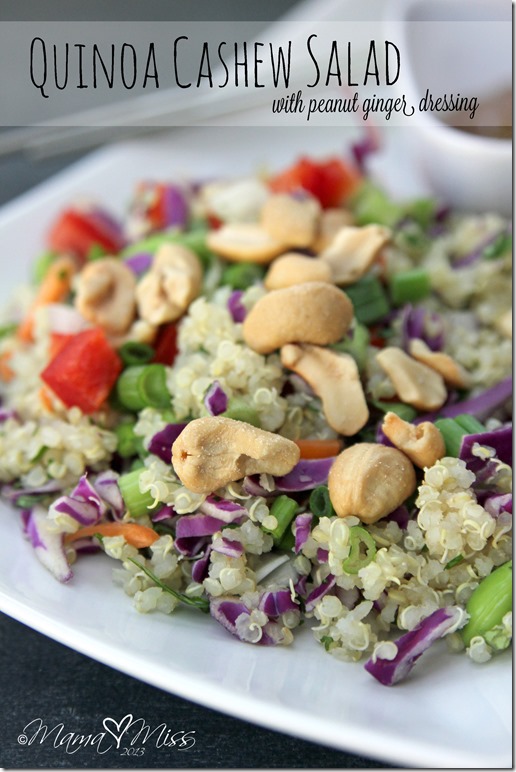 Quinoa Cashew Salad with Peanut Ginger Dressing
A protein packed salad, made complete with a complimentary peanut butter dressing.
Ingredients
salad
1 1/2 cups uncooked quinoa
10 oz. bag of shredded red cabbage
1 1/2 red bell pepper, diced
1 red onion, diced
1/2 cup shredded carrots
3/4 cup cilantro, finely chopped
12 oz. bag of edamame
dressing
1/2 cup all natural peanut butter*
2 tablespoons honey
4 teaspoons freshly grated ginger
6 tablespoons soy sauce
2 tablespoons red wine vinegar
2 teaspoons sesame oil
2 teaspoons olive oil
1 tablespoon water**
garnish
1/2 cup green onions, diced
1 cup cashew pieces
1 lime, cut into wedges
Instructions
Prepare quinoa according to package directions. Put cooked quinoa in a covered bowl & place in refrigerator to cool – stirring once with a fork while refrigerated, to maintain its fluffiness & re-distribute the heat.
Prepare edamame according to package directions; Let cool.
Once cooled, shell edamame.
In a large bowl, mix together edamame, red cabbage, red pepper, red onion, shredded carrots, and cilantro; Set aside.
In a small microwave safe bowl, combine peanut butter and honey; Heat in microwave for 20 seconds to soften.
Transfer honey mixture to small bowl, then add in ginger, soy sauce, vinegar, sesame oil, and olive oil.
Stir mixture until smooth, then slowly add water to thin the dressing.
Next, fold in salad mixture to cooled quinoa; Mix together until thoroughly combined.
Drizzle the dressing over the quinoa mixture and gently stir everything together.
Garnish with green onions & cashews.
Serve with lime wedges.
Serve chilled or at room temperature.
Notes
*all natural peanut butter = contains only peanuts OR only peanuts & salt as ingredients. **add water in tablespoon increments, to achieve your desired preference for the dressing consistency.
adapted from: Ambitious Kitchen
https://www.mamamiss.com/blog/2013/04/22/eats-quinoa-cashew-salad/
All rights reserved Copyright 2012-2019 Mama Miss Blog and Designs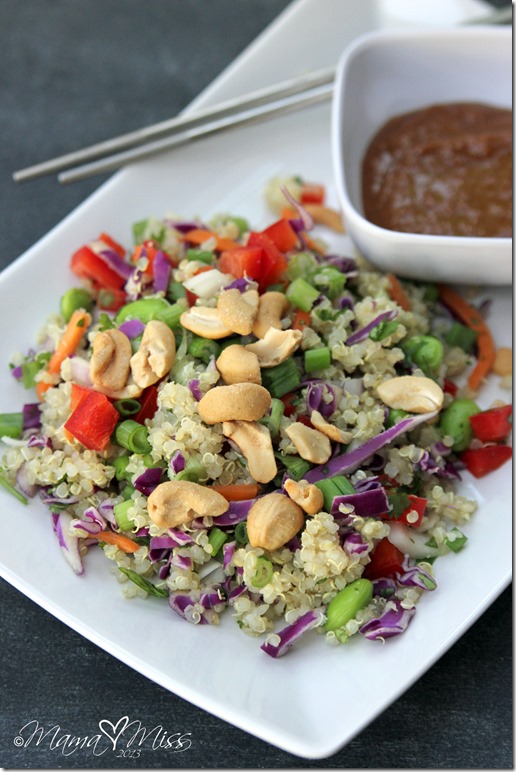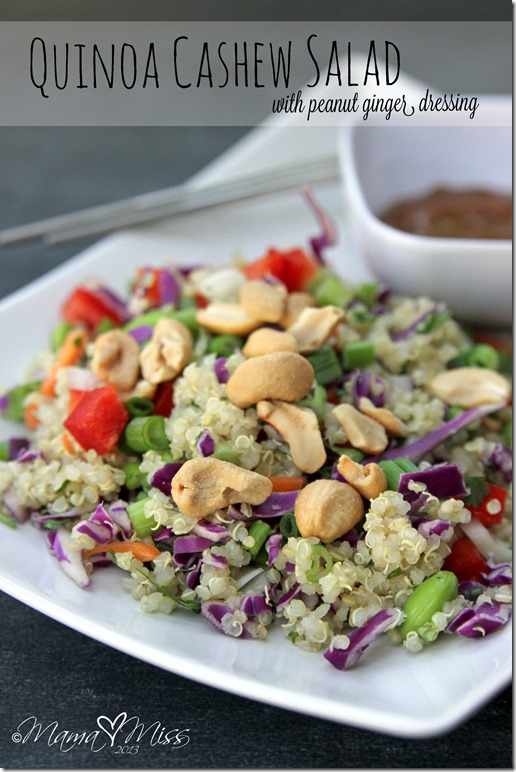 Looking for more quinoa?  Make sure you check out this recipe too…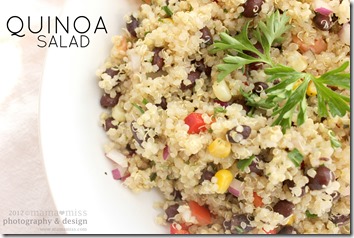 (Visited 2,315 times, 1 visits today)