These dark chocolate dipped macaroons were de.lec.ta.ble.  Oh yes they were.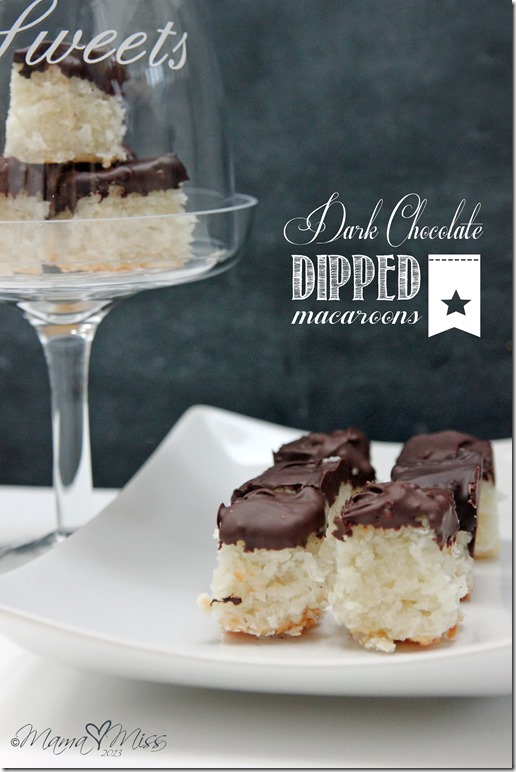 Macaroons
Macaroons are a first for me.
I don't ever remember having one, ever, this mama brain is drawing a blank here.
So, I thought, hmmm, why not!
Coconut and chocolate – yep you can't go wrong with that kinda combo ;)
Hmmm I see a possible added chocolate center in the future!  Too much?!  Nah!
Dark Chocolate Dipped Macaroons
With a combo of rich dark chocolate and toasted coconut - these little bites are a sweet and delectable combination.
Ingredients
nonstick cooking spray
2 - 14 oz bags angel-flake coconut
1/2 cup sugar
1 1/4 teaspoons course salt
1 1/2 teaspoons pure vanilla extract
1 cup dark chocolate chips (I used
these
)
Instructions
Preheat oven to 350° F.
Coat an 8-inch square cake pan with non-stick spray. Next line pan with two pieces of parchment paper in both directions, leaving an overhang on all sides.
In a food processor, combine coconut, egg whites, sugar, salt, and vanilla; process until combined and coconut is finely chopped.
Transfer mixture to pan, pressing firmly and smoothing top.
Bake until top is deep golden brown, about 1 hour.
Remove from oven and let cool completely in the pan on a wire rack.
Once cool, invert pan and peel off parchment paper from macaroons; cut into small bites (I divided mine into 6 rows in each direction creating 36 bites).
Line a baking sheet with parchment paper.
Using a 1/4 cup at a time, place chocolate chips in a microwave safe bowl. Microwave in 30-second increments, stirring each time until chocolate is just about completely melted.
Dip the bottom portion of each macaroon into the melted chocolate.
Arrange macaroons chocolate side up, on prepared parchment sheet.
Refrigerate until chocolate is firm, approximately 20 minutes.
Enjoy your little bites of happiness!

These Dark Chocolate Dipped Macaroons can be refrigerated for up to 3 days or frozen for up to a week.
Notes
Adapted from Everyday Food April 2010
https://www.mamamiss.com/blog/2013/05/07/dark-chocolate-dipped-macaroons/
All rights reserved Copyright 2012-2019 Mama Miss Blog and Designs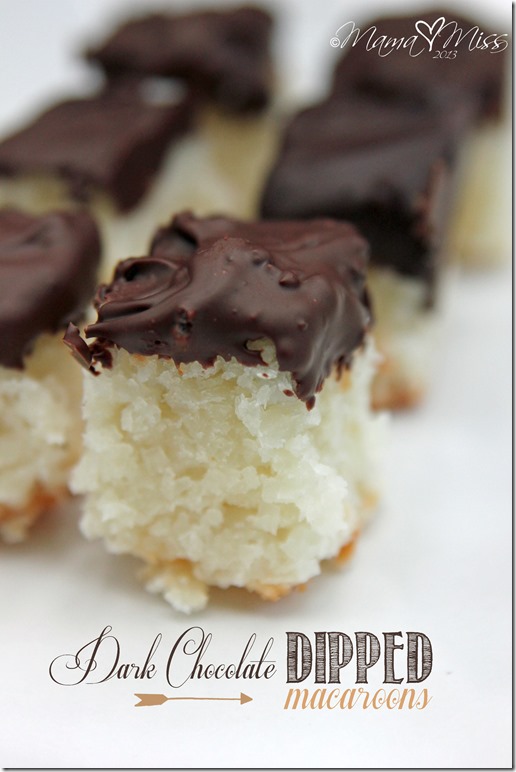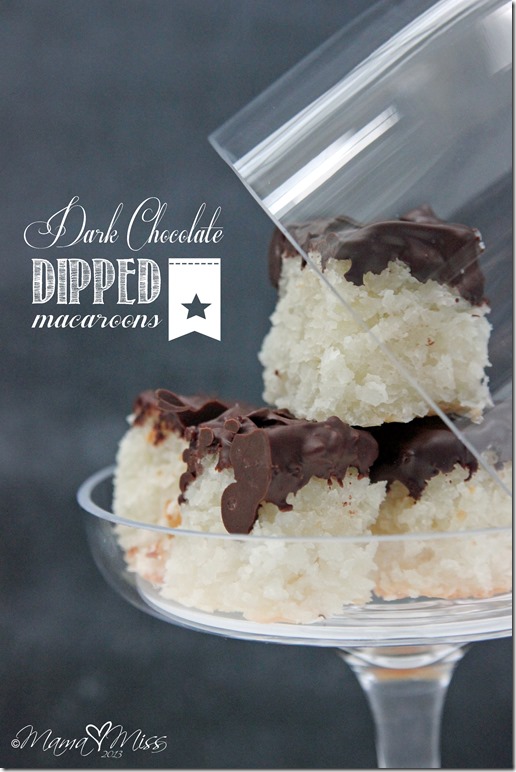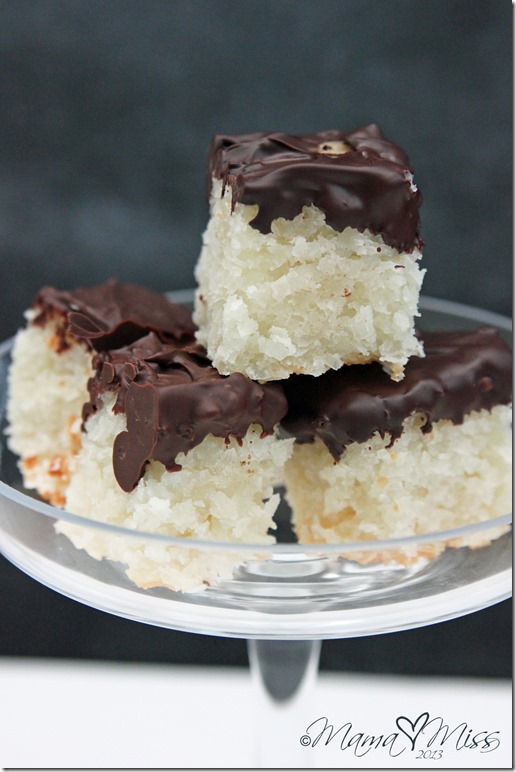 ♥



Looking for more chocolate & coconut?
Make sure you check out these too…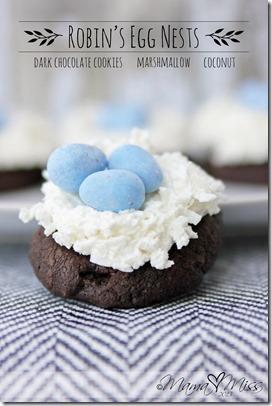 (Visited 1,086 times, 1 visits today)