Yum! Who doesn't love peanut butter & chocolate together?! What's wrong with you ;)
Just kidding, I understand (well, not really) – but you just may be a convert after these yummies!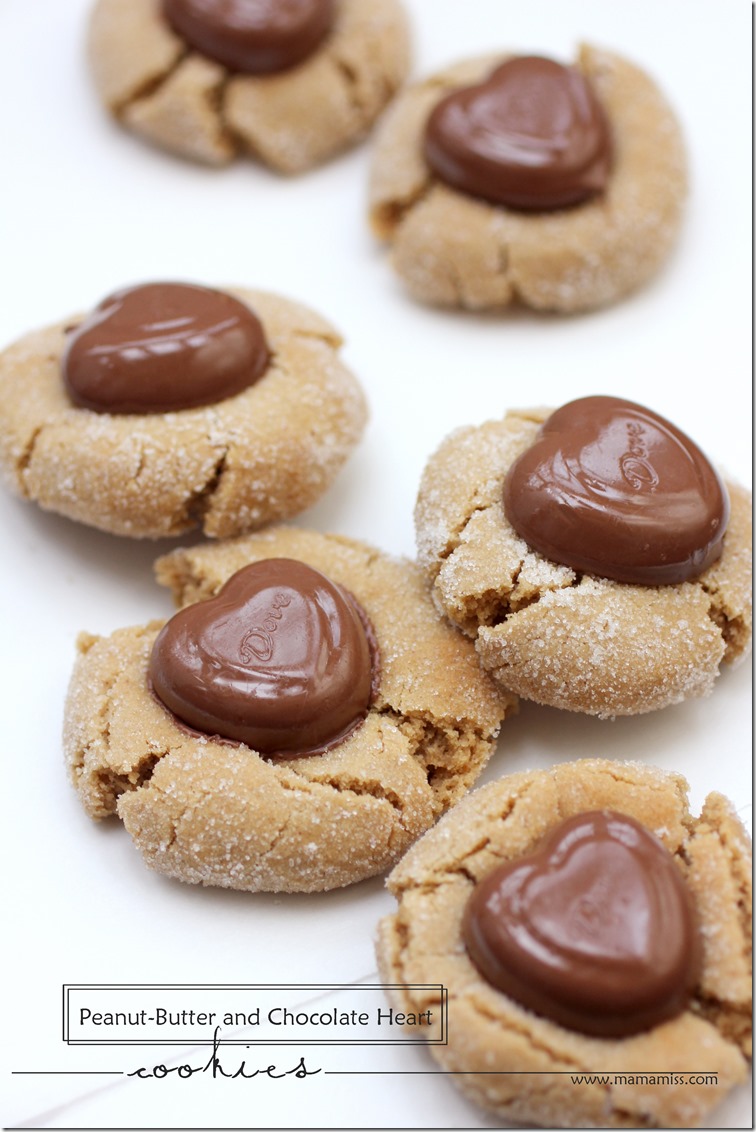 I took a classic recipe, replaced the Hershey Kiss with a fun chocolate heart, adding a Valentines Day twist to the mix to make these Peanut-Butter and Chocolate Heart Cookies! Oh & these are mega divine – I mean Dove chocolate's on their own are mega divine – try topping them on some sugared peanut butter & see how that makes ya drool ;)
Oh my…just oh my! I made these Sunday & there is only a handful left…and seeing as I caught V&T on the stepstool this morning ogling over them – I don't think they will be around very long (that's probably a good thing for my waistline though!).
We will just let the pics speak for themselves for just a moment, shall we…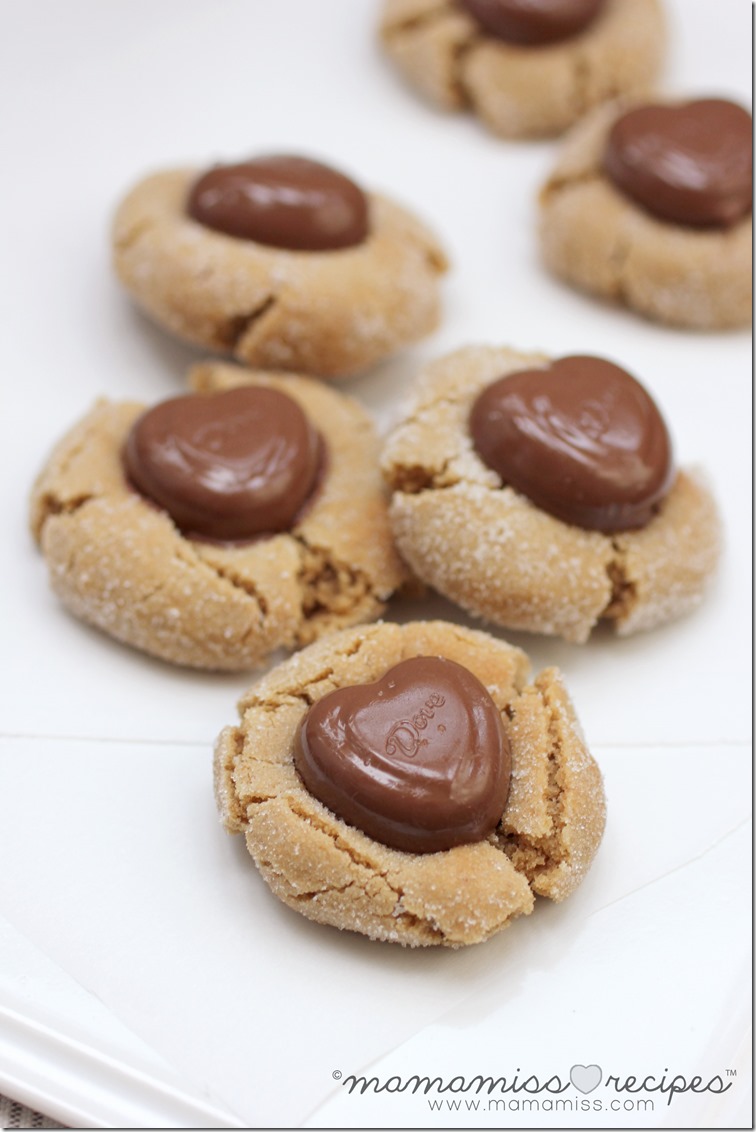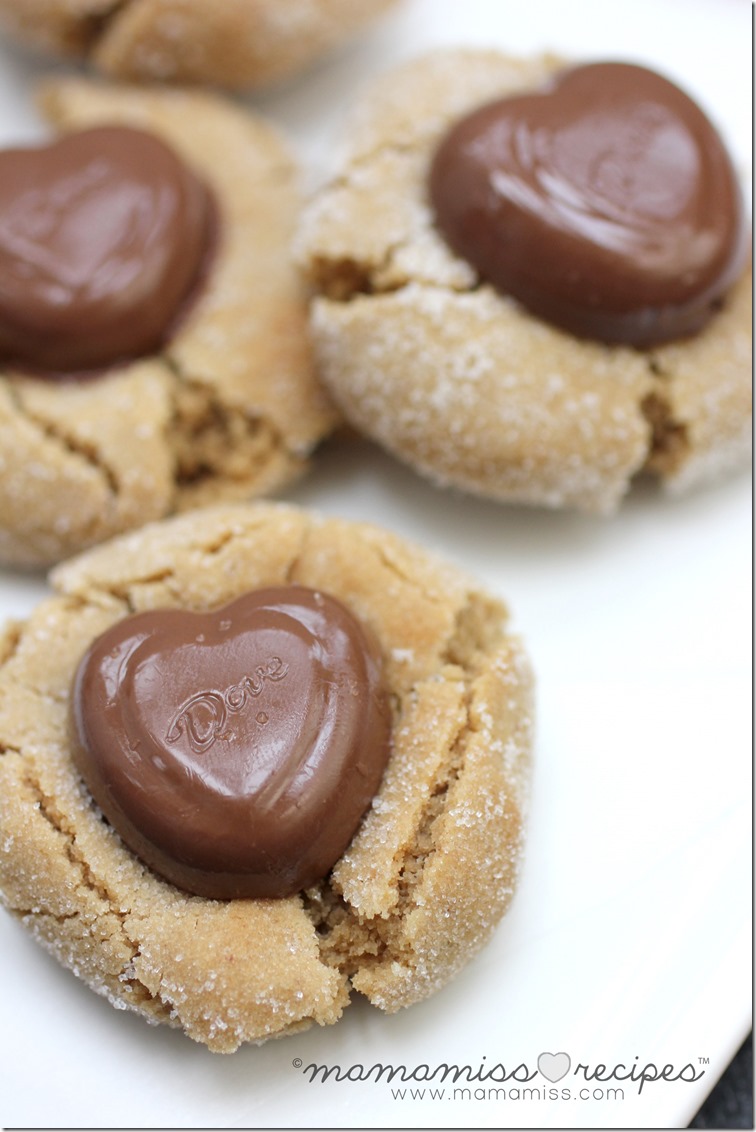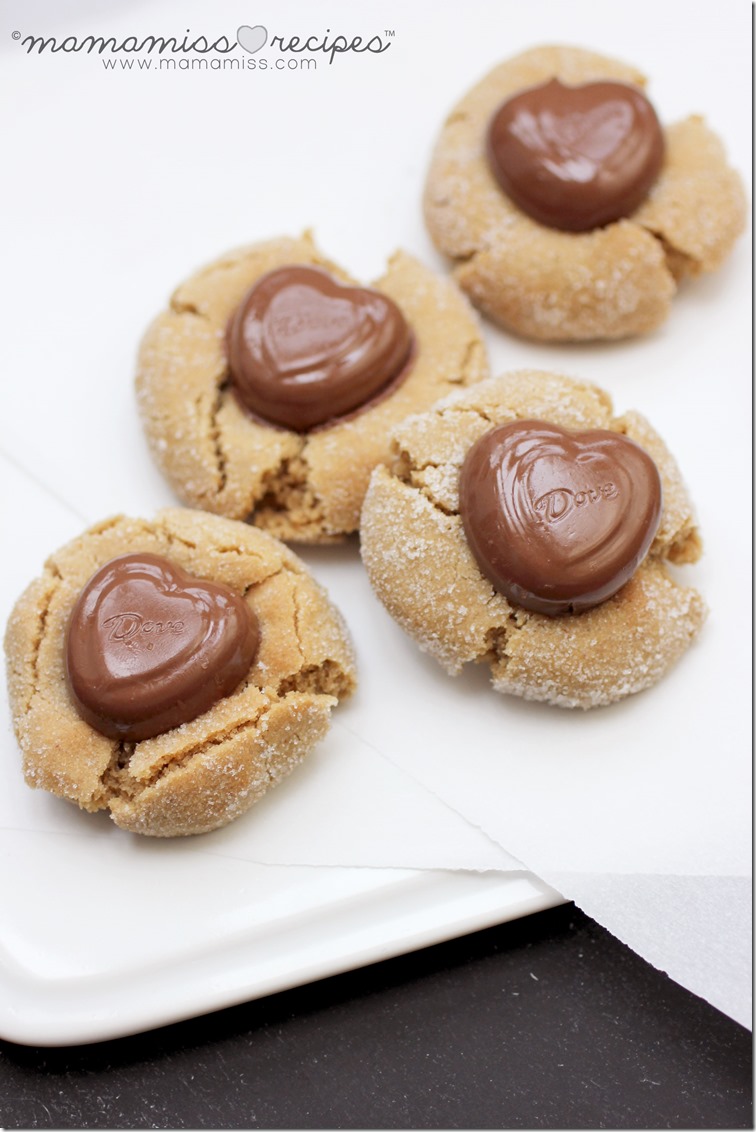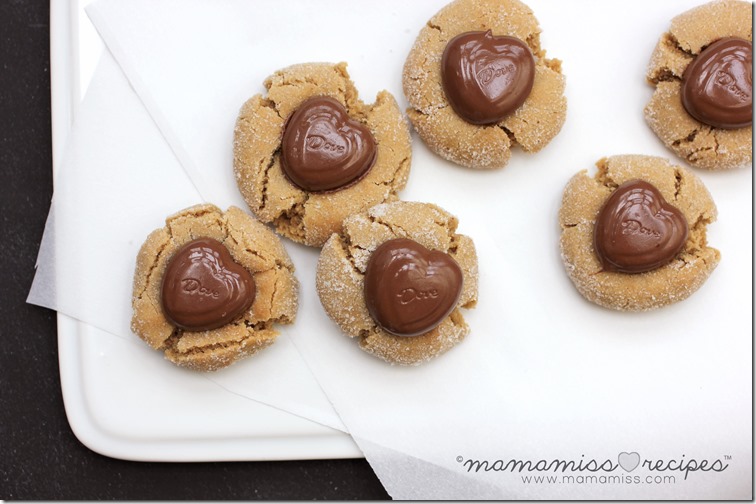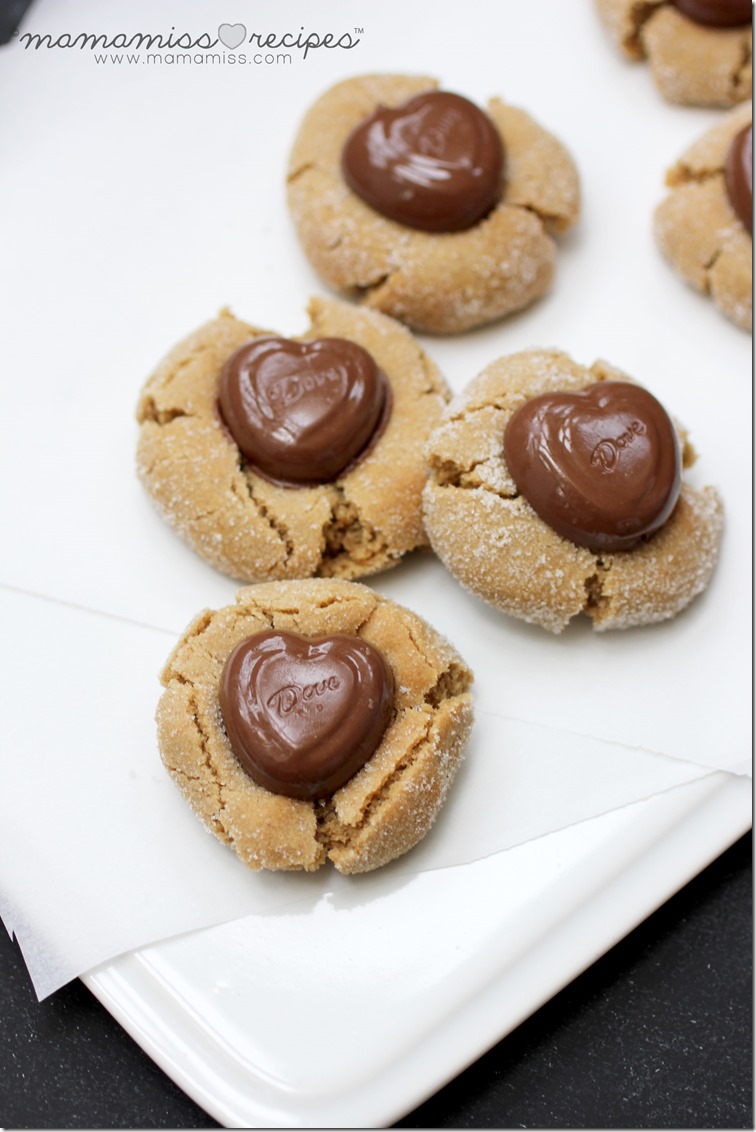 I caught you! Now wipe off the screen & lets get down to business here!
Behold – Peanut-Butter and Chocolate Heart Cookies!
Peanut-Butter and Chocolate Heart Cookies
These yummy Peanut-Butter and Chocolate Heart Cookies will be hard to resist. Peanut butter & chocolate lovers unite!
Ingredients
1/2 cup butter, softened
1/2 cup natural* peanut butter
3/4 cup packed dark brown sugar
1/4 cup + 4 tablespoons sugar, separated
1 egg
1 teaspoon pure vanilla extract
1/4 teaspoon salt
1 3/4 cups flour
1 teaspoon baking soda
Instructions
Preheat oven to 375° F.
Line two cookie sheets with parchment paper, set aside.
In a mixing bowl, beat together softened butter, peanut butter, brown sugar, 1/4 cup sugar (set aside the 4 T sugar for now), egg, vanilla, and salt, until light and fluffy.
Add flour and baking soda, beating until thoroughly blended.
Shape dough into approximately 36 cookie balls.
Roll cookie balls into the 4 T sugar that was previously set aside.
Place cookie balls 1-2 inches apart on parchment lined cookie sheets.
Bake 8-10 minutes, or until light golden brown.
Remove from oven and immediately top each cookie a chocolate heart, carefully pressing it down firmly in the center of the cookie.
Remove cookies from baking sheets and transfer to wire racks to cool completely.
Notes
*natural peanut butter = ingredients are only peanuts and 1% or less of salt. I like Smuckers.
***I prefer natural peanut butter without all the extra "stuff", but I'm positive regular ol' peanut butter would be just fine too :)
https://www.mamamiss.com/blog/2014/02/11/peanut-butter-and-chocolate-heart-cookies/
All rights reserved Copyright 2012-2019 Mama Miss Blog and Designs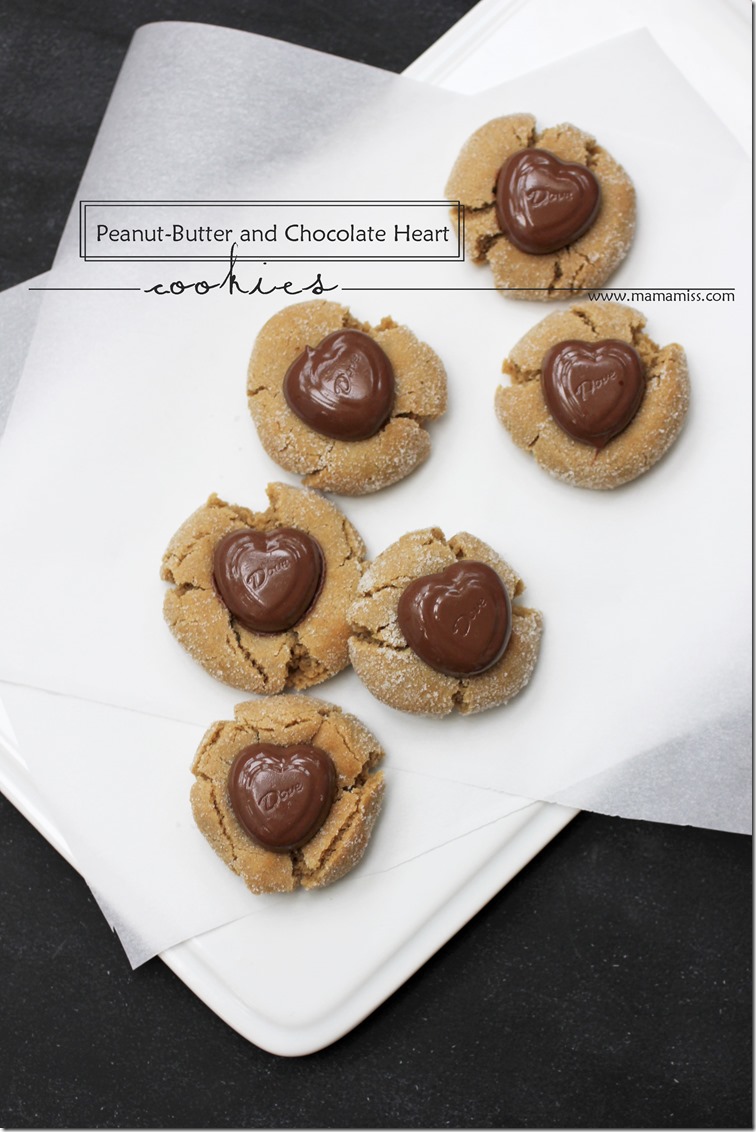 ♥
Like what you see?!
You can connect with me on:
Pinterest || Facebook || Twitter || Google +
And don't miss any updates…
♥
© Mama Miss. All images & content are copyright protected.
Feel free to share ONE picture and linking directly to this post for download.
Please do not copy directions, ingredients, or pdf files for your own website or Facebook page, visuals or words.
Copying my post partially, or fully, is strictly prohibited.
All work by Mama Miss is licensed under Creative Commons Attribution-NonCommercial-NoDerivs 3.0 Unported License.
♥♥♥
(Visited 3,016 times, 1 visits today)