I can't believe it's been a year already!

So, to celebrate…I thought I'd do a giveaway!!!
I've been hoarding some bento stuff for a while – collecting it when I see a good deal – for a time like this!
So this giveaway will last 12 days, and will have two parts with 3 prize packages!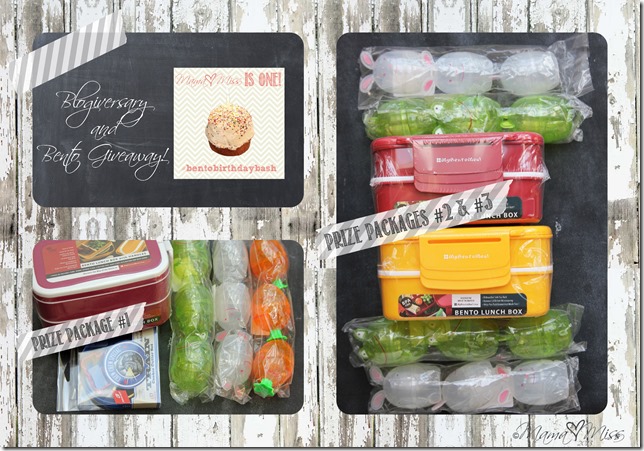 First, the fun part – photo contest, prize package #1 (valued at $30).
Prize package #1 includes…

For this part of the giveaway, prize package #1, I'd love to see what you are doing for you're kids fun meals!
I'd like to see your pictures of fun kid food. What do I mean by "fun kid food"?
This could be a fun bento box, a fun meal for your kiddo, a creative kid meal, etc.
Fancy or styled/staged photography is not necessary at all, I'd love to see the real thing, I'd love to see it anyway you'd like to send it to me!
You can send it to me…
Throughout the contest I will be posting the pictures into my Bento Birthday Bash Facebook album for everyone to vote.
The picture with the most votes by midnight on Monday, 5/27/13, will be awarded the prize package #1.
So, once your photo is uploaded make sure you share it on your page & with friends to get more votes!!
The winning picture will be posted here, with links to the winner's blog (if they have one).
**oh & just to clarify, this giveaway is sponsored by ME. I am paying for all of the items and the shipping costs to thank you all for being so wonderfully supportive!
♥
Second, two more prize packs (each valued at $20), #2 & #3 via rafflecopter submission below.
Prize package #2 includes…
Prize package #3 includes…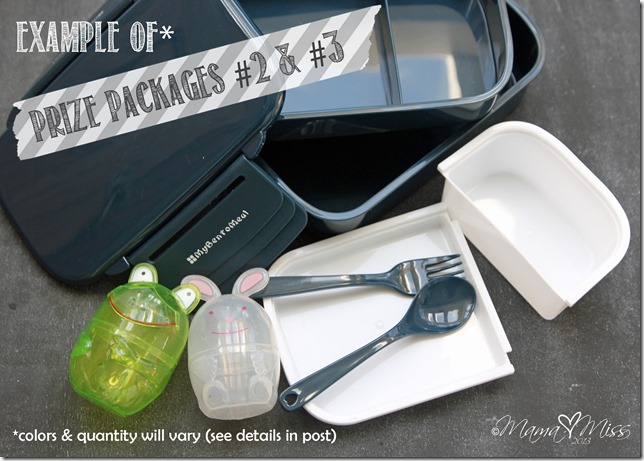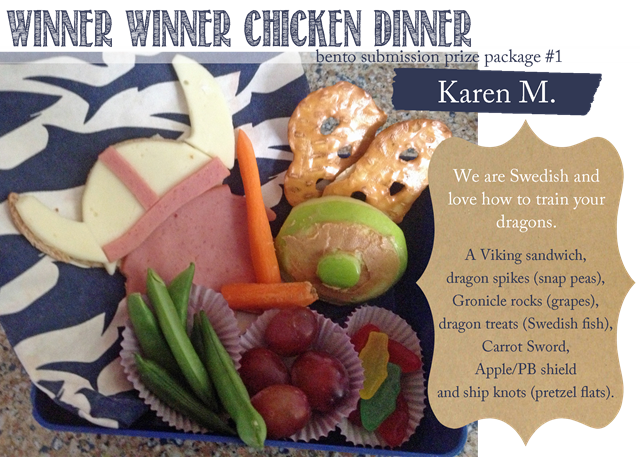 eeek I can't wait to see what you come up with!

The fine print: Giveaway & photo contest starts on May 14th at 12:01am EST and ends at 11:59 EST on May 27th. Three winners will be chosen. The bento box packages have an msrp value of $20-$30. No purchase necessary. Must be 18 years of age or older and a resident of the U.S. to enter. This giveaway is in no way affiliated with Facebook, Pinterest, or Twitter. Facebook, Pinterest, and Twitter will be completely released by each entrant. Initial entry for prize packages #2 & #3 includes filling out the form above with a mandatory entry to unlock and then several extra entries. You are providing the information to the site involved who will in no way sell or give your information to anyone including Facebook, Pinterest, or Twitter. Winner for prize packages #2 & #3 will be chosen using rafflecopter and will be notified via email within 48 hours of the giveaway close. Winners will be announced on the post, not on Facebook. A winner for prize package #1 will be selected based on viewer votes in the above Mama Miss Facebook album. The winners must respond within 48 hours of receiving the email or new winners will be chosen. No purchase necessary. All prizes are BRAND NEW and in sealed packages (pictures are examples only).
(Visited 459 times, 1 visits today)